Fiat Bravo 1.4 T-Jet 150 2008 Road Test
Tue, 25 Mar 2008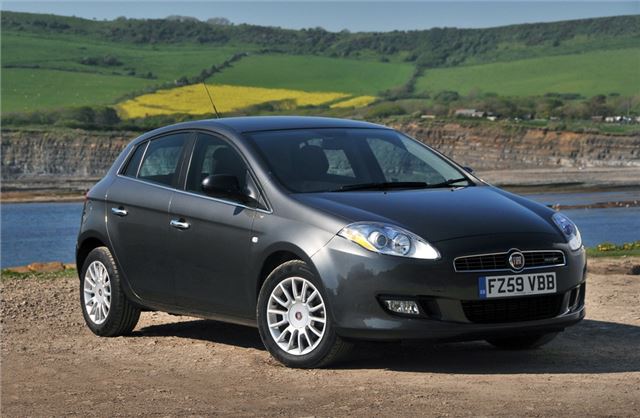 The FIAT Bravo has the kind of stunning styling that Italians somehow seen to do almost effortlessly. In the right colour it's probably the best looking mid-size hatchback you can buy.

Yet my first impressions of it weren't too good. After a truly spectacular launch in Rome we got to drive a diesel on 18" wheels with 40 profile tyres to Ostia and back. A distance of about 30 miles.

All I learned from this was light, feel-free and unresponsive steering, whatever setting, and terrible ride quality.

It wasn't until FIAT delivered a 1.4 T-Jet 150 to me that I got to drive it properly.

A year since the launch I still admire the styling. Like a bigger Grande Punto with an unmistakably FIAT look that doesn't come from its grille shape but from the heart of Italian design. If it was longer and lower it could be a Maserati.

Inside, too, it looks good with a sort of carbon fibre stippled effect to the dashtop that doesn't reflect in the windscreen. But, after 750 miles in a Yaris I found it really difficult to get comfortable.

Seat and steering wheel seemed to me to be at the wrong angles and wrong relationship. With the seat low the squab falls away at the front and the steering wheel is too high, even at its lowest setting. Worse still in low winter sunlight, the speedo is all but invisible unless you have the car's lights one. Though maybe with forthcoming EU laws, that's intentional.

The 6-speed gearbox is precise, yet clunky, as if you can actually feel the cogs swapping, which you can't because it's a cable system.

But the engine is a gem. Quite how they managed to squeeze 150HP out of a 1.4 is a source of amazement. The horses actually feel stronger and more eager than the 150 in the Peugeot 308 1.6 THP I drove a few weeks previously. Smooth too, even after a cold start. It's a really excellent engine.

On the move the car feels somehow disjointed, letting slip its humble Stilo origins as the engine overtakes its tyres. It's not bad. It goes round corners well enough. And the ride quality on 205/55 R16 tyres doesn't remind you to e-mail complaints to The Highways Agency. It's just not as supple as a Focus, or a 308, or an Auris, and not quite as good as a KIA Cee'd or Hyundai i30.

Final drive is sensibly geared at about 25mph per 1,000rpm in top, the same as the SEAT Leon 20VT I ran five years ago. The radio is good. Controls like the hazard warning on switch and Traffic Announcements 'off' switch all logical and easy to find in an emergency, even when not familiar with the car. On an 160 mile round trip it simply got on with the job, putting a smile on my face with its eagerness whenever I had to overtake uphill. Still belt-cam, unfortunately, but probably the ultimate FIAT FIRE engine and promises to turn the Grande Punto and 500 Abarth into real little scorchers. I'd like to sit it on a chassis dynamometer and see what it really puts out against a Peugeot THP 150.

It's definitely stonking value for money. Less than £14,500 buys the 150 T-Jet in Dynamic trim that brings you goodies like dual air conditioning, steering wheel radio controls and Microsoft Blue & Me hands-free for your phone.

And no need at all to upgrade to 17" or 18" wheels unless you want to rattle your ribcage, dislodge your dentures, or liberate your liver.

You can buy a 150 T-Jet Active for just £13,395, plus £300 for a set of 16" alloys to smarten it up. Not bad for a 5-seater hatch with a top speed of 131mph and an 8.2 second 0-60.

But the big Bravo news is the new Euro 5 1.6 chain cam Multijet (yet to be driven). These engine put out their maximum torque at a low 1,500rpm, and the 105PS ECO version emits just 119g/km putting it in Band B (£35) for this year's VED and Band C (£30) for next year's VED.

Original Bravo preview test at www.honestjohn.co.uk/road_tests/index.htm?id=262

At a list price of £13,895, with the new BIK bands, a 22% taxpayer will pay just £546 a year to have one on the company.