Chevrolet Orlando 2.0 VCDi 163PS 2011 Road Test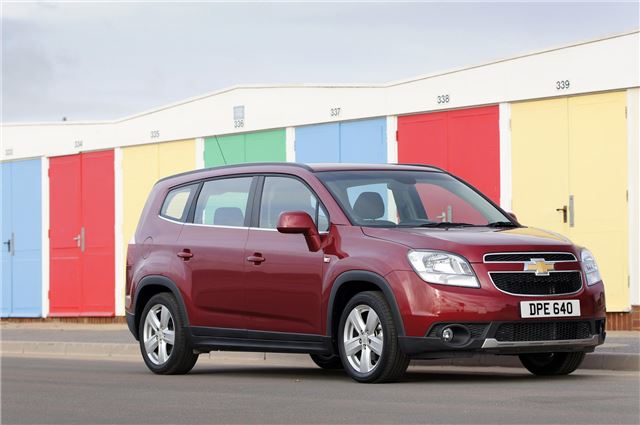 Chevrolet's latest efforts, particularly the Cruze, have come a long way since the old Daewoo models disappeared from showrooms. It's easy to recommend most of the cars they have on sale; they're practical, reasonably priced and attractively styled. They might lack the sparkle and flair of some rivals, plus they're hardly the last word in driving entertainment, but as good, honest transport they're worthy of consideration.
It's a theme that continues with the Orlando, Chevrolet's seven-seat MPV. From a purely aesthetic perspective many people will find its angular, blocky appearance unattractive, but equally there'll be plenty who love its pseudo-4x4 looks.
The model tested here is a 163PS 2.0-litre VCDi diesel auto in LTZ trim, complete with the exec pack, which adds leather trim to all seven seats and a full colour sat-nav system. This is the top model, and with the Exec Pack goodies it'd set you back £23,215 (as of August 2011), similar to entry-level Ford Galaxy models.
There's plenty of load space when the rearmost seats are folded, so should you need to carry something huge, or require a place to sleep (however unlikely that is...) there's an abundance of room when the middle row is folded.
If you need to carry someone in the rearmost row of seats then folding them out is fairly easy. You will need to move the middle row forward slightly in order to easily unfold the back seats, but once you get the knack it's really straight forward. The back row is best suited to children, but adults will fit at a push – just don't take them far.
To give the Orlando a good test we carried four adults, one eight-month old baby, one eleven-year old, a picnic, a pram and various assorted baby related stuff over about 70 miles. There wasn't a single complaint about comfort and there was more than enough torque to pull the heavy load up the motorway with ease. Brakes stood up to the extra weight, too, although they did need a harder push.
A nice touch that really came in handy when the car was full was the panoramic rear view mirror, which allows both front seat occupants to see what's going on in the back seats. It means you don't need to crane your head around to see what's happening, useful if you've got kids. It's standard throughout the range.
There's plenty of safety kit to keep the little ones safe too, including six airbags and electronic stability control - which means the Orlando did well in NCAP tests, scoring a full five stars. 
Whether loaded with passengers and luggage or totally empty the Orlando is a relaxing drive, helped in this case by the smooth automatic gearbox, as well as the standard fit cruise control. The engine is generally subdued and quiet, only rattling when pushed hard for overtaking. Road and wind noise is acceptably quiet, although not exceptionally so.
Along with leather upholstery and sat nav, the Exec Pack also adds larger 18-inch wheels and they make the ride a little harsh over larger potholes and bumps. It's not uncomfortable by any stretch, but it would doubtless ride better on smaller wheels.
Much like the Cruze, the Orlando has well weighted steering but it feels insulated, as though much of the unnecessary feedback from the road is being filtered out. For those who like a dynamic drive it feels a little disconnected, but for everyone else it's acceptable. And let's face it, cars like this are rarely particularly exciting to drive.
In the cabin the controls feel as though they'd suit a regular sized car, with a small steering wheel and intelligently placed buttons and switches - it doesn't feel like a big van. The fit and finish is also reasonable, although the plastics are unimpressive.
Prices start at a very competitive £16,410 for the 1.8-litre petrol LS model, but given its fairly insubstantial torque output, people who carry lots of passengers would be wise to plump up for the 130PS 2.0-litre diesel, which in the same LS trim costs £17,655.
Unless you really need leather seats then the Exec Pack is probably a false economy, as is the top-range LTZ trim level. The mid-range LT trim level has all the gear you'd need, including climate control, parking sensors and alloy wheels.
Irrespective of what model you pick though, the Orlando is a competent MPV with ample space and reasonable performance. It represents good value for money and it's unlikely to leave drivers wanting for more when it comes to standard equipment.