Audi S3 2013 Road Test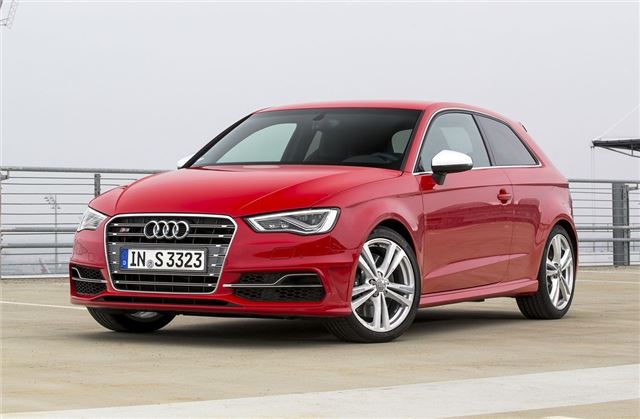 The old S3 had all the ingredients to be a great performance hatch but never quite cut the mustard. So it's no surprise to see big changes for this third generation model. It's lighter than before, there's a stiffer chassis and a longer wheelbase. Oh, and did I mention no less than 300PS from an all-new 2.0-litre turbocharged engine. That sounds like it just might work...
But we have been here before. Yes it has all the right performance credentials - under the bonnet is an all-new version of the 2.0 TFSI engine with power boosted right up to 300PS - a mighty figure for any car let alone a compact hatchback. This is 35PS more than the previous model and means the S3 will now be able to stand out from other Volkswagen Group hot hatches like the Golf GTI and SEAT Leon Cupra, both due later this year. 
The free revving turbo engine sounds more purposeful than before too. That's helped by a new sound actuator which brings engine noise - the pleasant kind - into the cabin. Combined with a nice low boomy burble from the exhausts it sounds the part before you've even gone anywhere. There's also a wonderfully tactile R8-style gear lever, finished in metal, on manual versions. These sporty touches really add up to make the S3 feel more special than before. 
But the big question is, will it float your hot hatch boat? The answer is an emphatic yes. The A3 is already a great handling car and the S3 builds on these strong foundations. The steering has a nice weight to it and is incredibly responsive which makes it a delight to thread through S-bends but it's the way it feels agile yet composed that's most impressive. It's a huge improvement on the old S3.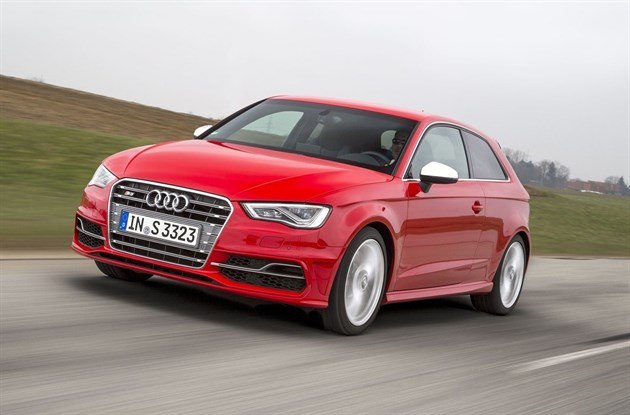 This is down to a new variable ratio progressive steering system. It means the S3 steering has better feel than before, especially noticeable in corners. It gives you much more confidence when taking a tight bend at speed. It also means the new S3 is a thoroughly enjoyable car to drive and you don't need to be going at light speed to appreciate it.
You can alter the steering weight through the Drive Select system which comes as standard. There's a button on the centre console which cycles through the different settings from comfort to dynamic. The various modes also alter how responsive the accelerator pedal is, the exhaust sound and - if you've gone for the S tronic - the gear shift points.
It's as rapid as you'd expect given the 300PS. Accelerating from 0-62mph takes 5.2 seconds with the manual gearbox while S tronic versions manage it in just 4.8 seconds. It certainly feels that quick from behind the wheel and with 380Nm of torque available pretty much right across the rev range it simply pulls and pulls in gear. The engine is still refined though so even though you can rev it right up to 6500rpm it never sounds strained.
Of course the problem with many a performance hatch is transferring all that power to the road. This is where the S3 plays its trump card because unlike the majority of hot hatches, it has quattro. While purists may prefer a rear-wheel drive car, there's no denying the advantage of having the extra traction of four-wheel drive. Not only for putting all that power down but when it comes to exiting slow corners or roundabouts. This is where the S3 really excels.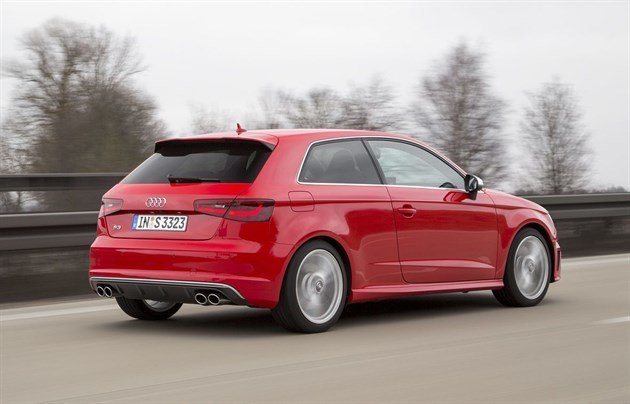 It's not fast and furious though. Far from it. While it's a proper performance hatch, it's still as comfortable and refined as a standard A3 with a forgiving ride and little road noise. You can happily potter about or cruise on the motorway in it. It's also economical. Thanks in part to a lower kerbweight - the new S3 is 60kg lighter than the old model - it returns 40mpg.
The styling may not shout from the rooftops but it's nicely understated and at least leaves room for a more hardcore RS3 in the future. Aside from the S3 badges, only the four exhaust tailpipes really hint that this is a performance hatchback. The interior is similarly restrained athough there are more than enough sporty touches like the flat-bottomed steering wheel and contrasting stitching. The leather sports seats are great too with plenty of thigh support. You can also specify leather and Alcantara seats at no extra cost. The rest of the interior is Audi business as usual with impeccable fit and finish.
This quality doesn't come cheap of course. The S3 is a smidge over £30k and if you want the S tronic version it's almost £32,000. That's a lot when you compare it to hot hatches like the Ford Focus ST. But the Audi S3 offers plenty for the money, not just in terms of sheer power but as an all-round useable performance car. It seems the S3 has finally come of age and is now the enjoyabe performance hatch it always promised to be.
First deliveries of the three-door S3 will start in July 2013 while the five-door S3 Sportback is also on sale now.