Mercedes-Benz C-Class Estate (2014 – 2021) Review
Mercedes-Benz C-Class Estate (2014 – 2021) At A Glance
The Mercedes-Benz C-Class Estate is one of the three big premium compact wagon contenders, alongside the BMW 3 Series Touring and Audi's A4 Avant, with cars like Volvo's V60 and Volkswagen's Golf Estate also trying to muscle in on this territory. It's fiercely competitive as rivals aim to offer a mix of luxury and comfort alongside the more obvious estate-car qualities of space and practicality.
Despite the proliferation of SUV-based niche cars designed to appeal to young buyers with a 'lifestyle', Mercedes-Benz has no good reason to veer away from tradition with the C-Class Estate. It's still a very popular bodystyle, and to do without one in this premium segment would be commercially ruinous, even for rivals like BMW who are filling their range with SUVs like they're about to be outlawed…
First introduced in 2014 and then substantially revised in 2018, the C-Class Estate aims to offer practicality and space, a luxurious cabin and a mix of good comfort and an enjoyable driving experience. As with the majority of Mercedes-Benz models there is also an emphasis on technology and safety too.
The result is a beautiful blend of traditional indulgence, iPad-generation modernity and space. And it really is that simple. Mercedes-Benz has made a two-box car, filled it with leather, fitted a tablet PC to the dash, and garnished the whole thing with brushed steel, gloss black and wood veneer. It's a John Lewis living room display on wheels.
If that sounds disparaging, that's not the intention – the overarching ambience of this car is that of a 'proper' Mercedes-Benz estate. For various reasons the last couple of C-Class models didn't really nail that ambience, but it's very clear, very quickly, that this C-Class takes much of its inspiration from the S-Class, which is high praise indeed.
This new C-Class Estate is defined by its refinement, its cabin flair, the depth of quality of the surfaces, and the apparent thought that's gone into the design.
Mercedes-Benz hasn't tried to make it a BMW either, so while it's perfectly good at the more dynamic stuff (rear-wheel drive, weighty steering and a brilliantly unobtrusive seven-speed automatic gearbox), it's actually a lot better when its gently going about its business – when it's 'wafting along', to coin a cliché that Mercedes-Benz owners the world over used to use.
It's not perfect, of course – there's quite a bit of road and tyre noise at motorway speeds, and the extra 10 litres of maximum boot space is probably not as much as you might expect given the increase in dimensions.
It also costs considerably more than its key rivals, but you might see this as something to boast about rather than to avoid altogether. But really, these are footnotes in a story that's largely excellent. Is it better than the 3 Series Touring?
That depends what you want, but the important thing is, it no longer sails so close to its German nemesis. Instead, it treads its own path, gently. Like a Mercedes-Benz should.
What do owners think of the Mercedes-Benz C-Class Estate (2014 – 2021)? Check out our
Owners' Reviews
from people who live with the car day in, day out.
Reviews for Mercedes-Benz C-Class Estate (2014 – 2021)'s top 3 rivals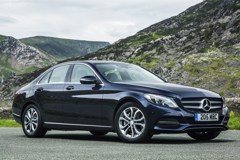 Mercedes-Benz C-Class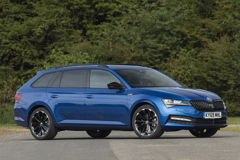 Skoda Superb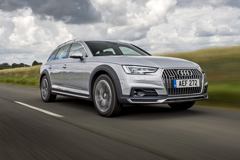 Audi A4
Ask Honest John
Which budget wipers do you recommend for my Mercedes-Benz C-Class?
"What are the best budget buy wipers for my 2019 Mercedes-Benz C-Class estate?"
Having bought budget wipers for my C-Class – which squeaked and smeared the windscreen – I'd buy OEM.
Answered by
Russell Campbell
I need a large family car for low mileage use. Would a plug-in hybrid suit?
"I'm looking to buy a secondhand family car. I will do short commutes to work (7miles), schools trips and occasional long journeys. It will need to be a load-lugger as we have a large dog, two kids and camping gear. The other car is a new Nissan Leaf, which does all the weekend running around. This car, while being the family car, will only do 5-7k mileage a year. It feels like a diesel is out, narrowing down the larger car range for me. I don't want new and can live with high mileage (ish) as I won't put many miles on it. I have been looking at Estates - Passat GTE and Skoda Superb (petrol). I don't want to spend more than £16-18k really. Recommendations welcome!"
It sounds like you're thinking along the right lines. A plug-in hybrid could be perfect – capable of covering the commute under electric power with the petrol engine on hand for those longer journeys. A Volkswagen Passat GTE is a very practical option that makes an excellent used purchase. There aren't that many about but, if you can find one, it could be the ideal choice. If you fancy something a bit more premium, take a look at the Mercedes C350e Estate, while a Mitsubishi Outlander PHEV could be a good alternative (and easier to find) if an SUV appeals.
My car has done very few miles since the last service. Does it actually need serviced again?
"My 2018 Mercedes C-Class Estate is due for an MOT and service. Since the last service, it's only done 330 miles (total miles: 6207). Mercedes want £583. Do I even need to get it serviced?"
Strictly speaking, yes. Oil degrades over time and, if Mercedes-Benz says your car needs servicing every year, it's not entirely a money-making exercise. Skipping a service might harm its value at resale time, too. That said, it's unlikely that two years between servicing will cause any real damage with the mileage you cover. If it was my car, I'd compromise by paying for an independent garage to carry out a minor service.
I want one last great diesel estate car. What would you recommend as a simple option?
"I drive 25,000 business miles per year and do not think battery-electric would be suitable for my next vehicle. I recently saw an advert for the advanced technology on an Audi diesel and it frightened me the number of systems all capable of requiring a £1000 repair bills at some point in their life and all superfluous to a steady motorway cruising. What mechanically-simple, comfortable, diesel estate car would you recommend as the last best in breed diesel?"
All diesels are becoming increasingly complicated in order to meet stringent emission regulations. You're not going to find a simple modern diesel but, for your mileage, I wouldn't be too concerned. Problems occur when people use diesels for regular short journeys and the diesel particulate filter (DPF) becomes blocked. For 25k miles a year (presumably mainly on the motorway), a modern diesel will suit your needs well and should be very dependable. A Mercedes-Benz C-Class Estate or BMW 3 Series Touring would be a lovely choice for 25k miles a year. Also consider a Volvo V90 as a comfortable, slightly left-field choice.
More Questions
What does a Mercedes-Benz C-Class Estate (2014 – 2021) cost?