We have a go at the Audi Driving Experience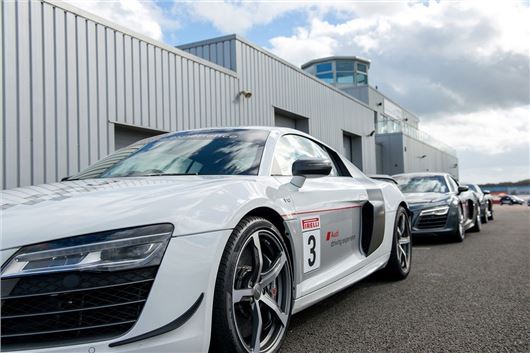 Published 05 November 2015
If you really wanted to (and had the money) you could go out and buy an Audi R8 at the age of 17. There is no training required and no law to say you can't make a leap from a learner-friendly hatchback to a supercar. Nobody will make you learn the capabilities, limits and skills required to drive it properly.
In fact the same is true of 4x4s, hot hatches and sports cars. You can just jump in and go. But a bit of extra learning won't hurt anyone, especially with an expert teacher. And if you take your lessons at the Audi Driving Experience at Silverstone you'll have a lot of fun in the process. We know – we've been along to have a go...
Audi offers several packages ranging in price from £299 to £1699. On the face of it even £299 is expensive – but unlike the usual supercar experience you can pick up from a carousel full of vouchers in Tesco, the Audi offerings are more thorough and more practically useful.
The focus here isn't on giving you the keys to a dream car for 15 minutes, rather it is on learning what a car is capable of and how to make the most of it. Even the cheapest £299 package incorporates four different activities and takes in a full morning or afternoon, with three cars to drive.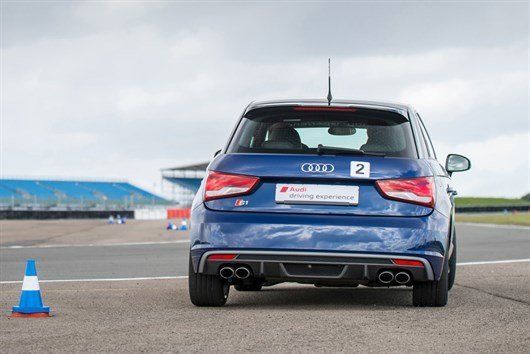 And despite being the cheapest of the lot it also bundles in the most useful experience – brake and avoid. This activity requires you to drive flat out at a set of cones and then, at the last possible second, brake as hard as possible and swerve around them – something that feels wholly unnatural and, first time around, a little scary.
It simulates driving down a motorway and coming across a vehicle stopped in the carriageway – something that is quite possible day to day. It shows how well modern cars can cope with sudden, violent steering inputs and heavy brake application. You repeat the activity enough times to make it feel natural, so you know how to react in real world driving should a situation arise.
But it's not all serious. Other experiences on offer let you take a quattro model like the A6 Allroad across a muddy field, through water and over steep hills, plus there are timed autotest-style slalom courses, high-speed cornering exercises in performance-focused RS models and – the big one – laps around the Silverstone circuit in an R8.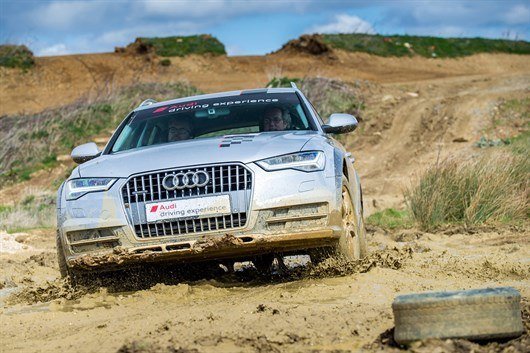 The £749 Sport Experience package includes lapping around the shorter Stowe circuit, but for the full Silverstone GP circuit you need to spend a lot – the Sport Plus experience costs a whopping £1699. In fairness, both of these experiences include various lessons in the TTS and RS5 on top of the time in the R8 and they last all day.
Even so, you'd have to be fairly devoted to spend so much on a one-day experience – you could have a week's holiday for less. But if you want to learn some practical road safety skills and brush up on your high-speed driving technique, the cheaper experiences are worth go. There are three to choose from – the Sport introductory experience, the quattro experience and the Dynamic experience.
Prices for the three are £299, £349 and £499 respectively and for our money the cheaper two of the three offer the best value. Both will show off what a car can do in an emergency and help you brush up your skills – but they include fun elements too – whether high-speed lapping in the introductory experience or off-roading in the quattro experience.
You can buy Audi driving experiences on the Audi website here.
Comments
Author

John Slavin
Latest