Volvo V90 (2016 on)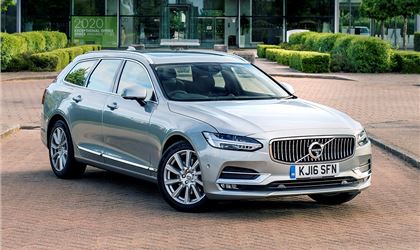 2.0 T4 190hp Momentum 5dr
reviewed by Volvo Wombat on 2 October 2019
3
Tax/Insurance/Warranty costs
3
Cost of maintenance and repairs
5
Experience at the dealership
5
How you rate the manufacturer
Luxury, stylish and full of Volvo safety (hope I don't have to use it) .
Having had several D5/D4 Volvo diesels over 20+ years, I switched to petrol (T4). MPG has dropped from ~47 to ~ 32 but diesels are getting very bad press at the moment, and seem to have a limited future.

I bought the V90 as a pre-reg car with 10 miles on he clock, so effectively a new car. I'm very pleased with it overall but would have preferred a manual gearbox which is not offered in the V90 range.

Certainly almost the top of the range re luxury and toys, although I would have liked the 360 degree camera which is fantastic, however when you buy a pre reg car you get what it comes with.

Having had Michelin Cross Climates fitted to my previous V60, it would have been really useful if Volvo offered an option to fit these much safer tyres from new. I now feel compelled to get some miles out of the factory fitted Pirellis before swapping back to Cross Climates.

Overall would recommend it to anyone, Volvo seem to be offering many good pre reg deals around currently.
reviewed by Anonymous on 10 August 2019
reviewed by Anonymous on 25 July 2018
reviewed by Pdj on 1 March 2018
reviewed by Andrew Holmes on 11 November 2017
Write your review
About this car
| | |
| --- | --- |
| Price | £39,335–£60,405 |
| Road Tax | A–I |
| MPG | 41.5–134.5 mpg |
| Real MPG | 71.4% |
Just reviewed...