Suzuki Kizashi (2012 - 2014)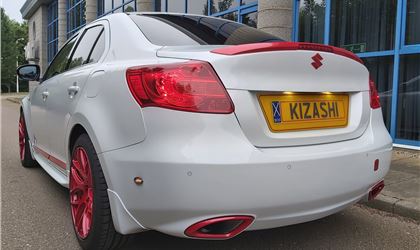 Saloon 2.4 Sport CVT 4X4 4dr
reviewed by norman hay on 4 January 2021
5
Tax/Insurance/Warranty costs
5
Cost of maintenance and repairs
5
Experience at the dealership
5
How you rate the manufacturer
What a machine , especially in the snow !
I can honestly say after a lifetime of owning mostly Audi Quattro's /VWs ..(and prior to this Suzuki) , a Alfa Romeo Brera 3.2 q4 .. This is far the best car i have ever owned / driven . Being a mechanic myself am so impressed with the build quality / design / refinement /reliability/ road holding of this car . Also the feel good factor of actually owning a car that most of the" usual" car owners in this model category wouldn't be seen dead in ,simply because its a Suzuki .Well worth paying at least £10,000 more for a badge eh ? ( look at at the current value of a equivalent Audi a4 Quattro with this spec) . Its such a just a pity Suzuki didn't put into production their concept turbo model with a manual gearbox ( it would have sold like hot cakes, and would have become a real icon ). On saying that , its a excellent car as it is .. If driven correctly ,( unlike those who road tested / reviewed the car when new ) ..Use the paddles to change gear about 3k revs .. different car than in auto drive . Only drawback, not the best with fuel economy, but very clever to achieve 180 bhp from a four cylinder naturally aspirated ( non turbo ) engine . To sum up ..would i buy again .. Absolutely .. And with todays prices , so should you before legislation dictates that the internal combustion engine is no more ,and plugging in you car will be the new norm with a 40k plus price tag ... Finally , just noticed the next question .. would i recommend to a friend .. i did . and he has also never regretted purchasing / owning one for the last 3 years with no issues or faults .And like myself still loves it .... Well done Suzuki ..
reviewed by Anonymous on 17 February 2018
reviewed by Anonymous on 17 February 2018
reviewed by paininthenuts on 9 August 2015
Write your review
About this car
| | |
| --- | --- |
| Price | £21,995–£22,014 |
| Road Tax | J |
| MPG | 34.0 mpg |
| Real MPG | 93.4% |
Just reviewed...