Lexus GS (2005 - 2012)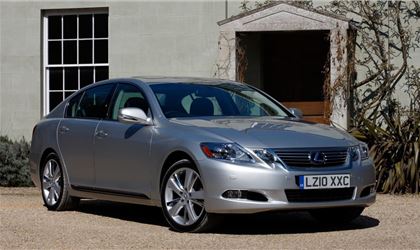 3.0 V6 SE Auto
reviewed by Anonymous on 25 August 2020
3
Tax/Insurance/Warranty costs
4
Cost of maintenance and repairs
5
Experience at the dealership
5
How you rate the manufacturer
Luxury cruiser, thinking mans alternative to a Bavarian boring grey box
After 5 years of ownership I still enjoy a trip in my GS300 even if its a just a drive to work. It does everything at least competently and most things very well.
I enjoy seeing the drivers of boring German clones of cars in their often finance company owned overpriced diesels trying to look good and get past everyone as soon as possible. I can blow most of them off the road if I choose but rarely bother.
The only downside has been the rear brake callipers which have been replaced twice. The second time free of charge, but paid for the first set. Its a known design fault even 14 years after the car was made!
I have a full Lexus service history and would not take it anywhere else as they are great.
Yes the alloys can look scruffy - a known Toyota/Lexus problem. Had mine replaced by Lexus who do an exchange scheme costing just £400 including labour 3 years ago.
reviewed by Will holding on 28 May 2017
reviewed by Palcouk on 25 October 2013
reviewed by mastermariner on 14 December 2010
Write your review
About this car
| | |
| --- | --- |
| Price | £34,355–£51,385 |
| Road Tax | Alternative fuel, I |
| MPG | 25.7–36.7 mpg |
| Real MPG | 92.8% |
Just reviewed...