Our Cars: Volkswagen T-Roc SEL 1.6 TDI 115

22 November 2019: Stereo upgrade? Anything Beats this...
The Details
| | |
| --- | --- |
| Current mileage | 3000 |
| Claimed economy | 50.4mpg [WLTP] |
| Actual economy | 51mpg |
| | |
Our T-Roc is furnished with £425 worth of stereo upgrade. A Beats stereo, specifically. Beats by Dr. Dre, more specifically. Beats Electronics by Dr. Dre, a subsidiary of Apple Corporation, even more specifically.
To explain a bit, Apple bought Beats Electronics from Dr. Dre and his partner, music industry mogul Jimmy Iovine, for a reported $3.2bn in 2014 – a deal that Dre nearly derailed when he boasted about becoming the "first billionaire in hip hop" during a YouTube stream before the official announcement. The whole saga is laid out in an amazing episode of The Defiant Ones on Netflix. Well worth a watch.
Ironically the company had been started almost a decade earlier largely in response to Dre's dissatisfaction with Apple's poor quality standard issue ear buds. Dre's involvement meant the company immediately became the go-to brand for over-ear (or in-ear) virtue signalling.  
It didn't necessarily matter that the Beats headphones themselves were met with mixed reviews. That's the power of a credible figurehead: think Lewis Hamilton starting a car company. Not just signing an endorsement deal, but actually starting it. Then selling it to Tesla.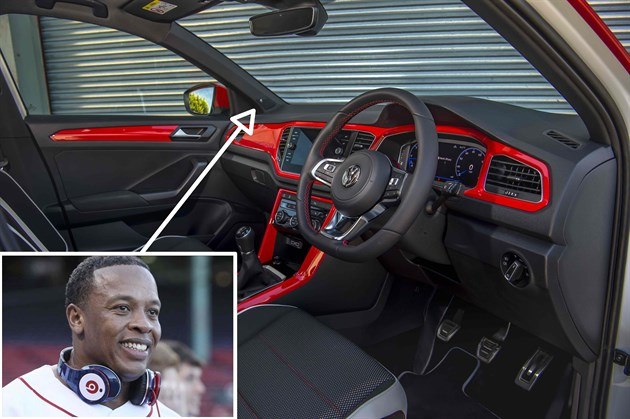 Anyways, the Apple deal saw Beats move beyond just making headphones. The name spearheaded a music streaming service (which would later become Apple Music) and saw the company sign partnerships for in-car entertainment with Fiat-Chrysler and Volkswagen. And so it is that our T-Roc has a Beats stereo.
It's poor. Probably the worst stereo upgrade I've ever had in a car. I'm even including the one SEAT does, developed in-house, called… SEAT Sound. (Actually a very good system, dreadful name aside.) Volkswagen would have been better off using that. It'd be more profitable on account of not costing anything in licensing to use (presumably), and it could be branded any which way they like. Stick 'Stormzy' on the Up version and  'James Blunt' on the Sharan. Job done.
The Beats system has a 400W output and a specific digital sound processor, but whatever processing it's doing doesn't result in any real depth or tonal warmth. It's more like a bass booster for a standard, very average-sounding car audio system. It has a three-slider EQ compared to SEAT Sound's five, for example. But most perplexing is how quickly it distorts. If you could expect just one thing from a Dr. Dre stereo upgrade, it would be bone-shattering bass at face melting volume. This thing can barely make half volume before it starts to break apart like Kanye West's grip on reality.
In fairness, it is reasonably priced compared to other stereo upgrades, is still better than the standard stereo, of course, and it's physically well packaged – the bass driver sits inside the spare wheel rather than replacing it. And so, despite all of the above, we'd still recommend it. It'll give you something to moan about, at least – a proper rare treat in the sanitised, harmonised, engineered-to-bland-pefection world of Volkswagen Group products.
« Earlier: Real MPG: we're warming up now Later: The lost art of driving LOLs »
Updates
Crossovers are killing the driving experience...but there's hope.
22 November 2019: Stereo upgrade? Anything Beats this...
Thinking of upgrading to a Beats stereo in your Volkswagen Group car? Think carefully...
Our 1.6 diesel is warming through now and there's a real improvement in economy.

The T-Roc is proving so popular that Volkswagen is catering to everybody with it. We're excited.

**spoiler alert** This update isn't about #dieselgate. Sorry.

The Volkswagen T-Roc is selling like post-Brexit food parcels...but why is it so popular?

An alternative version of our T-Roc reminds us of a specific problem with Volkswagen's 1.5 TSI engine

The T-Roc is the most customisable - if that's the right word - of all the Volkswagens. It ain't cheap though.

We welcome a Volkswagen T-Roc onto the Honest John fleet. Is this the company's best pound-for-pound crossover?