Our Cars: Volkswagen T-Roc SEL 1.6 TDI 115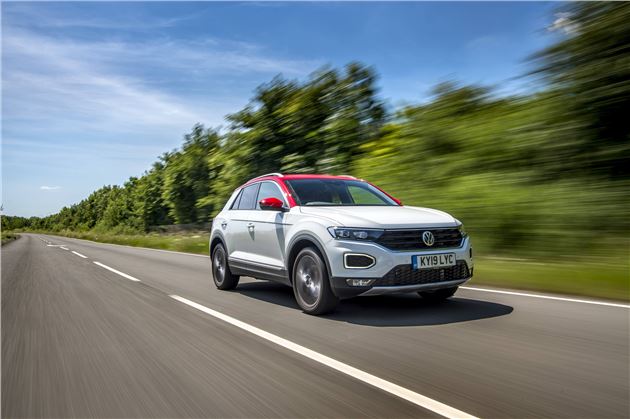 23 September 2019: Choosing our T-Roc: the price of personality
The Details
| | |
| --- | --- |
| Current mileage | 1500 |
| Claimed economy | 50.4mpg [WLTP] |
| Actual economy | 46mpg |
| | |
The T-Roc is more definitively aimed at da yoof market than anything else Volkswagen does, I'd argue. How comes, bruv? 
Because you can make the roof, the wheels and the dashboard a stupid colour, is what it boils down to. I mean, the Germans have been pedalling the whole personalisation shtick for two decades in the CAPS LOCK MINI, but it's still a bit odd being able to give a high riding German SUV (technically) a red roof. Like seeing Angela Merkel dancing, Teresa May style.
Let's pull this back in before the stereotyping veers into the offensive. What I'm getting at is that I got the chance to build this T-Roc from scratch and it was marginally more interesting than I expected it to be. Here's the car I picked: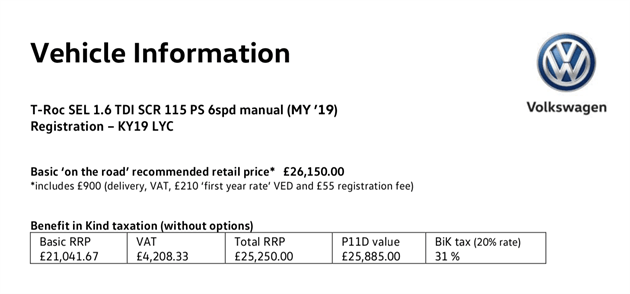 I managed to resist orange, somehow, but it was very important to me that this thing stood out. It's easy to mock VW (or any car company) for overegging the personalisation thing, but I must say that when you're sat there building your car on the internet, and the internet says you can have a contrasting coloured roof…you're gunsta get a contrasting coloured roof.
So, to get the red and white thing happening you need to pick Design spec or above, for some reason, which means spending £22,500 at least; you can have red and black with lower specs, but not white and red. Oh well. We ended up going one up from Design and for SEL - bigger wheels, better seats, LED headlights...just an altogether nicer set of stuff. The paintjob costs £785 by the way. 
But, again, the main thing we wanted was for our T-Roc to stand out - not least becaus there are so many of them on the road now, which we'll talk about another day. And so, we just had to stick a red dashboard in it. Ready?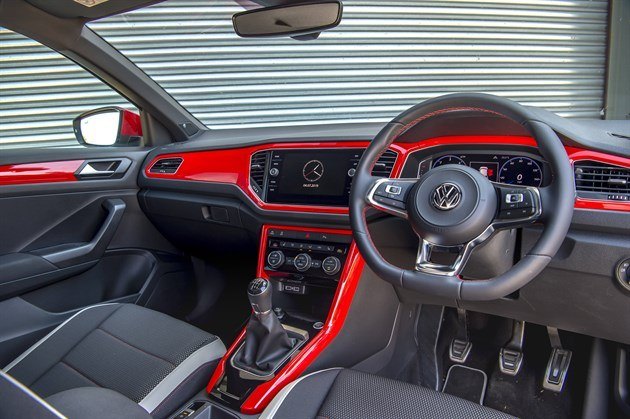 ...ta dah! It's a lot isn't it? Best £295 I've ever spent on a car option though. Honestly, the lack of slush moulding (soft-touch plastic, that is) means that a basic T-Roc can feel just that...basic. But for me this really lifts the cabin. And it's not even that distracting once you get used to it.*
Other boxes we ticked include a Winter Pack (£300) for the arse-warming seats, keyless entry because I still think it's the best car feature ever invented (£395), better wheels...well...because, and a Dr. Dre Stereo.** It's £425 worth of rubbish, it turns out. We'll talk about that at some point too. 
This is canny boring isn't it? We'll stop there. This is our car. It would cost you £29,750 to buy. We'll go through it all as the weeks go by, but its really interesting and we really like it so far. See ya. 
*That's a joke. It's never remotely distracting. 
**Beats, that is. 
« Earlier: For those about T-Roc...will this suit you? Later: It's a whole kangaroo thing »
Updates
Crossovers are killing the driving experience...but there's hope.
Thinking of upgrading to a Beats stereo in your Volkswagen Group car? Think carefully...
Our 1.6 diesel is warming through now and there's a real improvement in economy.

The T-Roc is proving so popular that Volkswagen is catering to everybody with it. We're excited.

**spoiler alert** This update isn't about #dieselgate. Sorry.

The Volkswagen T-Roc is selling like post-Brexit food parcels...but why is it so popular?

An alternative version of our T-Roc reminds us of a specific problem with Volkswagen's 1.5 TSI engine

23 September 2019: Choosing our T-Roc: the price of personality
The T-Roc is the most customisable - if that's the right word - of all the Volkswagens. It ain't cheap though.

We welcome a Volkswagen T-Roc onto the Honest John fleet. Is this the company's best pound-for-pound crossover?