Our Cars: Vauxhall Astra Sports Tourer 1.7 CDTi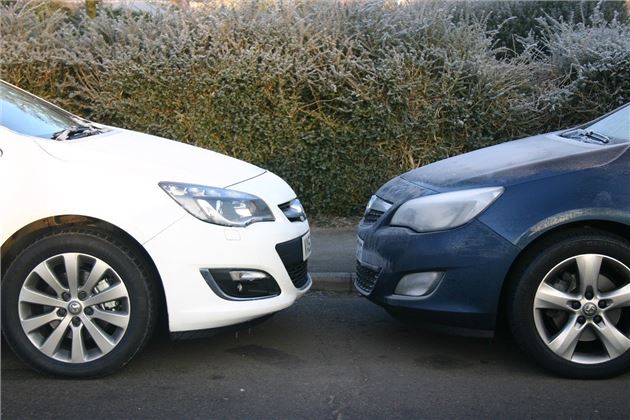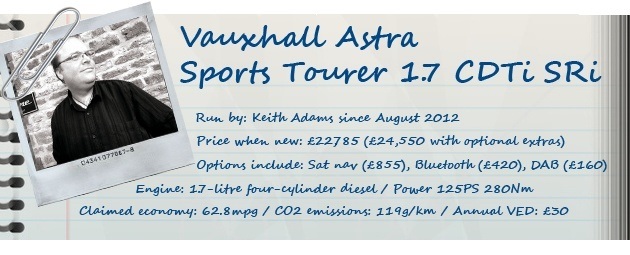 13 December 2012: Size really does matter...
The Details
| | |
| --- | --- |
| Current mileage | 12,905 |
| Claimed economy | 62.8mpg |
| Actual economy | 47.7mpg |
Regular readers will recall me giving my Vauxhall Astra Sports Tourer a bit of a kicking for its less-than-impressive fuel returns in my previous report. It's not as if fuel consumption in the high-forties is actually that bad for a near-4.7m long estate car, but for a car wearing an 'eco' badge that supposedly averages a claimed 62.8mpg, I was expecting a little more.
I concluded that this disappointing fuel consumption might be tempered by making an alternative engine choice - and that in real-word driving, an Astra Sports Tourer powered by the far more impressive 2.0 CDTi might well trounce what the 1.7-litre car is achieving. So, I arranged to borrow a facelifted 2.0 SE from Vauxhall, and drive it in exactly the same way - and in the same conditions - as my own car, just to see if it really is true that size matters in this instance.
The first thing I noticed is how just a few minor styling tweaks have really sharpened the appearance of the Astra. The slimmer chrome grille bar and more stylised fog/indicator lamps, as well as larger intake add character to what was already quite an attractive design. Inside, there are very few changes, but the old-fashioned manual handbrake was a bit of a surprise after the electronic item on my SRi - but it transpires that the more traditional type is a no-cost option. The Ecoflex display is more comprehensive on the newer car, also - something I'd come to appreciate during the coming week. As was the stop-start system.
This SE had been well optioned. In addition to the normal climate control system, this car was fitted with a pair of seat heaters and a heated steering wheel. Both of these were much appreciated during the cold snap that we had during the test.
Being an SE (as opposed to my SRI), the 2.0 CDTi has a standard ride height and softer suspension settings. During the week I had it, I noticed no loss of handling, but certainly did appreciate the more compliant ride and less stiff damping. On British roads, the non-sporting Astra is very capable indeed - and it has me wondering again why on earth so many people choose sports suspension and large wheels on cars such as this? They're far nicer to live with in standard form. Especially as pothole season approaches.
But down to brass tacks. Fuel consumption, performance, and all-round drivability. When you fire-up the 2.0 CDTi it's a little bit more vocal at idle than the 1.7, but pulling away, throttle reponse is so much better. And unlike the smaller-engined car, you're not saddled with too much throttle lag or the same marked off/on boost transition. Driving around town, this additional drivability and low-down torque manifests itself into a far more relaxed and pleasurable drive.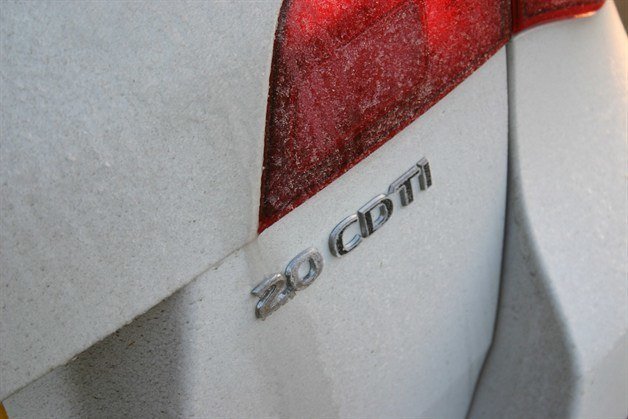 Overall gearing seems to be pretty much identical to the 1.7-litre car - so once up to motorway speeds, there's little difference in terms of engine noise. And to be fair to the smaller car, it doesn't actually feel any slower in these circumstances either. But get the 2.0 CDTi onto a typical A-Road and the additional torque means you're changing gear far less regularly, and just enjoying the swift progress that a full-sized diesel gives you.
So the 2.0 CDTi is quicker and drives more nicely, but how about fuel consumption?
The first test was the same 100-mile hypermiling trip. This incorporated 100 miles of mixed A and B-Roads as well as a stretch of clear motorway. The end result was 66.1mpg (compared with 59.8mpg from the 1.7-litre car), which is far more in keeping my expectations. And in the real world, driving it in traffic without paying too much attention to parsimonious use of the accelerator, I saw an average fuel consumption of 54.7mpg. Considering that my own 1.7 CDTi has yet to better 50mpg, and that this 2.0 CDTi isn't even run-in yet, showing just over 1000 miles on the clock, this is a very good result indeed.
The conclusions are easy to draw here. The Astra's a fine (and some would say unfairly ignored by too many people) all-rounder, which in Sports Tourer form is actually rather handsome. But whatever you do, if you have some say in the decision, try and make a bee-line for the 2.0 CDTi over the 1.7. If you're budget limited, trim your options and take the engine over the gadgets. You'll be rewarded by a car that's better to drive and quicker, and you'll be visiting the petrol stations a little less often.
And isn't that a good thing?