Our Cars: Vauxhall Astra Sports Tourer 1.7 CDTi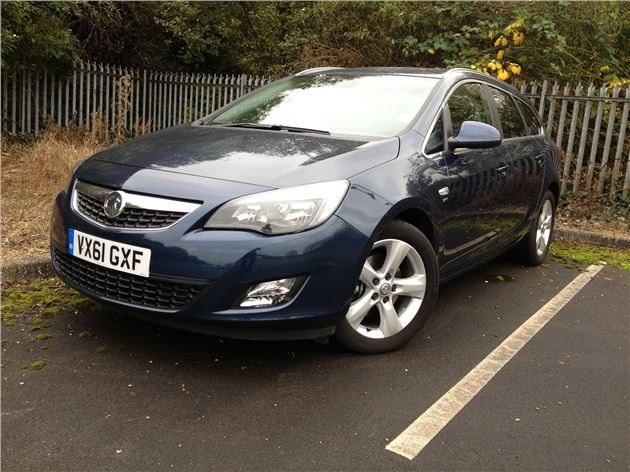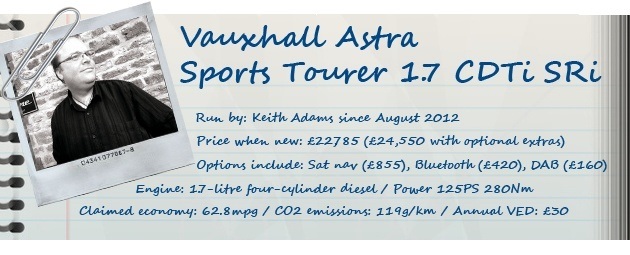 29 October 2012: Refreshes the parts no other service...
The Details
| | |
| --- | --- |
| Current mileage | 11,781 |
| Claimed economy | 62.8mpg |
| Actual economy | 49.6mpg |
I'd been complaining that the Astra was beginning to feel a little on the baggy side on the run-up to its service - there were some clonking noises coming from the front suspension and that venerable 1.7-litre CDTi was beginning to sound a little on the rough side. In the days before I booked VX61 GXF in to the garage, Vauxhall issued a press release about its new online servicing service. So what better opportunity to road test this new (to Vauxhall) feature.
I logged on to www.vauxhall.co.uk, found the 'service your car' lin, and filled in a few details - including what kind of service I needed, when I'd like it done and whether I'd like it collecting or not. Needless to say I picked the comprehensive £249 option and added the winter care package on top of that
Within five minutes, it was done – and in another five, the local dealer's (York, Ward and Rowlett of Wellingborough) service manager was on the phone, apologetically saying the date I'd chosen was unavailable. So much for the online booking system.
No harm done, though. I simply chose a day I was in the office and got them collect it. And just to make it tough for them, I didn't give them a list of faults. That would be up to them to find. As promised they turned up at 9.30am to whisk away the Astra and at 5.00pm it was back in the office car park, looking clean and sparkly. Yes, I'd been racking up the miles without keeping it clean... not good.
The delivery driver had forgotten to bring the service sheet with him, but the service book was stamped and the 'winter pack' on the passenger seat (containing wax, de-icer and other bits and pieces) looked like a good bundle for the extra £25.
The delivery driver promised the garage would post the service sheet (they did) and after he left I jumped in and took the Astra for an extended drive. And – wow – what an improvement! The suspension knocks and groans have gone and the throttle response of the (now quieter) engine has been improved (has it had a software update?). Some other niggles have been sorted, too – such as the flaky iPhone connection, which now works perfectly. We'll see how the Astra stands up to the coming few months of hard work.
« Earlier: Vauxhall vs Ferrari – you'll be surprised... Later: Astra Sports Tourer keeps on rolling »
Updates

The old expression 'there's no substitute for inches' is rather unfashionable these days, with car manufacturers downsizing. But it rings true if you own an Astra.

Stylish and good to drive it might be, but the Astra Sports Tourer is proving far thirstier than it should be. And we're not alone in thinking that.

One of those last-minute trips means the trusty Vauxhall Astra Sports Tourer gets to stretch its legs. And go home in the process...

29 October 2012: Refreshes the parts no other service...
After 12,000 miles and just in time for winter, the Astra goes in for a service and we're able to book it online using Vauxhall's new service booking system.

Our Astra is pressed into service for a photoshoot in France with a stunning Ferrari Daytona. But the dependable Vauxhall isn't left behind.

A long trip sees agreeable fuel economy, while time in Scotland gives us a chance to test the handling.

The British-built Vauxhall Astra Sports Tourer joins the ranks of our cars with the 1.7 CDTi SRi model expected to be a practical addition.