Our Cars: Vauxhall Astra Sports Tourer 1.7 CDTi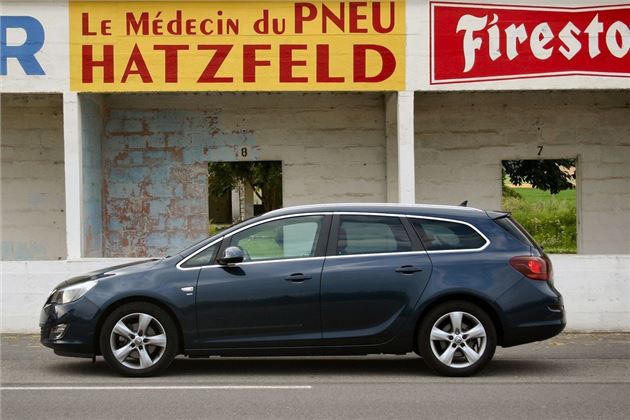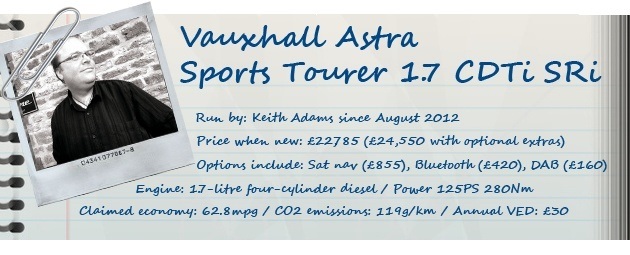 9 August 2012: Our new estate - the Astra Sports Tourer
The Details
| | |
| --- | --- |
| Current mileage | 8102 miles |
| Claimed economy | 62.8mpg |
| Actual economy | 45.9mpg |
Firmly established alongside the Ford Focus and Volkswagen Golf as one of the UK's favourite medium-sized cars, the Vauxhall Astra in its current form has been around since 2009, with the Sports Tourer following on a year later. However, with the recent announcement that production of this British-badged car would remain at the Ellesmere Port factory in Merseyside, it's a good time to take stock and re-evaluate the most 'British' car in its sector.
Of course, we wouldn't advise anyone to go and buy a car on patriotic grounds alone – not even in what has been a special year for the UK. Far from it. Any car needs to stand (or fall) on its own merits. But given the consistent success of the sixth generation Astra, we'd say that the buyers have voted with their feet.
It might be a stylish thing, with a swooping roofline, but the Sports Tourer is actually a very practical estate. With a 500 litre luggage capacity with the rear seats in place, it's up there with rivals from Ford and Volkswagen. That extends to 1550 litres with the rear seat backs folded and the bases removed. We love the easy access load cover – when it's extended, a tap on the handle rises it out of the way, on D-post rails. Just remember to drop it back before you drive off though, as it obscures rearward vision in this position.
In SRi form, the Sport Tourer comes impressively equipped, with air conditioning, USB/iPod connectivity, 17-inch alloys and cruise control as standard – but the all-singing infotainment system is an £855 option, while our rain sensing wipers cost a hefty £230. In truth we'd sacrifice the latter for electric rear windows. The interior feels well put together, with an enveloping dashboard design that really looks quite appealing. The centre console is stacked with buttons, but it's easy to navigate and in terms of tactile quality, it's not far off the Volkswagen Golf – overall it's a convincing effort.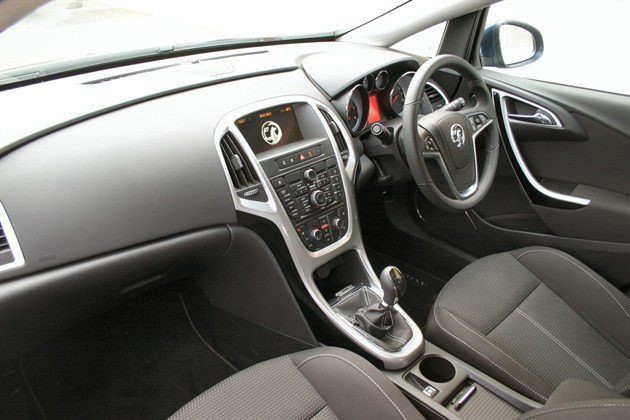 The driving position is good, with logically positioned major controls. However, the front seats are on the firm side of supportive and unless you get the driving position spot-on, backache will kick in prematurely. We'd also criticise visibility – the A-posts are far too chunky and seriously hinder progress at angled junctions. But this is a fault shared with the Ford Focus.
However, you can't criticise the way the Astra drives. As befitting SRi badging, it has a well-damped but slightly firm ride. Steering weight and accuracy are good and the change quality from its six-speed gearbox is excellent. Overall the Astra feels like it's taking on the Focus head-on as the driver's choice in its sector. You can corner with confidence and enjoy ample amounts of grip.
Performance from the vocal 125PS turbodiesel is lively enough if you're prepared to keep the turbo spinning, but be prepared for throttle lag if you're a lazy gearchanger. But once in its long-striding sixth gear, motorway miles slip by effortlessly.
List prices are high, although if you're looking for a new Astra, it's going to be reasonably easy to chip down the dealer before taking your order – but with 119g/km CO2 emissions and real world consumption of at least 50mpg, it should be cheap to keep this Sport Tourer on the road.  One thing we hope Vauxhall fixes for the facelift is individual rheostats for the instruments and infotainment system. Even in night mode, it's far too bright and it can't be dimmed unless you turn down the dashboard lighting. Annoying to say the least.
In the first week of Astra ownership, we've already covered 1200 miles, with a rapid trip up north and across the Pennines followed by a weekend's jaunt to Reims in France. Work, you understand. As the miles pile on and the familiarity increases, our impressions of the Astra Tourer continue to warm – it's clearly a car designed for hard-working professionals that just works.
Later: Odo clicks past 10,000 miles »
Updates

The old expression 'there's no substitute for inches' is rather unfashionable these days, with car manufacturers downsizing. But it rings true if you own an Astra.

Stylish and good to drive it might be, but the Astra Sports Tourer is proving far thirstier than it should be. And we're not alone in thinking that.

One of those last-minute trips means the trusty Vauxhall Astra Sports Tourer gets to stretch its legs. And go home in the process...

After 12,000 miles and just in time for winter, the Astra goes in for a service and we're able to book it online using Vauxhall's new service booking system.

Our Astra is pressed into service for a photoshoot in France with a stunning Ferrari Daytona. But the dependable Vauxhall isn't left behind.

A long trip sees agreeable fuel economy, while time in Scotland gives us a chance to test the handling.

9 August 2012: Our new estate - the Astra Sports Tourer
The British-built Vauxhall Astra Sports Tourer joins the ranks of our cars with the 1.7 CDTi SRi model expected to be a practical addition.