Our Cars: Vauxhall Astra Sports Tourer 1.7 CDTi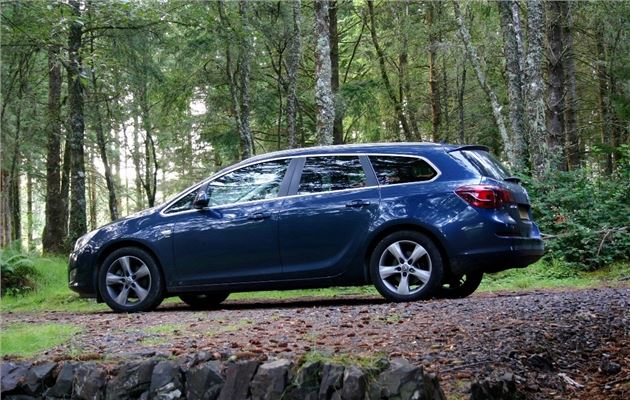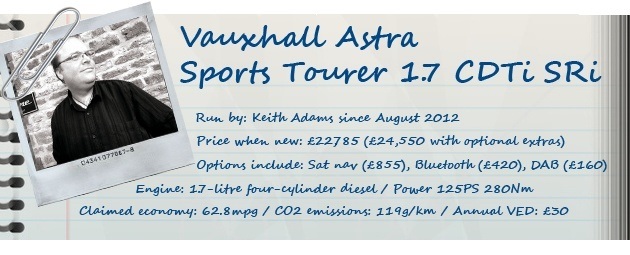 3 September 2012: Odo clicks past 10,000 miles
The Details
| | |
| --- | --- |
| Current mileage | 10,023 miles |
| Claimed economy | 62.8mpg |
| Actual economy | 46.4mpg |
Just over a month in to Astra Sports Tourer ownership and we've already clocked up over 3000 miles. And it has to be said that this is a car that seems to thrive on long distance running – which would explain why the engine is loosening-up nicely, with performance and economy getting better.
The latest long journey was a three-up fully-laden trip to Scotland's Western Highlands. This is the sort of job that the 1.7CDTi is built for and once in its long-striding sixth gear, the seemingly uphill slog to Scotland's empty west was an easy one-shot run. Before the trip, we've been averaging a constant 45mpg. Good, but about 5mpg short of what we'd expect a Volkswagen Golf 1.6 TDI to deliver in the same circumstances.
Before the trip, I brimmed the tank and reset the counter, but was disappointed to see that the trip computer was reporting an anticipated range of 520 miles. Good, but somehow I expected a little more. But once rolling on the A1, cruise set to 70mph, that figure rather agreeably began to go up.
By the time we hit Glasgow we'd covered 300 miles and the gauge was reporting that the tank was still half full. More like it. Given that we'd be heading for the wilds of Scotland – the world of high fuel prices – we refuelled here and quickly calculated our mpg the old fashioned way. And guess what – 51.6mpg. Better.
But don't get the impression we're obsessing about fuel consumption. The long-striding Astra SportsTourer proved that once away from the motorway, it's god fun on back roads. The handling is keen, with tidy turn-in and the steering is nicely weighted for those who like to crack on. But overtaking is a bit of a drag without a long run-up – the 2.0-litre with 165bhp would certainly alleviate that.
A week in Scotland with the Astra certainly gave us more time to warm to it. And it's mostly good – it really is the driver's choice in this sector if a little anonymous. It's not perfect – the front three-quarter visibility is difficult in twisty roads, the infotainment system only intermittently picks up my iPhone through its data cable and the power delivery is a little peaky – but it's incredibly competent without being boring. Professional is the best way of describing it.
On the (seemingly) down hill run from Scotland – a 400-mile non-stop motorway trip – fuel consumption once again topped 50mpg. It's just getting better – a nice thought to consider as the odometer nudges through the 10,000-mile mark…
« Earlier: Our new estate - the Astra Sports Tourer Later: Vauxhall vs Ferrari – you'll be surprised... »
Updates

The old expression 'there's no substitute for inches' is rather unfashionable these days, with car manufacturers downsizing. But it rings true if you own an Astra.

Stylish and good to drive it might be, but the Astra Sports Tourer is proving far thirstier than it should be. And we're not alone in thinking that.

One of those last-minute trips means the trusty Vauxhall Astra Sports Tourer gets to stretch its legs. And go home in the process...

After 12,000 miles and just in time for winter, the Astra goes in for a service and we're able to book it online using Vauxhall's new service booking system.

Our Astra is pressed into service for a photoshoot in France with a stunning Ferrari Daytona. But the dependable Vauxhall isn't left behind.

3 September 2012: Odo clicks past 10,000 miles
A long trip sees agreeable fuel economy, while time in Scotland gives us a chance to test the handling.

The British-built Vauxhall Astra Sports Tourer joins the ranks of our cars with the 1.7 CDTi SRi model expected to be a practical addition.