Our Cars: Toyota Avensis Touring Sports 2.0 D-4D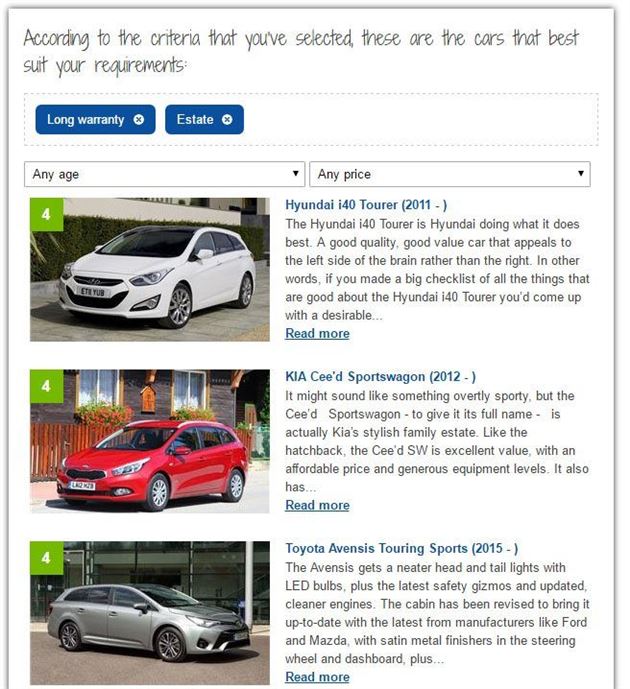 22 June 2016: Choosing an Avensis as your next car - what are its strengths?
The Details
| | |
| --- | --- |
| Current mileage | 2890 miles |
| Claimed economy | 61.4mpg |
| Actual economy | 48.4mpg |
We've recently launched a brand new tool to help you choose your next car. You won't find anything like it on any other motoring site and we're rather proud of it.
We've analysed tens of thousands of questions that have been submitted to Honest John over the years to boil-down the most asked phrases people use when choosing a car. We've then matched those to hundreds of different models.
The idea is that by simply picking a few key phrases - those that are similar to what has been asked in the past -  you will be shown a list of cars that match what you're looking for. Kind of second-guessing what you had in mind...
There's a lot to recommend about the Toyota Avensis Touring Sports, so there's a long list of associated 'tags'. When you use Chooser and click 'estate', you'll be shown 53 different estates that match that search. Everything from small-car based models like the SEAT Ibiza ST through to the Mercedes-Benz CLS Shooting Brake - plus everything in between. Overwhelming, right?
That's why we offer several further levels of refinement. Punch in details of your budget or the age of car you want (new/used) and that list diminishes quickly. Alternatively, you can pick a few more items that you're looking for in your next car.
We've given every car a list of attributes that will match searches. In the case of Avensis, we think it's particularly strong when it comes to comfortable seats, great levels of equipment and cruising on the motorway. Against that criteria, the Avensis Touring Sports is featured in a list with the Ford Mondeo estate, Volvo V90 and Skoda Superb estate.

Come at it from the perspective of value for money - by putting in estate and long warranty and you'll see that it's in with its Auris stablemate plus Kia And Hyundai offerings like the i40. Then there's the British-built angle. We're often asked about cars that are built in the UK and there's probably more Brit-built estates than you think.
As well as Avensis Touring Sports, selecting "estate" and British-built" will return Honda Civic Tourer, Jaguar XF Sportbrake, Vauxhall Astra Sports Tourer, Auris Touring Sports and the MINI Clubman (the closest MINI gets to having an estate). 
You could come at it from another perspective again. Chooser is designed to be flexible, so you don't have to select a bodystyle at the start. After all, a big hatchback or chunky crossover might do the job just as well. Choose fold-flat seats along with wide-opening doors and you get a different mix of cars altogether, with Ford S-MAX and Ford Edge putting in an appearance. Make sure that it still has a large boot and a shortlist of 53 cars is soon whittled down to just 13, including the Avensis Touring Sports, of course, which matches all of those criteria.
The Avensis Touring Sports has many admirable qualities, which is clear from the volume of Car Chooser searches that it crops up in, majoring on being highly practical, good value and reliable. Seeing it among the company of other cars that match your own personal criteria gives you the chance to consider different models by what appeals to you, rather than starting off from pre-defined routes like price or bodystyle.
So, how do you think about cars when you're in the market to buy? Facts and figures or something you can't quite place your finger on? Whichever way it is, Car Chooser can generate the longlists you need to get to your shortlist.
« Earlier: What's your view? Later: Petrol or diesel? How do the figures stack up? »
Updates

What's life like with our Toyota Avensis Touring Sports after half a year? It's time for a half term report...

Our 2.0 D-4D Avensis is certainly economical but would a petrol have been better? We look at the facts behind choosing a petrol or diesel.

22 June 2016: Choosing an Avensis as your next car - what are its strengths?
How does the Toyota stack up against alternatives when you're drawing up a shortlist of cars to buy?

When it comes to our Avensis Touring Sports how do the views of owners compare to my own?

The Avensis Touring Sports appears to be part of a dying breed - the large family estate. Where have they disappeared to?

Despite the rise-and-rise of the crossover in recent years, it's hard to overlook the practicality of the good old fashioned family estate.

Dan wants a car that'll happily dispatch motorway miles, has a load area that will tackle almost anything you can throw at it...