Our Cars: SEAT Leon SC FR 1.4 TSI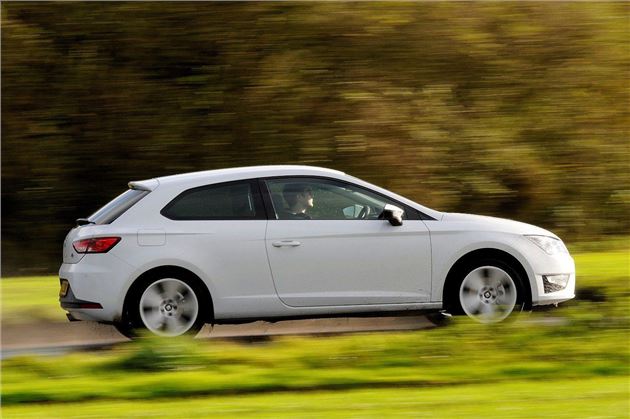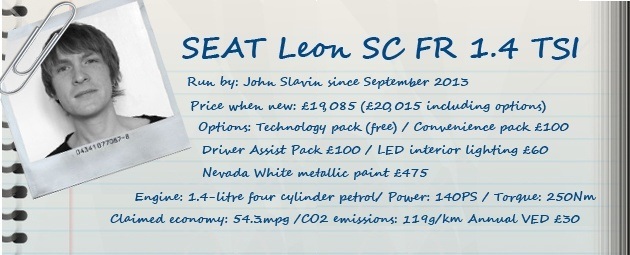 21 March 2014: Out of semi-retirement
The Details
| | |
| --- | --- |
| Current mileage | 3932 |
| Claimed economy | 54.3mpg |
| Actual economy | 53.2mpg |
London is a funny place – every street is lined with cars, but many of them spend months at a time standing still and, for a couple of weeks recently, my SEAT joined them. I had very few journeys to make and those that were necessary were undertaken in other cars, which I was road testing.
It's never a good idea to leave a car standing for a long period of time – it's bad for the brakes and the battery – but when I brought the Leon out of semi-retirement it fired up easily and drove perfectly. That was a nice surprised, but the fuel tank was almost empty.
Normally I fill up wherever is easiest, typically with regular petrol – but for a bit of an experiment I tried Shell V-Power, which cost a few more pence-per-litre but is supposed to clean the engine and improve economy. After that, it was off to Brighton for a weekend of wasting money in the 2p falls.
On the motorway down, the Leon managed better fuel economy than I'd ever seen before. cruising at a steady 70mph I saw an average of 52.3mpg, which is very, very close to the official figure. Admittedly the conditions were perfect, which was novel given the relentless rain we've had the past few months, but I can attribute at least some of those extra few miles-per-gallon to the V-Power fuel.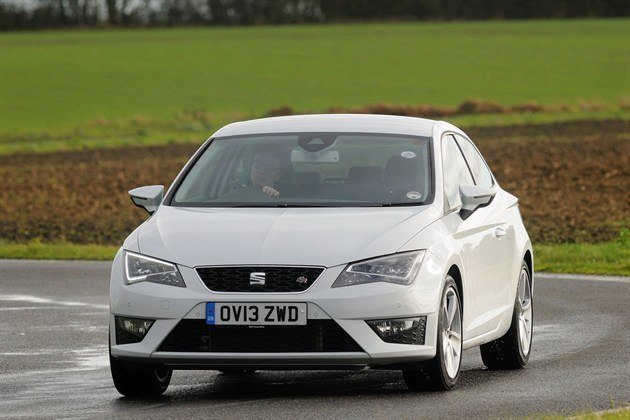 The Leon is a pleasure to come back to after time in other cars
Indeed, at a few points along the trip the average went up to more than 55mpg, beating the official fuel economy figure. Granted, that was only for a few miles and it quickly dropped back down when we reached any traffic. There were a few 50mph zones, too, which always help improve the average fuel economy.
At least they were painless with cruise control – the trip to Brighton was relaxed and easy, and a great way to reacquaint myself with the Leon, which is always a pleasure to come back to after time in another car.
You might now expect a fancy photograph of the car illuminated by the pier lights, but I'm from Yorkshire. So I saved myself a few bob by parking for free in the north of town and getting a bus to the seafront instead. The hotel was a bargain too...
One thing I didn't do when getting back into the Leon was give it a wash. Its white paint has a thick layer of London grime on it, which is a real shame because it looks great when it's polished up – so the next task is to get it back to its best, almost as if to apologise for the neglect!
« Earlier: Are you not infotained? Later: We wave goodbye to the Leon »
Updates

It's time to say goodbye to our SEAT Leon. Its replacement has some very big boots to fill.

21 March 2014: Out of semi-retirement
After a few weeks spent driving other cars I take the SEAT on a long drive to stretch its legs.

The Leon has a comprehensive in car infotainment system with navigation, DAB radio and great connectivity - here's a more in depth look at how it works.

Our Leon is an SC model - which means it has three doors. That might make it look sportier but how does it affect practicality?

How close does the Leon get to its official fuel consumption figure - and how much is that dependent on driving style?

A hectic Christmas break meant covering more than 700 miles in two days - but the SEAT coped well.

The SEAT Leon has coped well with the recent wet, grey and miserable weather, it's just a shame its white paint shows dirt so much.

For new car buyers there's never been such a variety of cars to choose from - so aside from a hatch what else can you get for £20,000?

Lane keep assist and high beam assist are great gadgets to have – but the system on our Leon malfunctioned.

The SEAT Leon is built on Volkswagen-Audi group's MQB platform - so what else shares its underpinnings?

The new Leon is undoubtedly capable but SEAT wasn't always such a strong brand. Time to chart the history of our Leon's predecessors.

We welcome the Seat Leon SC FR to Our Cars, and it's loaded with some of the most desirable technology on offer.