Our Cars: Nissan Pulsar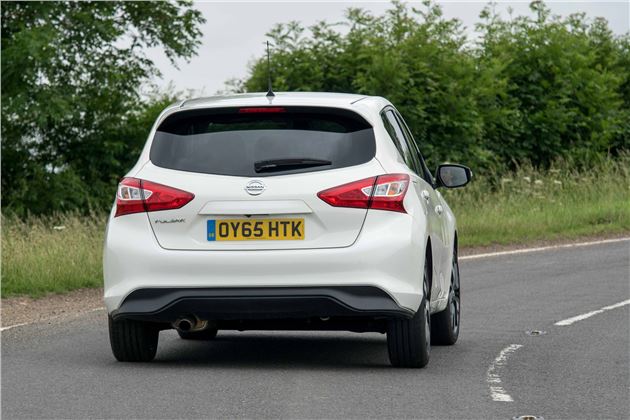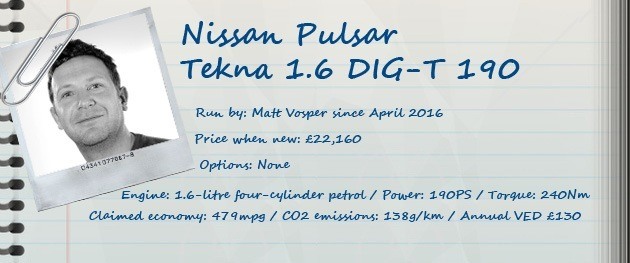 13 October 2016: The good, the bad and the ugly
The Details
| | |
| --- | --- |
| Current mileage | 11664 |
| Claimed economy | 47.9mpg |
| Actual economy | 40.6mpg |
So we've finally come to the end of our six months with the Nissan Pulsar and it's now my chance to summarise in a few words my final thoughts on the Tekna. To be fair to it, this is not really a hot hatch - and in fairness it's not really marketed as such. It's just that it's the quickest in Pulsar the range with 190PS and a 0-62mph time of 7.7 secs. It's quick enough but not hot.
Styling wise, it's the pick of the bunch of trim levels albeit not really too far above the standard specification. It's big selling point is the technology fitted with safety features like front radar, lane assist and blindspot indicator. The emergency breaking is a feature you'll hopefully never have to use, pretty much the same as airbags, so should it really be an option or standard fit?
So should you buy one? Well that depends on what you want from a car. The Pulsar is a jack of all trades and yet a master of none. That's no bad thing, it's just there isn't one thing on this car that stands out. Apart from perhaps the rear legroom, which is remarkably generous for a car this size.
I think that the the Tekna trim really isn't a selling point because it's based on safety and really in this day and age, achieving a high Euro NCAP score should be the aim for all models. Yet the best safety kit only comes on this top trim level. 
                                     The Pulsar has an impressive amount of rear legroom
The Pulsar car faces competition from the likes of the Toyota Auris, Peugeot 308 and Ford Focus. Against those it's hard to make a case for the Nissan. It's not that the Pulsar isn't a great car - it is - it's just that I know there's something ever so slightly better out there.
But its main strength is price. The Pulsar is £6k cheaper than the Qashqai Tekna and that's why it has won awards for being the best cheap family hatch. If you want a good quality family hatchback without breaking the bank - this could be a very good choice given the value for money it offers. That said, at £22,000, our Pulsar is hardly what you'd call cheap.
The problem is, there's nothing really original in the Tekna, equipment-wise. It feels as though it is keeping up but not leading the way when it comes to advanced in-car tech. Rather than leading the way here, Nissan seems to be playing the waiting game.
Personally, I'd probably go for a lower spec than the Tekna and plump for the 1.5 dCi. Boring? Yes, but it's very economical with a claimed 78.5mpg and has more than enough poke for everyday driving. It's also a better motorway car. Thiw is the new rock and roll of family hatchbacks. It's an honest small car that's well built and cheap to run. If I were Nissan, that' an idea I'd take as my own and run with...