Our Cars: Nissan Pulsar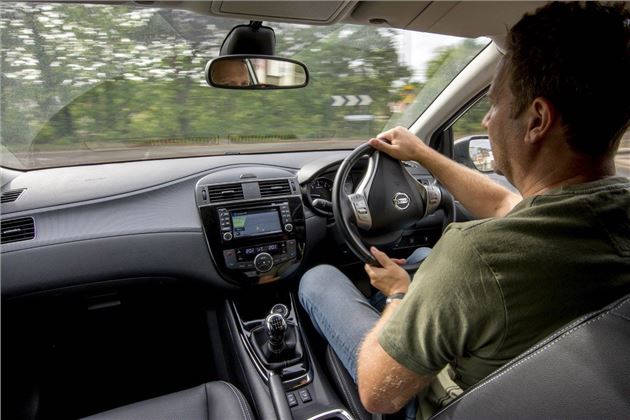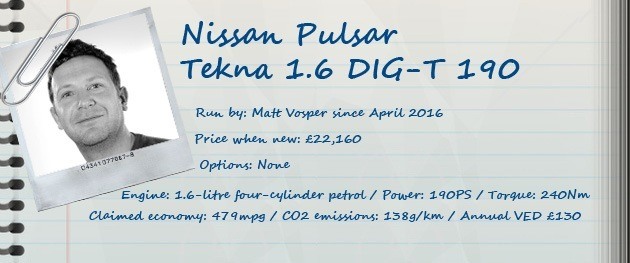 7 September 2016: Getting a handle on things
The Details
| | |
| --- | --- |
| Current mileage | 9516 |
| Claimed economy | 47.9mpg |
| Actual economy | 40.1mpg |
When talking about the Pulsar 190 DIG-T, I try and avoid using the phrase 'hot hatch'. This is no rival to the likes of the Focus ST or Astra VXR. But it is as sporty as the Pulsar gets. Which isn't bad considering this is designed as a practical family car more than anything else. 
But why have a sporty version at all? I guess it goes back to the days of the Almera. The Almera was once sold in a series of adverts as the car the Sweeney would drift round the streets of London shouting "shut it!" while two Bodie and Doyle lookalikes would drive through streets flicking up litter "to make the car look good". The Almera may not have been that good but the adverts were.
The Almera was a car sold with attitude and possibly the adverts were the best part of it. Now Nissan has gone back to the drawing board with the Pulsar and marketed the Tekna trim as a sophisticated piece of kit full of modern technology in a refined package. Not a whiff of car chasing, burger munching, or cops shouting "shut it!"
And that's where I have a problem with the Pulsar - its identity. I don't have a problem with the car though, that couldn't be further from the truth it and here's why. It's a soft kind of sporty hatch. Yes, it's quick with 0- 62mph time at 7.7 seconds plus the suspension is pretty stiff for a family car. But not one of the kids has mentioned it feeling uncomfortable and the seats most definitely aid this as the ride is far from soft and smooth.
You can put the car into corners nice and quick with less roll than you would get on a standard Golf on 16- inch wheels. The stiffer suspension and 18-inch alloys give more contact with the tarmac, making it a surprisingly good car when it comes to corners.
Accelerating through the gears is very nice, the lever slots into the gate solidly and the engine note isn't too distracting. In fact at cruising speed on the motorway, it's actually very quiet. A bit too quiet for a sporty hatch. So,who is this car aimed at?
Probably me to be honest. Someone middle-aged with children who likes cars but also requires space for kit and room for kids at weekends. Plus it's enjoyable to drive. Any chance to nip to the shops or out for the day and immediately I'll try to justify driving the Pulsar over our family Renault Scenic.
It's very good at what it does. It's a sporty yet refined and comfortable with enough room for a family car. It just ticks all the boxes. And that's its problem. It may tick all the boxes really well but not one box stands out from the competition...
« Earlier: Fuel economy update alert Later: Service please... »
Updates

After six months we've come to the end of our time with the slightly-sporty Pulsar. So what's the final verdict?

It's time for our Pulsar to have its first service as it approaches 10,000 miles already. So how does Nissan do on the customer service front?

7 September 2016: Getting a handle on things
Matt is trying to work out whether our Pulsar is a sporty hatch or merely a family car with some posh wheels on...

The Pulsar isn't matching the claimed Nissan figures for fuel economy but it's still proving reasonably frugal as Matt finds out...

Need extra room in your hatch? We did and the solution was a posh roof box for our sporty Nissan.

The Pulsar has lots of cameras on board to make parking and tight manouevres easier. So do they actually help?

The low front end of our Pulsar is causing some problems when it comes to speed bumps and parking. As Matt finds out.

The Pulsar has keyless start but, as Matt finds out, it can be a temperamental system. He'd be happy with a conventional key.

Our Pulsar is fitted with a host of safety tech. But what happens when that tech decides not to work?

Our Pulsar is a kind of hot hatch that meets family runabout. But in reality, the two couldn't be further apart from each other. So does it work.

The Pulsar comes with an array of safety systems. But do they actually help you to become a better - and safer - driver?

Enter the Pulsar. Nissan's new Almera. And Matt will be running this sporty DIG-T 190 model for the next six months.