Our Cars: Nissan Pulsar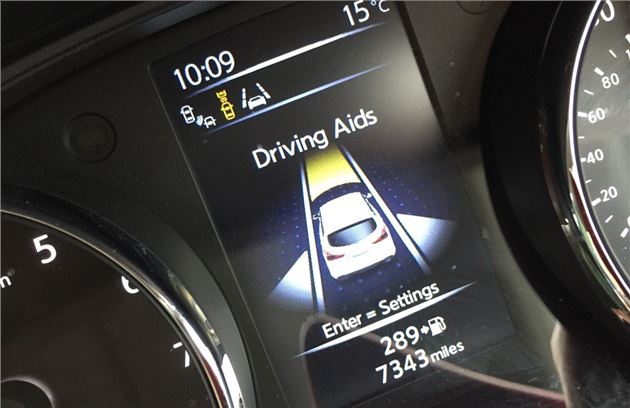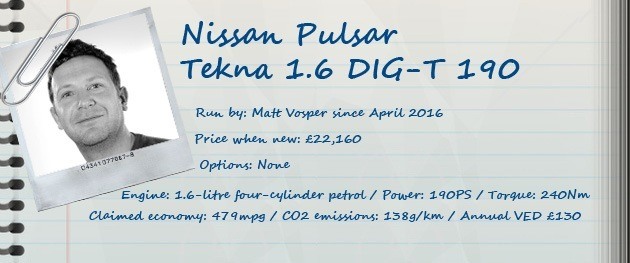 15 June 2016: Tekna-phobe
The Details
| | |
| --- | --- |
| Current mileage | 6931 |
| Claimed economy | 47.9mpg |
| Actual economy | 41.2pg |
Being a photographer I have to embrace technology and its continual advancement at an ever-increasing pace. Be it digital cameras, new editing software and anything else, the more capabilities that technology brings change and evolve the way I work.
There's also an expectation with new technology that it should always work. And when it doesn't, then there must be something wrong. There's also an expectation of immediacy. If you don't get a reaction immediately there's a tendency to press, click or swipe until you do.
The Pulsar I'm driving is the Tekna. As the same suggest, it's full of technology for the tech-obsessed buyer including plenty of great safety features which aid the driver. There are of course other versions less tech heavy which are cheaper.
But has Nissan made a car where there's more to go wrong? They're not the only company to do so. In fact cars are increasingly becoming more and more tech heavy. Gone are the days of the pure petrol head who's only concern was horsepower and handling. Now it's more about wi-fi hotspots, Bluetooth connectivity and safety or even worse, autonomy.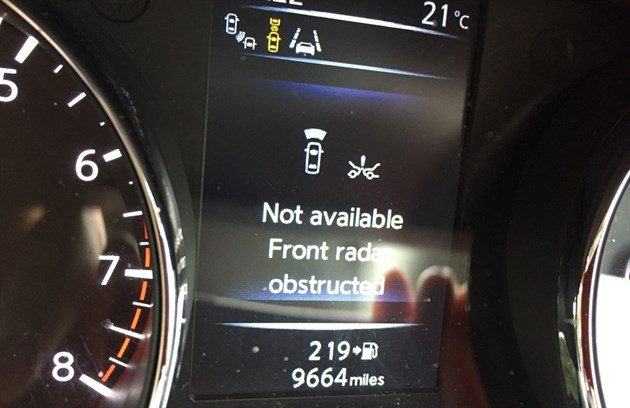 Our Nissan has a mini meltdown...
So when the dashboard of the Pulsar flashes up with 'Front impact detection not working' with a warning sign in yellow, you immediately think that the system has failed. That extra kit that you pay a huge premium for is no longer working. And how much will it cost to fix it?
This has now happened twice, only to resolve itself within 20 minutes, then happen again only to fix itself again. My immediate thought is that I should head straight to a Nissan dealer to get this resolved. But after correcting itself I find myself thinking that this is a driving aid that is not a necessity, so is it worth the hassle?
Has Nissan been clever enough to understand the psychology of consumers to place a warning sign in here when the tech doesn't work periodically? Or are they covering themselves legally because some drivers are totally reliant and not paying attention? Or maybe they simply know that the front impact detection doesn't work that well in the rain.
Admittedly it was raining quite heavily when this warning sign came up while driving on the M25, but I've no guarantee it was the rain. Trouble is, if this is the case, surely it's not great as these are the conditions when I would predict the most obvious time for emergency braking to come in handy. 
« Earlier: Can a sporty hatch perform as a family car? Later: Papers please... »
Updates

After six months we've come to the end of our time with the slightly-sporty Pulsar. So what's the final verdict?

It's time for our Pulsar to have its first service as it approaches 10,000 miles already. So how does Nissan do on the customer service front?

Matt is trying to work out whether our Pulsar is a sporty hatch or merely a family car with some posh wheels on...

The Pulsar isn't matching the claimed Nissan figures for fuel economy but it's still proving reasonably frugal as Matt finds out...

Need extra room in your hatch? We did and the solution was a posh roof box for our sporty Nissan.

The Pulsar has lots of cameras on board to make parking and tight manouevres easier. So do they actually help?

The low front end of our Pulsar is causing some problems when it comes to speed bumps and parking. As Matt finds out.

The Pulsar has keyless start but, as Matt finds out, it can be a temperamental system. He'd be happy with a conventional key.

15 June 2016: Tekna-phobe
Our Pulsar is fitted with a host of safety tech. But what happens when that tech decides not to work?

Our Pulsar is a kind of hot hatch that meets family runabout. But in reality, the two couldn't be further apart from each other. So does it work.

The Pulsar comes with an array of safety systems. But do they actually help you to become a better - and safer - driver?

Enter the Pulsar. Nissan's new Almera. And Matt will be running this sporty DIG-T 190 model for the next six months.