Our Cars: Nissan Pulsar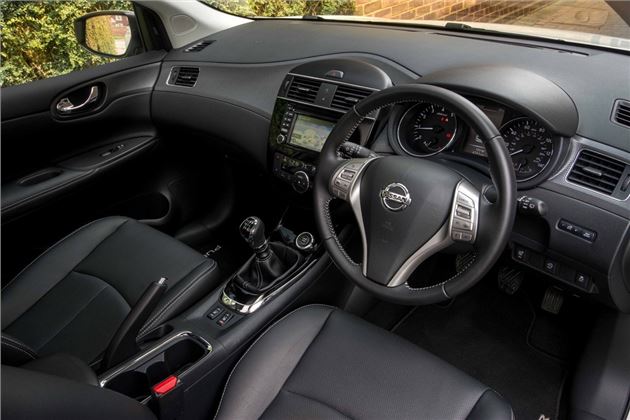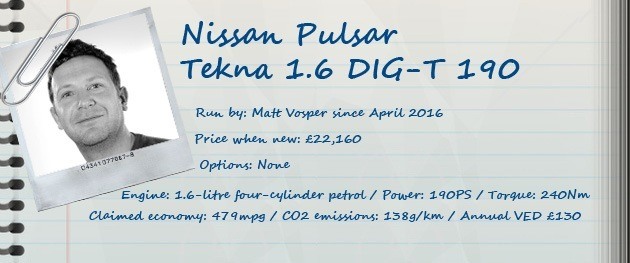 11 May 2016: Taking a brake
The Details
| | |
| --- | --- |
| Current mileage | 5438 |
| Claimed economy | 47.9mpg |
| Actual economy | 42.2mpg |
So what can Nissan shout about with the Pulsar? Well if you watch the TV adverts it's all about safety and technology. This car is certainly not short of it with things like moving object detection, lane departure warning, blind spot warning, forward emergency braking and brake assist.
It also comes with reversing camera plus side and front cameras which combine into one image to give you a kind of 'birds eye view' of your position from above. This can then show you how well you've parked. Or how badly in my case.
But is any of this any good? Well 'sort of yes' and 'don't know' are the only answers I can give at the moment. That's because some of this tech - such as forward emergency braking - is something hopefully you should never need.
The idea is that the forward facing camera/radar is constantly monitoring the field of vision in front of you. Should the car feel that there's an imminent front impact about to happen it will first warn you and then apply the appropriate amount of braking to avoid any impact at up to 30km/h. I've been reliably told that it actually works at up to 50 km/h but I'm not going to test that out...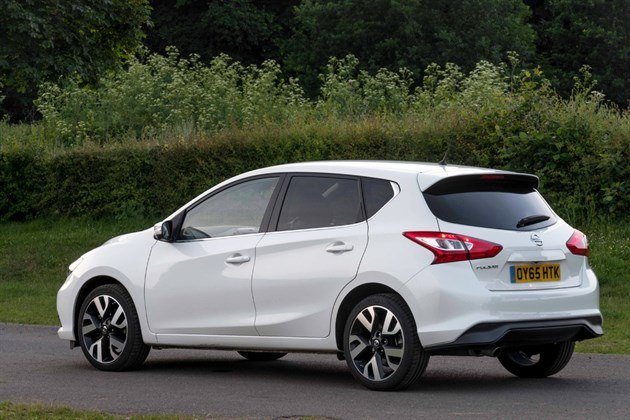 The Pulsar, not crashing into anything...
The same goes for pedestrians, with moving object detection. The car also monitors lane positionto to warn you if you're creeping out of your lane. All of these driver aids are switchable from the steering wheel but as default they're always on. After all, why would you switch them off?
So far, I've not had any moments when the car has had to step in and apply the brakes for me but I do occasionally hear warning beeps. This must be the overzealous panic of moving object detection which to be fair just leaves you wondering why the car beeping as it spots something you haven't.
More annoying but also reassuring is the lane departure warning that beeps to remind me constantly of my inability to indicate before changing lane. It's no bad thing as if you do indicate there's no beep so it reminds you not to be lazy with your indicators.
Again you can switch this off, but it's good to know that this system and all the others are constantly working for you. And it may just improve my driving. 
« Earlier: What is a Pulsar? Later: Can a sporty hatch perform as a family car? »
Updates

After six months we've come to the end of our time with the slightly-sporty Pulsar. So what's the final verdict?

It's time for our Pulsar to have its first service as it approaches 10,000 miles already. So how does Nissan do on the customer service front?

Matt is trying to work out whether our Pulsar is a sporty hatch or merely a family car with some posh wheels on...

The Pulsar isn't matching the claimed Nissan figures for fuel economy but it's still proving reasonably frugal as Matt finds out...

Need extra room in your hatch? We did and the solution was a posh roof box for our sporty Nissan.

The Pulsar has lots of cameras on board to make parking and tight manouevres easier. So do they actually help?

The low front end of our Pulsar is causing some problems when it comes to speed bumps and parking. As Matt finds out.

The Pulsar has keyless start but, as Matt finds out, it can be a temperamental system. He'd be happy with a conventional key.

Our Pulsar is fitted with a host of safety tech. But what happens when that tech decides not to work?

Our Pulsar is a kind of hot hatch that meets family runabout. But in reality, the two couldn't be further apart from each other. So does it work.

11 May 2016: Taking a brake
The Pulsar comes with an array of safety systems. But do they actually help you to become a better - and safer - driver?

Enter the Pulsar. Nissan's new Almera. And Matt will be running this sporty DIG-T 190 model for the next six months.