Our Cars: Nissan Pulsar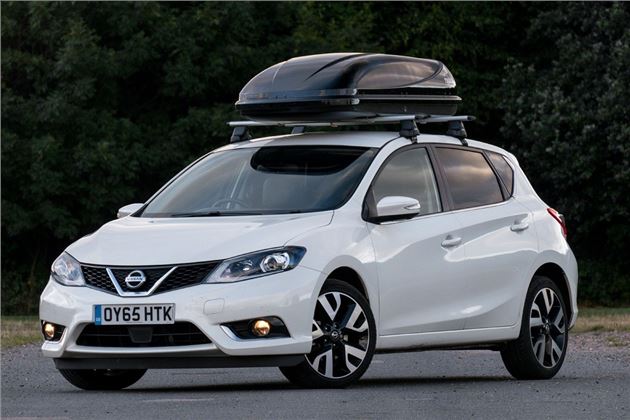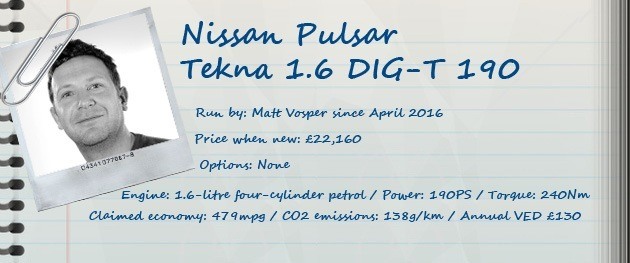 10 August 2016: Roof box solves our Nissan's space problems
The Details
| | |
| --- | --- |
| Current mileage | 9105 |
| Claimed economy | 47.9mpg |
| Actual economy | 39.5mpg |
It may seem I'm complained about a lot of the technology on our Pulsar but I do have yet one more anomaly - the lane departure warning system. Because this has now decided to tell me I'm departing lanes when I'm not.
It's only happened a couple of times and it's when I've driven through the same underpass. As I'm driving out the other side, it warns me with an audible beep that I'm straying out of my lane. Even though I'm dead centre of my lane. I think it must be some errant road markings or maybe the system is over sensitive. Or maybe I'm actually veering out of my lane...
As a family hatchback, the Nissan needs to be pretty competitive, partricularly when it comes to space. In fact the room in the back of this car is Tardis-like. There's ample legroom and I can very comfortably sit behind myself with room to move.
It is quite deceiving as from the outside the Pulsar looks quite small yet there's plenty of head room in the back. Four adults would be very comfortable and the kids have never complained at lack of room, only my driving and what's on the radio.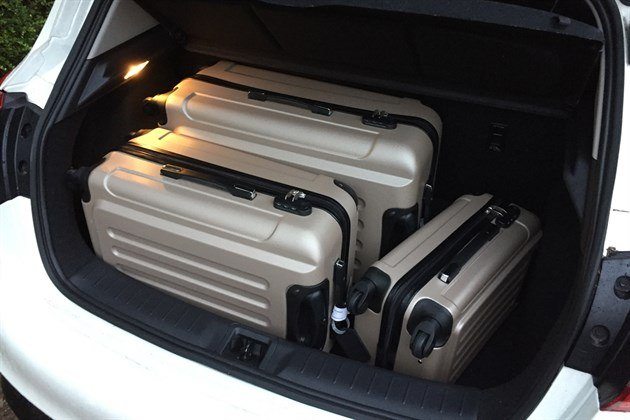 Nissan's big boot can fit in three suitcases. Matching ones too...
Our Pulsar comes with leather seats and the rear armrest folds down to house to good sized bottles, so it's ideal for the kids and doubles up as great way of separating them when they squabble...
This goes for the front also. It's really quite a nice place to be and as mentioned before, there's good visibility and the door line is quite low adding to the airy feel. It's not the feel you get from many other hatches, especially sportier ones which usually come with bolstered seats and black headlining.
The boot is pretty good too. I can easily get three suitcases in thanks to the 350 litres of  carrying space. To put that into perspective the Pulsar boot is slightly bigger than the Ford Focus at 316 litres and slightly less than the Volkswagen Golf at 380 litres but almost identical to the Vauxhall Astra which has 351 litres.
However, should you need more space you could always get yourself a roof box like the Thule Ocean 200 I've had fitted. It adds an extra 450 litres on top of your 350 litres and in gloss black it really looks quite the part. A roof box on a sporty hatch? Yep. In fact it's the perfect set up with the comfort of the Pulsar with extra space. It's a shame the economy isn't as impressive but you cant have everything.
« Earlier: Cat cam in the Pulsar Later: Fuel economy update alert »
Updates

After six months we've come to the end of our time with the slightly-sporty Pulsar. So what's the final verdict?

It's time for our Pulsar to have its first service as it approaches 10,000 miles already. So how does Nissan do on the customer service front?

Matt is trying to work out whether our Pulsar is a sporty hatch or merely a family car with some posh wheels on...

The Pulsar isn't matching the claimed Nissan figures for fuel economy but it's still proving reasonably frugal as Matt finds out...

10 August 2016: Roof box solves our Nissan's space problems
Need extra room in your hatch? We did and the solution was a posh roof box for our sporty Nissan.

The Pulsar has lots of cameras on board to make parking and tight manouevres easier. So do they actually help?

The low front end of our Pulsar is causing some problems when it comes to speed bumps and parking. As Matt finds out.

The Pulsar has keyless start but, as Matt finds out, it can be a temperamental system. He'd be happy with a conventional key.

Our Pulsar is fitted with a host of safety tech. But what happens when that tech decides not to work?

Our Pulsar is a kind of hot hatch that meets family runabout. But in reality, the two couldn't be further apart from each other. So does it work.

The Pulsar comes with an array of safety systems. But do they actually help you to become a better - and safer - driver?

Enter the Pulsar. Nissan's new Almera. And Matt will be running this sporty DIG-T 190 model for the next six months.