Our Cars: Nissan Pulsar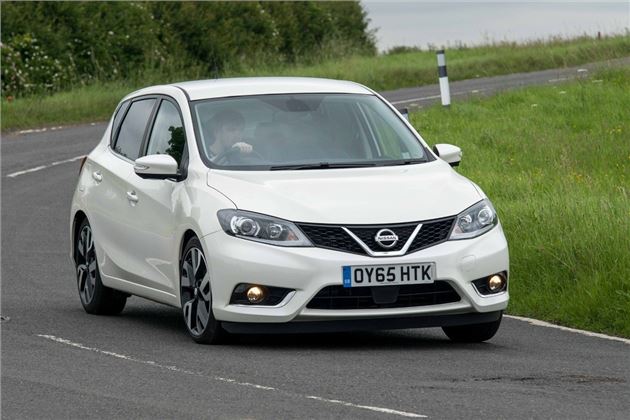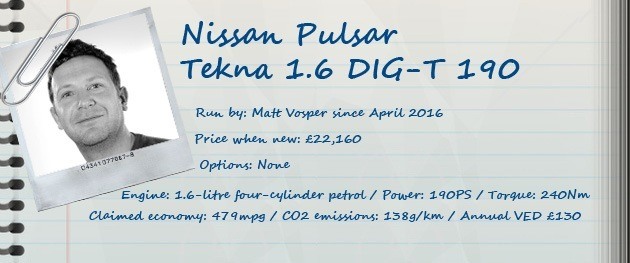 24 August 2016: Fuel economy update alert
The Details
| | |
| --- | --- |
| Current mileage | 9206 |
| Claimed economy | 47.9mpg |
| Actual economy | 40.2mpg |
Economy in the Pulsar is something I've gingerly touched on in previous updates before moving onto another subject as quickly as possible. The reason? It's not actually falling short of the claimed figure which I expected.
It does however have a small fuel tank which means I'm spending a lot of time filling the thing up with fuel. So it may seem thirsty, but is in fact not that bad.
Ii may be billed by some as a 'hot hatch' and there is no such thing as an economical hot hatch. The Pulsar is more lukewarm than hot and this puts it alongside more economical hatchbacks - stuff like the Leon FR TDI.
The claimed combined economy for the Pulsar DIG-T 190 is 47.9mpg. My real world figures show 40.2mpg. This actually surprised me. I thought it would be way off. Of course the manufacturers claimed figure is pretty much unobtainable in everyday situations, but I'm not that short at all.
                                   Thule aerodynamic roof bars are designed to reduce drag
Of course there are family cars that can double this figure and I know that nowadays 40mpg is nothing to sing about. But for a car with 190PS that's not a bad figure. So the Nissan does redeem itself to a certain extent.
Personally, if I were in the market to buy a family car, I would go for something more economical. While a the Nissan is good fun and quite quick, it comes at a price. For me, fuel economy is more important.
One thing that does of course affect the economy is weight. That and aerodynamics. So I've managed to try and ruin both by fitting a Thule roofbox. Ours is the Ocean 200 which adds an extra 450 litres of space. 
I used the Thule wing bars to attach the roofbox. These are at least designed to be aerodynamic to reduce drag and noise. True, they're a little pricier than normal bars but I'm hoping it's worth it. The Thule roofbox is itself very aerodynamic and I've been driving for the last 2000 miles or so with this on - albeit with not much weight in. And surprisingly it hasn't affected the overall fuel economy.
Having said that, I would say that 90 per cent of the miles covered have been motorway miles. For me that's the nature of usage, but for others a Pulsar may be driven mainly in town which would see a much lower economy figure.
« Earlier: Roof box solves our Nissan's space problems Later: Getting a handle on things »
Updates

After six months we've come to the end of our time with the slightly-sporty Pulsar. So what's the final verdict?

It's time for our Pulsar to have its first service as it approaches 10,000 miles already. So how does Nissan do on the customer service front?

Matt is trying to work out whether our Pulsar is a sporty hatch or merely a family car with some posh wheels on...

24 August 2016: Fuel economy update alert
The Pulsar isn't matching the claimed Nissan figures for fuel economy but it's still proving reasonably frugal as Matt finds out...

Need extra room in your hatch? We did and the solution was a posh roof box for our sporty Nissan.

The Pulsar has lots of cameras on board to make parking and tight manouevres easier. So do they actually help?

The low front end of our Pulsar is causing some problems when it comes to speed bumps and parking. As Matt finds out.

The Pulsar has keyless start but, as Matt finds out, it can be a temperamental system. He'd be happy with a conventional key.

Our Pulsar is fitted with a host of safety tech. But what happens when that tech decides not to work?

Our Pulsar is a kind of hot hatch that meets family runabout. But in reality, the two couldn't be further apart from each other. So does it work.

The Pulsar comes with an array of safety systems. But do they actually help you to become a better - and safer - driver?

Enter the Pulsar. Nissan's new Almera. And Matt will be running this sporty DIG-T 190 model for the next six months.