Our Cars: Nissan Pulsar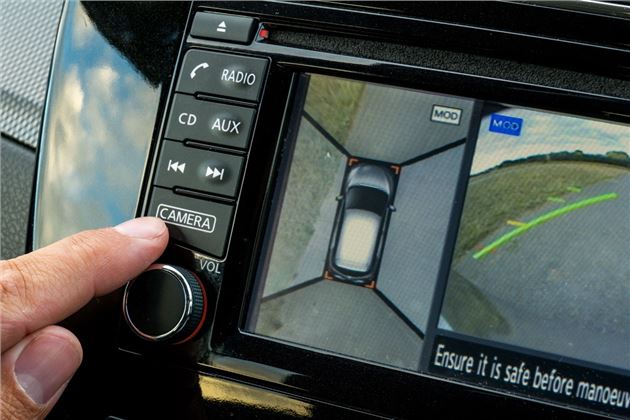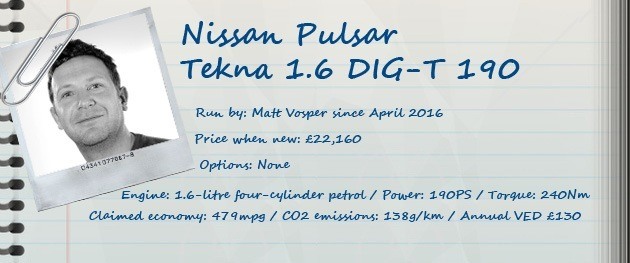 27 July 2016: 360 cat cam in the Pulsar
The Details
| | |
| --- | --- |
| Current mileage | 8528 miles |
| Claimed economy | 47.9mpg |
| Actual economy | 40.1mpg |
We've established that the Pulsar DIG-T 190 is full of tech and one of the things I haven't mentioned are the cameras on this car. Which is strange as a I'm a photographer obsessed with photography. The problem is, there doesn't really seem to be a reason for them and so I've so far failed to understand their point.
To a certain extent, I still don't understand the point. The car has four cameras, one on the underside of each door mirror and one on the front and back. I understand the rear camera, it's a simple reversing camera but also shows trajectories according to the turning aspect of the front wheels, handy for tight parking spots.
You can also toggle the views, so the wing mirror cameras show a side view of the car and obviously the front camera shows the view ahead of the car. What's quite clever here is that there's also a split screen view which combines all four cameras into one aerial view from above the car with a generated image of the car in the middle.
This is Nissan's 360 view. It's like a bird's eye view from above you, looking down on the car and more importantly, your surroundings. It really is very clever but of course it is a simulation rather than the real thing.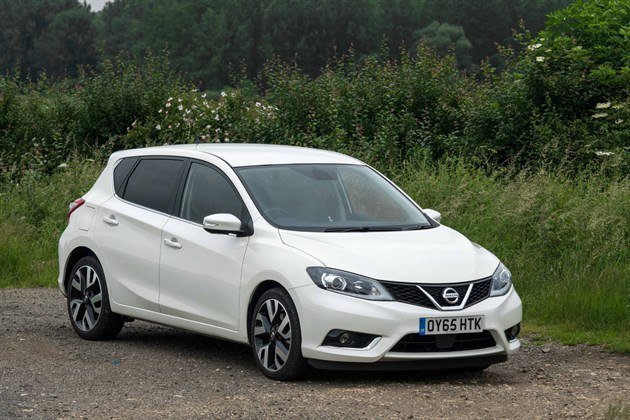 Matt is able to see just how close to this grass verge he is...
Coupled with parking sensors, the 360 view should even make those people who really don't like parking a bit more confident. However it does concern me that some may spend more time looking at the screen rather than the job at hand.
The Pulsar doesn't have the automated reverse parking system that some of its competitors have like the Focus and Golf. In fairness, I have tried those and never used them again preferring to do the job myself. So in a way I prefer an aid rather than the car taking matters into its own hands. So this camera system gets the thumbs up from me.
My only criticism would have to be that in this day and age the cameras in the Pulsar seem to be quite poor quality. Nowadays we're used to retina displays and even 4k but I don't think these are even HD which in a way already makes them look dated.
The front camera cuts back out after approximately 10 miles an hour to stop you looking at it while driving. But its really useful when parking up close to a wall and on a couple of occasions when pulling onto the driveway its even saved our cat Ginger's life…
« Earlier: Start to stop getting the hump... Later: Roof box solves our Nissan's space problems »
Updates

After six months we've come to the end of our time with the slightly-sporty Pulsar. So what's the final verdict?

It's time for our Pulsar to have its first service as it approaches 10,000 miles already. So how does Nissan do on the customer service front?

Matt is trying to work out whether our Pulsar is a sporty hatch or merely a family car with some posh wheels on...

The Pulsar isn't matching the claimed Nissan figures for fuel economy but it's still proving reasonably frugal as Matt finds out...

Need extra room in your hatch? We did and the solution was a posh roof box for our sporty Nissan.

27 July 2016: 360 cat cam in the Pulsar
The Pulsar has lots of cameras on board to make parking and tight manouevres easier. So do they actually help?

The low front end of our Pulsar is causing some problems when it comes to speed bumps and parking. As Matt finds out.

The Pulsar has keyless start but, as Matt finds out, it can be a temperamental system. He'd be happy with a conventional key.

Our Pulsar is fitted with a host of safety tech. But what happens when that tech decides not to work?

Our Pulsar is a kind of hot hatch that meets family runabout. But in reality, the two couldn't be further apart from each other. So does it work.

The Pulsar comes with an array of safety systems. But do they actually help you to become a better - and safer - driver?

Enter the Pulsar. Nissan's new Almera. And Matt will be running this sporty DIG-T 190 model for the next six months.