Our Cars: Mitsubishi Outlander PHEV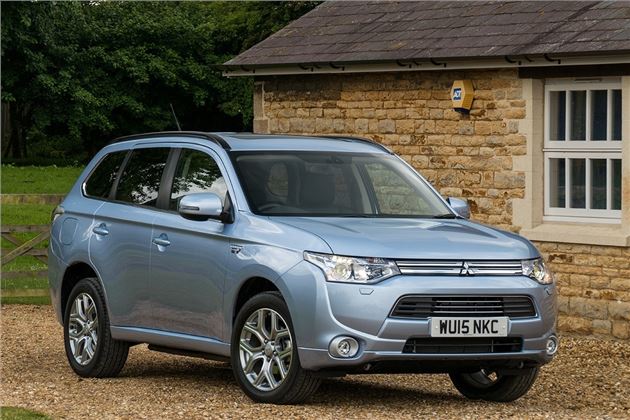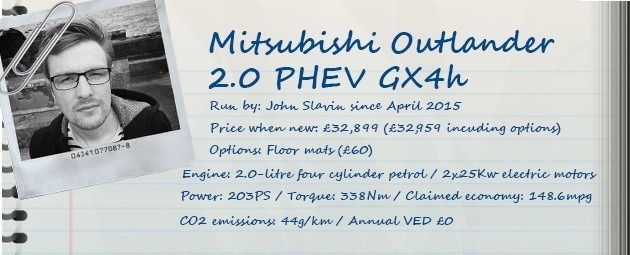 27 April 2015: Welcome to the future
The Details
| | |
| --- | --- |
| Current mileage | 750 |
| Claimed economy | 148.6mpg |
| Actual economy | 49.3mpg |
Once upon a time, big SUVs were the enemy. Crushing baby animals, destroying fields and boiling the oceans, these gas-guzzlers were the root cause of all evil in the world. But the Outlander PHEV is different - because it is a plug-in, petrol-electric hybrid and officially it can do 148mpg, emitting just 44g/km of CO2.
You wouldn't guess that by looking at it though. The first impression I had when our blue rinse-coloured Outlander PHEV arrived was "wow, that's pretty large". In fact, if you strip away all the plug-in hybrid planet-friendly pretensions the Outlander is more or less exactly what an SUV should be.
It's tall, long and chunkily-styled, with four-wheel drive and loads of space in both the boot and the back row. From the driver's seat there is a commanding view forward and down the prominent bonnet, but when you press the start button there is no grumbling, ratting diesel noise. In fact there is nothing at all.
The Outlander PHEV makes no sound, other than a cacophony of bongs if you forget to buckle your seat belt immediately upon sitting down. The only thing that you can hear from the powertrain is the faint whir of the electric motors and the crunch of gravel under the wheels. The engine only kicks in when accelerating hard or when the battery is completely dead, which isn't often. Since driving along at least partially charges it, at low speeds the PHEV is pretty much entirely an EV.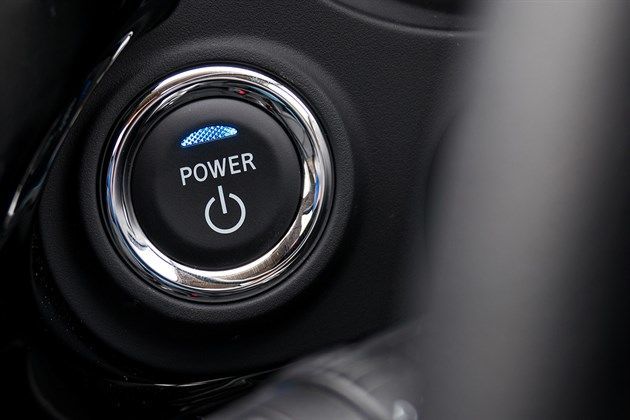 An illuminated button is necessary, since there is usually no noise 
Charging the battery from a three-pin socket takes about five hours from empty to full, which gives a theoretical range of 30 miles on EV power alone. In reality the range is closer to 20 miles, but for commuting that is absolutely fine. You can also boost the battery up to 80 per cent in under 30 minutes by hooking up a fast charger, like those provided by Ecotricity in motorway services.
Given the fact I only charge the Outlander in places where someone else pays the bill I can get quite a long way for free – but once the battery is out of charge and the 2.0-litre petrol engine starts up the official economy figures mean nothing. On a long journey (and I cover a lot of miles) typical economy is about 40mpg. A long way short of 148mpg, but for a big, petrol-powered all-wheel drive SUV that's not bad at all.
The first few journeys have been a learning experience. Maximising EV range becomes something of an obsession - coasting the car, being gentle with the throttle, plotting routes that pass fast charging points and using the regenerative brakes all become an essential part of a journey. Thankfully they aren't a distracting part of a journey, since range anxiety is irrelevant provided you can find petrol. In fact, nothing is distracting on a long trip – the Outlander is quiet, comfortable and easy to drive thanks to the automatic transmission. You just put it in D and go.
First impressions are very good, but there are lots of things to think about with a plug-in hybrid besides how impressive the car is. What is the charging infrastructure like in the UK? Does a plug-in really make financial sense for a long distance driver? Hopefully we'll find out in the coming months.
Later: Keeping the batteries charged »
Updates

After six months of driving around on a mixture of petrol and electricity, it's time to say goodbye to the Outlander PHEV.

Out of order chargers and other EV drivers are getting on my nerves - but fortunately I can always rely on petrol to sort me out.

Since our Outlander arrived, Mitsubishi has busily beavered away on the design – now Outlanders get updated styling and a few other tweaks.

Matt was initially impressed with the space and quietness of the Outlander, but after covering some miles does he still like it?

John hands the Outlander over to Matt Vosper for a couple of weeks to see if it suits his high mileage driving.

If you've settled on the idea of driving a pluh-in hybrid, what other options are there aside from the Outlander?

The Outlander PHEV is a fantastic company car, thanks to BIK benefits that will save many drivers thousands of pounds.

What fits in an Outlander? Rather a lot of stuff, it turns out. John finds out as he buys an old moped.

The navigation system in the Outlander seems to be haunted by the ghost of a demon headmistress...

The Outlander has paddles for choosing one of five levels of regenerative braking - mastering them can add miles to the range.

Keeping the Outlander PHEV topped up is essential if you want to make the most of a tank of petrol - these are the methods.

27 April 2015: Welcome to the future
We welcome the plug-in hybrid Mitsubishi Outlander. Part electric car, part petrol car, all futuristic.