Our Cars: Mazda MX-30 GT Sport Tech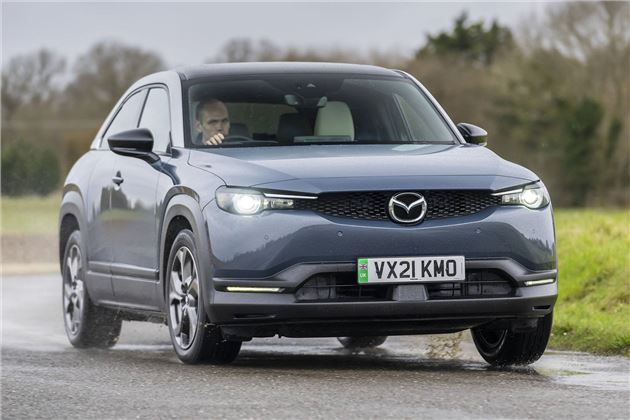 30 March 2021: She's electric: Mazda MX-30 joins the HJ fleet
The Details
| | |
| --- | --- |
| Current mileage | 385 |
| Claimed range | 124 miles |
| Actual range | 102 miles |
Mazda is a bit of an oddity. When other car manufacturers were launching hot hatches in the late 80s, it sensed the time was right for a two-seater sports car. More recently, it snubbed the downsizing trend and fitted its petrol models with large (not particularly powerful) petrol engines. The brand's marketing bods dubbed this 'rightsizing' – simply, fitting the right sized engine to the car and revelling in realistic real world fuel economy figures and impressive reliability.
So it's with bated breath that we've been waiting to see what Mazda will do with electric power. The MX-30 is the Japanese brand's first electric vehicle (it hasn't even done a 'proper' hybrid before) and it looks, well, surprisingly normal. And by that we mean normal by Mazda's standards. The brand has one of the most attractive line-ups in the market today, in our eyes, and the MX-30 is no exception.
A few curiosities aside (it has rear-hinged doors – a nod to the RX-8 sports car), the MX-30 simply looks like a very stylish small crossover. Only the lack of exhaust tailpipes, a small 'e-Skyactiv' badge on the tailgate and the green strip on the number plates really give it away as an EV.
Of course, being a Mazda, it's when you look at the technical bits that things get a bit peculiar. For now, there's only one battery available: a small 35.5kWh power pack. That results in a fairly meagre range of 124 miles. Or about 100 in the real world.
That's where rightsizing comes in again, says Mazda. Most electric car buyers don't actually want to travel hundreds of miles between charges. They have another car for that, so lugging around a massive battery that they're not going to make the most of is massively inefficient.
We're going to be putting this to the test. A Mazda MX-30 is joining the HonestJohn.co.uk fleet for the next 12 months and we'll be looking to use it just like we would any petrol or diesel model – the weekly shop, commuting, going away on holiday; you name it, we'll be using the MX-30 for it.
Our test car is a top-spec GT Sport Tech model. We'll cover in more detail what that means in a future update, but standard kit includes a fancy 12-speaker Bose sound system, a 360-degree camera and a heated steering wheel. We've gone for Polymetal Grey with the stylish (and expensive) contrasting roof.
This lists at £34,345, meaning – after changes announced on the day we collected the car – it still qualifies for the Government's plug-in car grant, bringing the price you'd pay down to £31,845 including options. In finance terms, you'll be looking at around £415/month for an MX-30 in this spec with a £4000 deposit. We'll be providing updates every two weeks so keep an eye on the Our Cars page for all the latest on life with the MX-30.
Updates

30 March 2021: She's electric: Mazda MX-30 joins the HJ fleet
We're going to be running Mazda's curious electric car for 12 months. Will we get fed up of its 124-mile range in that time?