Our Cars: Mazda CX-5 2.2 SE-L NAV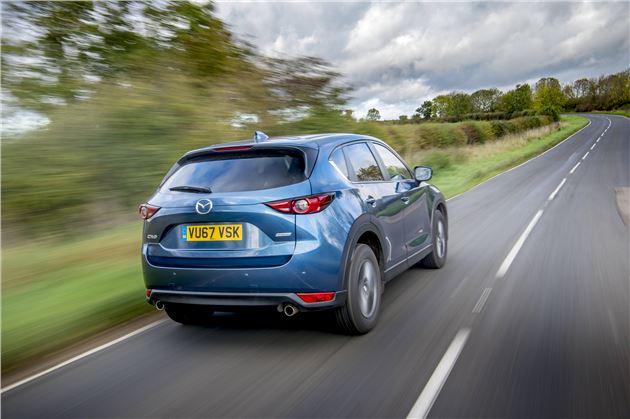 17 January 2018: What impact have the updates had to the way the CX-5 drives?
The Details
| | |
| --- | --- |
| Current mileage | 2347 |
| Fuel consumption 42.8mpg | |
The CX-5 has always been one of the best crossovers of this size to drive, better in fact than many of Mazda's standard hatchbacks against their rivals. 
Set up to have some of the flair that you'd expect from their MX-5, the CX-5 has always offered a much more engaging drive than - for example - the Nissan Qashqai. In diesel form, it's always been quick-off-the-mark with quick, accurate cornering and the ability to carry speed through corners with little in the way of bodyroll. The downside to that, of course, is that the suspension set up has always been a little firmer - but that's something that's true of many Mazda's in the range.
The new car is no different and you can really see where those incremental improvements have been made. The body is stiffer and that means the handling is further improved. You can feel how bodyroll is better controlled - impressively so for a car of this size and shape - and how it's more surefooted through corners. From behind the wheel, you get the feeling that you're driving nothing larger than a large hatchback. Although the driving position is raised, giving a good view of the road ahead, you're never left with the impression you're something this large. That MX-5 quality that I mentioned earlier really shines through on this new car, particularly in the steering and crisp, clean gearchanges. It's a flavour of sportiness that's missing from many other large crossovers and rather surprising the first time you're out on the road. 
Mazda will tell you that is in part to do with the introduction of new "SKYACTIV-VEHICLE DYNAMICS" (its capitals, not mine…). This rather shouty name is the catch-all term for a suite of tech that's already been used on Mazda 2, CX-3 and Mazda 6 and is now making its debut on CX-5. Key to this is G-Vectoring control, which is said to "integrate control of the engine, transmission and chassis to enhance the connection between car and driver and, GVC varies engine torque to optimise vehicle dynamics. By monitoring steering and throttle position when entering a corner under power, GVC momentarily reduces the amount of torque delivered to the front wheels, thereby transferring a fraction more weight onto the front axle. This increases front tyre grip, which allows the front wheels to turn more precisely." In English, this means that ignition is paused when sensors determine the steering wheel is being turned at the same time the vehicle is moving at speed.
Hands-up - I wouldn't be able to tell you it's there unless I knew already, but it does help add to the impression that as much thought has gone into making the CX-5 engaging to drive as has making it a practical family hold-all. I don't think Mazda expects you to notice, either. It also states "The indiscernible nature of GVC means that the driver subconsciously reduces any unnecessary steering and throttle movements through the corner. Even on a straight road, GVC can reduce driver fatigue and increase passenger comfort by removing the perceived need for the countless tiny corrections that some drivers make when driving straight. In doing this, GVC lowers driver effort and reduces the amount of head and body sway small steering corrections can create for passengers." 
Another area where much attention has been paid for this MKII CX-5 is the refinement. Again, this really comes over when you're out on the open road and on the motorway in particular. Like the G-vectoring Control, it's not something that you can put your finger on, you're not going to be thinking "WOW, this sound deadening is AMAZING" at any point, but you are likely to pick up - after a while - that it really is a quiet cabin. The suppression of engine noise is especially impressive to me - all of the harsh notes under acceleration are filtered out and road noise is unnoticeable. 
So, whether it's out on the road or, from behind the wheel, these upgrades to the CX-5 really shine through, even though you wouldn't necessarily notice from the outset that they are there. 
« Earlier: Put to the MoT Test Later: How much does it cost to insure a Mazda CX-5? »
Updates

After little more than 12 months on sale, there's some nips-and-tucks for the second generation CX-5

As temperatures top 30 degrees, how does the CX-5 cope?

Thumbs-up or thumbs-down from readers on HonestJohn.co.uk?

Insurance is one of the most significant costs of owning a car - so what does that mean for the CX-5?

17 January 2018: What impact have the updates had to the way the CX-5 drives?
Despite looking very similar to the outgoing model, Mazda has put much thought into improving the driving experience - but how does it stack up?

Our latest analysis on every MoT conducted in 2016 has a bit of a surprise in store for the CX-5.

The CX-5 has been something of a runaway success for Mazda, with many happy owners. How will this latest model fare?