Our Cars: Mazda CX-5 2.2 SE-L NAV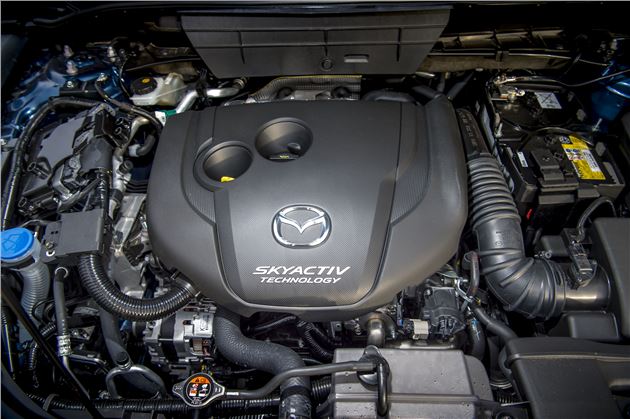 7 November 2017: Put to the MoT test
The Details
| | |
| --- | --- |
| Mileage | 1298 |
| Fuel consumption | 42.3mpg |
We've recently published the latest set of MoT Test results, covering all tests carried out up until 2016. It's a huge dataset, which gives unparalleled insight into which cars are likely to pass their test - and what they fail on if they don't. If you're unfamiliar with the work that we've been doing since 2012 in opening up previously-hidden MoT Test results to the public, you can get the full story here. 
Obviously this won't cover my CX-5, which is second generation and only registered this year, but our research into MoT data does give an indication of how it may perform in future based on what the performance of Mazda as a manufacturer and the first generation CX-5 in particular -  and that accounts for tens of thousands of cars. 
And the outlook is good. Our research shows that the CX-5 has the third-highest MoT pass rate with 89.2 per cent passing their MoT - only Audi's Q3 and the Vauxhall Mokka have a better score. Close to 8000 were tested in 2016 - many of those being the first MoT - so this is a very strong, impressive, performance indeed.
So, what will you see a Mazda CX-5 fail on? Dig deeper into the stats and you'll see that the biggest area for failure was tyres - 3.5 per cent of cars presented for the MoT test came a cropper on this. So, although it might appear to be a bit of a cliche to check the depth and condition of your tyres before the test (and regularly anyway as a matter of course), it could be the difference between pass and fail. It's one of those areas that's almost exclusively down to the owner, not the manufacturer.
Brakes come in second at 2.8 per cent - again an area that falls under maintenance, while lamps, reflectors and electrical equipment account for 2.4 per cent. After 2.3 per cent of failures for driver's view of the road (take down those air fresheners hanging from the rear-view mirror), there are almost no other reasons for failure - which is remarkable. Not a single CX-5 failed for steering or seatbelt issues and only 0.1 per cent failed on body structure and road wheels.
But what about higher mileage cars? This is where things start to get even more impressive and really start to demonstrate the CX-5's potential longevity. Lower-mileage models perform-in line with expectations. At 10-20,000 miles 94.3 per cent of CX-5s will pass the test (against an all-model average of 86.9 per cent) and at between 20-30,000 miles it's 90.7 per cent (against the all-model average of 82.3 per cent). But whereas the drop-off in pass rates accelerates on the all-model average when you get to 90-100,000 miles, it remains impressively steady for CX-5. There's a drop of just 8.7 per cent between a 10,000 mile car and one that has covered 100,000 miles. Conversely, the average 100,000 mile car will have a pass rate of just 54 per cent - a drop of 33 per cent cent on a 10,000-mile car.
As a manufacturer, Mazda impresses too. Taking all of its models registered between 1980 and 2014 and tested in 2016, it comes out with a 67 per cent pass rate from 464,647 MoT tests. The top three reasons for failure are: lamps and lighting (13.5 per cent), suspension (11.5 per cent) and brakes (9.6 per cent). It should be remembered that many of the older nineties cars tested will be imported Eunos Roadsters and Bongos which are, ahem, of varying quality. They're likely to have issues arising from being imported and potentially not looked after as well as they may well have been that that will be pulling down the average. Bongo's pass rate is just 50 per cent. On the whole, Mazda classics are well looked after - a 1985 car has a better pass rate than a 2008 car.
It just goes to demonstrate that second generation CX-5 owners should have nothing to fear on their first MoT - provided they've done a few checks for themselves. Click here for all the stats on CX-5 MoT tests.
« Earlier: Introducing the second generation Mazda CX-5 Later: What impact have the updates had to the way the CX-5 drives? »
Updates

After little more than 12 months on sale, there's some nips-and-tucks for the second generation CX-5

As temperatures top 30 degrees, how does the CX-5 cope?

Thumbs-up or thumbs-down from readers on HonestJohn.co.uk?

Insurance is one of the most significant costs of owning a car - so what does that mean for the CX-5?

Despite looking very similar to the outgoing model, Mazda has put much thought into improving the driving experience - but how does it stack up?

7 November 2017: Put to the MoT test
Our latest analysis on every MoT conducted in 2016 has a bit of a surprise in store for the CX-5.

The CX-5 has been something of a runaway success for Mazda, with many happy owners. How will this latest model fare?