Our Cars: Mazda CX-5 2.2 SE-L NAV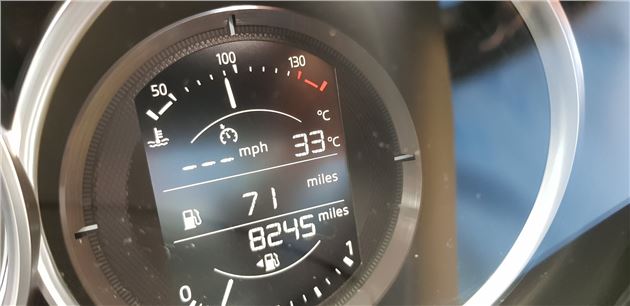 17 July 2018: How does the CX-5 hold up in a heatwave?
The Details
| | |
| --- | --- |
| Current Mileage | 7827 |
| Fuel consumption | 43.9mpg |
This year has seen one of the longest unbroken spells of hot and sunny weather in living memory - a real contrast from The Beast From The East earlier in year.
But what do these extremes of knee-high snow in March and mid-thirties temperatures in July mean for the CX-5?
Well, it's happy with both. Back in March, the decent ride height and chunky tyres helped out in the snow and now some of the CX-5's other qualities are coming to the fore as the mercury rises.
In mid-July we're in the kind of territory where when you leave the office at the end of the day and get in the car it's like getting into a greenhouse on wheels. Those big windows on the CX-5 may give great visibility and may be tinted for privacy, but they do an efficient job of heating it up during the day. During late July it hasn't been unusual to see 35 degrees on the thermometre on the dash - and it feels like it too.
The dark interior of the CX-5 absorbs that heat, too - the dash, steering wheel and instruments are all hot to the touch when you first get in. But it does cool quickly if you use the standard procedure of winding windows down and cranking up the air con up to full blast. It needs a good five or ten minutes, but the temperature soon comes down to a more comfortable level. I've found that for outside temperatures around 30 degrees the fan speed needs to be a full notches down from full blast to maintain a comfortable temperature for those in the front and passengers in the rear. In spite of the increased air conditioning use, I haven't really seen any difference in fuel consumption - remaining at a steady 43.9mpg.
The lack of rain this year has been welcome when it comes to outdoor events - and this is where I was expecting the CX-5 to come into its own. In years gone by, torrential downpours at festivals and outdoor events have turned field car parks into quagmires. As May turned to June, I'd been expecting to get a taste of this myself with the CX-5 (after all this is the time of year when Glastonbury is on - as famous for its mud baths as its bands), but not a bit of it. I'd expected the same qualities that helped it in the snow in March to get it out of muddy fields at events. But, none of it - the blazing summer has meant that grass has been short and mud has been baked to concrete-like hardness. There's been little difference between parking on this and a tarmaced car park…
And at those events, the sheer space and flexibility of CX-5 continues to impress. Whether it's an airshow where picnics, camping chairs, trolleys and the like are needed or a weekend away that requires a couple of small cases, there's plenty of room on offer. The CX-5's rear bench splits and fold 40:20:40, which is ideal when there's longer items. With both seats down, there's a huge amount of space. You'll have no problem with four large suitcases and other assorted bags and luggage.
Of course, nothing lasts forever and those long, hot summer days were brought to an abrupt close at the end of July. This can mean treacherous conditions on the roads, as the debris that's been sitting on top of the tarmac for several months can cause ice-like conditions. And that's before you consider the flash floods and surface water caused by overwhelmed drains and the baked-solid ground that struggles to absorb the rainwater. Once again, the CX-5 doesn't put a foot wrong - the wipers may be maxxed-out as a torrential storm, but the on-road performance remains strong - a feeling that's aided by good forward visibility.
With such all-round ability, flexibility and sure-footedness in adverse conditions, it's no surprise that crossovers have become so popular in recent years - and it shows no signs of letting up.
« Earlier: What's the feeling among owners about the the CX-5? Later: Time for a change already? »
Updates

After little more than 12 months on sale, there's some nips-and-tucks for the second generation CX-5

17 July 2018: How does the CX-5 hold up in a heatwave?
As temperatures top 30 degrees, how does the CX-5 cope?

Thumbs-up or thumbs-down from readers on HonestJohn.co.uk?

Insurance is one of the most significant costs of owning a car - so what does that mean for the CX-5?

Despite looking very similar to the outgoing model, Mazda has put much thought into improving the driving experience - but how does it stack up?

Our latest analysis on every MoT conducted in 2016 has a bit of a surprise in store for the CX-5.

The CX-5 has been something of a runaway success for Mazda, with many happy owners. How will this latest model fare?