Our Cars: Mazda CX-5 2.2 SE-L NAV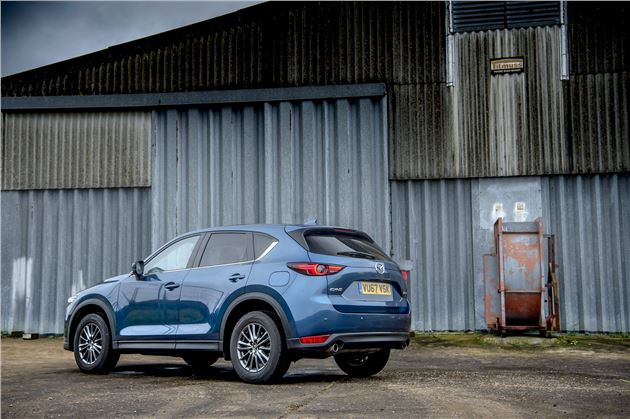 9 October 2017: Introducing the second generation Mazda CX-5
The Details
| | |
| --- | --- |
| Current mileage | 586 |
| Fuel consumption | 41.5mpg |
We can't be on the second generation of the CX-5 already can we? It seems like it was just the blink of an eye ago that Mazda was launching its popular and thoroughly decent alternative to the Nissan Qashqai.
A quick check of the calendar - and my own memory - confirms that, yes, we're now in the era of CX-5 2.0 (and by that I do mean MK2, not a 2.0-litre engine. Though there is a 2.0-litre engine - more on that later). Out of every five Mazdas to leave showrooms in the past five years, two have been CX-5s, so this new one will no doubt be hotly anticipated by existing owners.
So, what are the key differences? Well, it's not baby-out-with-the-bathwater territory, but you'll notice that the styling has been sharpened-up  with the shark-like grille and super-slim headlights. Big changes come in the areas that you can't see - especially in refinement and sound deadening - so much in fact that it's 50kg heavier than before. There's also upgrades for the engine and additional kit that was becoming standard-fit for cars of a similar size and price.
And that's important, as the The CX-5 now exists in a much more sophisticated landscape to the original car. The large crossover is now the default family car with almost every manufacturer offering something. And you can take your pick of some truly exceptional cars. As well as the venerable Qashqai, SEAT has its Ateca (our car of the year 2017), Ford the Kuga and Peugeot the new 3008. After something with a snazzier badge? Then there's options from Audi, Mercedes-Benz and BMW. On more of a budget? Then there's Ssangyong and Dacia. All of them offering superb cars at their various price points.
So, competition from every angle. The CX-5 is capable of holding its own, though. The previous generation was good to drive and that should be carried over and, while it isn't cheap, it does represent good value on paper.
With that in mind, I've opted  for the SE-L, as you get plenty of useful equipment such as cruise control, front and rear parking sensors and automatic lights and wipers. The next trim up has its sights firmly on German premium territory with toys such as heated seats and steering wheel, a head-up display, fully electric leather seats, a powered tailgate and keyless entry. Nice to have? Maybe. Worth paying the extra for? I'm not so sure…
Options-wise, I've gone for Deep Crystal Blue metallic. And that's it. It's an £800 extravagance, but pretty much all colours these days will cost you.
That means that this CX-5 clocks-in at £28,010, which compares favourably to the likes of the SEAT Ateca and Ford Kuga (£30,010 and £29,490 respectively). And when it comes to an Audi Q5 - you'll be looking at in excess of £40,000 to achieve the same kind of spec.
Power comes from a 2.2-litre diesel. Controversial in the current climate, but I feel it's the best engine for the CX-5. There are two states of tune: 150PS and 175PS and I've gone for the lower output. It has more punch than the the 2.0-litre petrol (which although more powerful - with 165PS - doesn't deliver its power as eagerly). All of these engines have been carried over from the old CX-5, but are said to have been improved considerably when it comes to vibrations and resonance - especially the diesel when it's idle.
The impact of that extra weight has had a negative effect on CO2 emissions - though with changes to road tax, this is becoming less of a concern for private buyers. The 150PS 2.2-litre diesel will emit 142 g/km CO2, though Mazda is confident that it equates to a real-world 53mpg. We'll see on that score when Real MPG results start to roll in from readers. The previous generation was a mixed bag, with some models as high as 86% of the official figure and the lowest coming in at 77%. In theory, Mazda's improvements should see an improvement on this.
We like Mazdas here at HonestJohn.co.uk. Not only from our own experience, but what's reported from you - our readers. Well built, good to drive and well equipped is a summary of what we usually hear - all of which I'll be bearing in mind during my time with this CX-5.
Updates

After little more than 12 months on sale, there's some nips-and-tucks for the second generation CX-5

As temperatures top 30 degrees, how does the CX-5 cope?

Thumbs-up or thumbs-down from readers on HonestJohn.co.uk?

Insurance is one of the most significant costs of owning a car - so what does that mean for the CX-5?

Despite looking very similar to the outgoing model, Mazda has put much thought into improving the driving experience - but how does it stack up?

Our latest analysis on every MoT conducted in 2016 has a bit of a surprise in store for the CX-5.

9 October 2017: Introducing the second generation Mazda CX-5
The CX-5 has been something of a runaway success for Mazda, with many happy owners. How will this latest model fare?