Our Cars: Jaguar XF 3.0D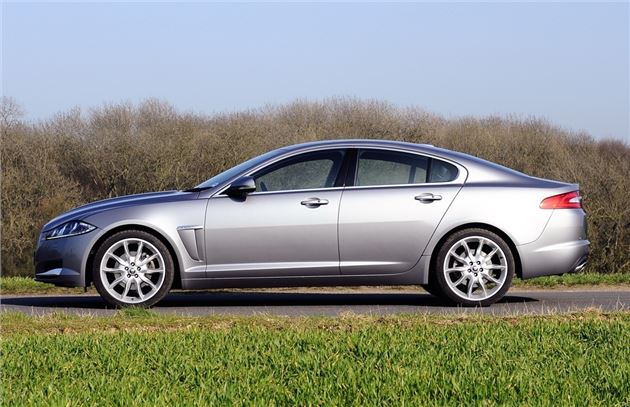 31 July 2012: Time for the XF's first service
The Details
| | |
| --- | --- |
| Current mileage | 11949 |
| Claimed economy | 44.8mpg |
| Actual economy | 37.3mpg |
Our Jaguar has been racking up the miles recently so it was no surprise when the onboard display flashed up warning that the first service was due. The XF has done almost 12,000 miles now although the majority of that is on the motorway or in traffic so it's not under too much stress most of the time.
However one issue that seems to be getting worse is the brake shudder when slowing down from high speeds. It also happens under hard braking and then gets progressively worse. So if I decide to drive 'enthusiastically' on a few country lanes, it very quickly becomes a problem. So much so that I end up trying to avoid hard braking by changing down through the gears, which hardly does the engine any good as it's pushed to high revs.
Of course it's easy to simply not drive fast on twisty roads (even if it is dull) but it's harder to avoid braking from high speeds For example stopping at roundabouts on dual carriageways or slowing down when exiting a motorway or A-road onto a slip road - especially a short one. I thought that perhaps the problem was uneven brake wear on the pads or perhaps even wear on the discs. After all, our car came to us with 7500 miles on the clock and it's difficult to know exactly how hard it was driven before.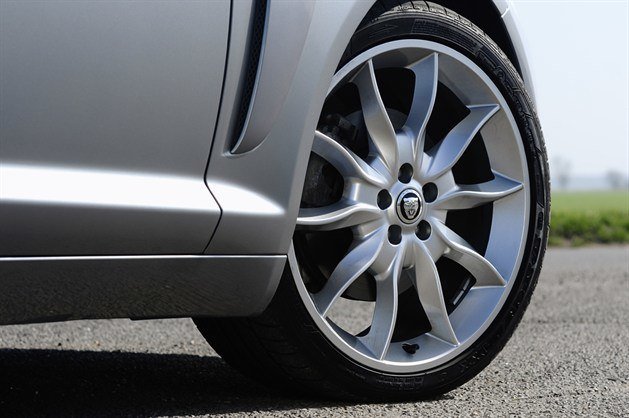 Fortunately this is the only issue with the Jaguar. There was one occassion where it wouldn't detect the key but after locking the car and unlocking it a few times, it worked itself out. Another small thing I've noticed in the recent hot weather is that the touchscreen seems slow and unresponsive in high temperatures.
So back to the first service. The Jaguar was booked in at Stratstone in Milton Keynes for a straightforward service and hopefully they would solve the brake vibration too. The dealership itself is very smart although not quite up to Audi or Lexus standards when it comes to design. It does feel a little ordinary but the impressive customer service more than makes up for it.
Saying that, I had been offered a courtesy car for the day while the XF was being serviced but due to another customer not returning it I ended up waiting. To be fair to the man I dealt with there, he was very apologetic and promised to get the service done quickly. So I quite happily sat with a cup of coffee and watched BBC Breakfast.
An hour and a half later it was all done with no issues. They'd changed the oil and also gave the car a 'health check'. It sounds a bit of a gimmick but usefully this includes a report which tells you how much wear is left on the tyres, brake pads and if there are any current or possible problems with the rest of the car, everything from wheel bearings and the alternator to the battery condition. Our XF got all green dots which means it passed with flying colours.
There was no solution to the brake problem though. The vehicle technicians did apparently test it from 70mph but reported that it was all okay. And the health check showed even brake pad and disc wear. It's the same story with the tyres which still have between 4mm and 5mm tread left. So i'm none the wiser and the problem still persists. The dealership suggested having the wheels balanced but the fact it only vibrates under braking makes me think it's something else.
The dealership did offer to wash the XF but having had to wait there already I didn't have time so it had to come home still dirty. A quick trip to the local hand wash a few days later saw it back to its pristine best. In total the service cost £323. The service itself is £130 before things such as the Castrol oil which costs an eye watering £95.55. That's the price you pay for it being from a dealership.
The service could hardly be called cheap, but the cost is on par with other premium cars and I can't fault the dealership for customer service, despite the persisting brake issue. I may look into getting the wheels balanced as at least it will eliminate that as a possible fault, but it seems a frustratingly long process to solve what seems a straightforward issue.
« Earlier: My favourite XF extras Later: Summer finally arrives »
Updates

The facelifted XF may look sharper than before but Jaguar still suffers from an image problem that often sees it labelled as an 'old man's car'.

Six months with our Jaguar XF has flown by and after almost 10,000 miles we're saying a sad goodbye to the luxury saloon.

Until recently the XF came with big V6 or V8 engines but with fuel economy becoming increasingly crucial, Jaguar has introduced a 2.2-litre four-cylinder diesel.

The XF comes with Jaguar's touchscreen system which controls most things on board. It sounds good in theory but can be frustrating to use.

After our short summer break it's back to work for both me and the XF. Which means more motorway miles and a chance to improve the fuel economy.

As we finally get some hot weather I'm stuck behind the wheel of the XF but it does mean I get to enjoy the ventilated seats.

31 July 2012: Time for the XF's first service
Having covered almost 12,000 miles in just over 12 months our Jaguar is due it first service so it's booked into the local dealer.

The XF isn't short of luxury features with an options list that you could spend hours on, so here are my favourite extras on our Jaguar.

I've been driving the XF for two months now and while racking up the miles it's proved to be a mightily impressive luxury saloon.

Jaguar revised the XF saloon last year with some significant changes both to the outside and the interior. So what's new?

Thanks to some unique details the XF has carved its own path when it comes to style and manages to stand out from other executive cars.

While we were sad to see our Audi A6 go the disappointment hasn't lasted too long as we welcome the impressive Jaguar XF.