Our Cars: Hyundai i30 1.6 CRDi Sport-Nav 3dr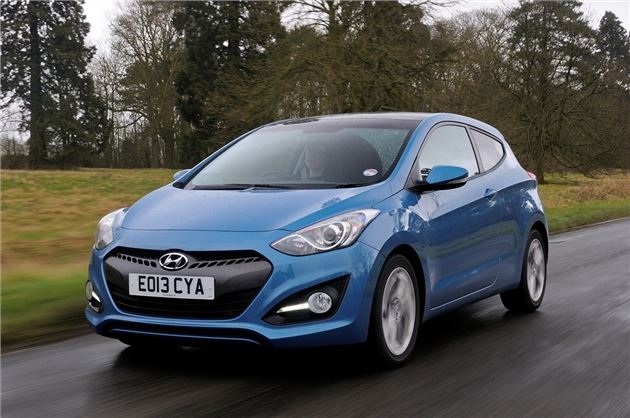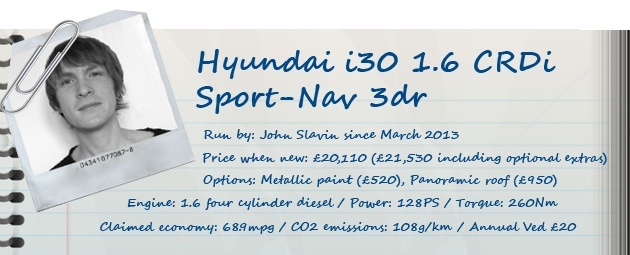 26 April 2013: Space, man
The Details
| | |
| --- | --- |
| Current mileage | 1693 |
| Claimed economy | 68.9mpg |
| Actual economy | 49.5mpg |
Our old MINI Coupe might have been reasonably practical for a two-seater, but everything is relative. There were dozens of occasions on which it would have been nice to carry a second passenger or fold the seats forward and boost boot space, but, alas, there were no rear seats to fill with passengers or to fold down.
With the new i30 there are, though, but in honesty I wasn't expecting much from them. Our car is a three-door, so I presumed the back seats would be too small for even the smallest of people and that folding them down would only give enough room for a couple of shopping bags. Thankfully I've been proved wrong.
Indeed, over the past few weeks the i30 has been a veritable delivery van – flat-pack chest of drawers from Ikea and most of an apartment move fit easily into the back, although loading and unloading is a bit of a pain thanks to a high load lip. On top of that we went on a trip to the American Diner with a full payload of grown adults in the car and it managed with ease.
So if you fancy the three-door's stylish lines but you're worried about practicality then don't write it off. Having said that getting in and out of the back seats is a little bit tricky- but for occasional use or for children it shouldn't be a problem. In fact, problems have been pretty difficult to find full stop so far.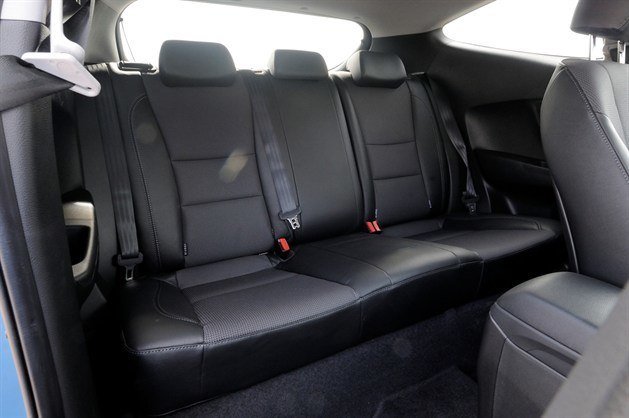 One thing that hasn't lived up to expectations, however, is fuel economy – the advertised 68.9mpg is something of a distant dream. Currently the car is averaging 49.5mpg, but that's down to carrying bulky loads and a little bit of 'driver error' – the car is so refined at motorway speeds in fifth it's easy to forget to go for sixth.
It does creep up as high as 52mpg if you drive like a saint, but that's still a long way short – our old MINI Coupe was more powerful, with a larger engine and yet had better fuel economy. I do think the figure will improve with warmer weather and as the engine wears itself in, though, because it hasn't even passed 2000 miles.
The only other annoyance is the infotainment – it won't Bluetooth to my iPad, which contains all of my music. Thankfully there's an AUX-in port so I can still listen to it, but I can't skip tracks from the steering wheel. The sat-nav, too, is a little frustrating. The voice over completely mutes music, which is irritating when you're listening to a good song.
It also looks way too far ahead for traffic issues on a long route, offering long detours to avoid jams that will have likely cleared up by the time you get to them. Obviously that's not a huge problem because you can just ignore the detour and carry on. On the plus side you can program the navigation without even looking at it, thanks to accurate voice control.
But none of these problems are really too big. The fuel economy might be short of the official figure but it's likely to improve and it's still pretty frugal, while the infotainment issues are just niggles that you get used to fairly quickly. So far the practicality, refinement, quality and comfort have far outweighed any annoyances. 
« Earlier: Our latest arrival - the Hyundai i30 Later: Petrol or diesel? »
Updates

After six months with the Hyundai i30 Sport Nav 1.6 diesel it's time to say goodbye and generally it's been a good car.

During my time driving the i30 I haven't seen another three door model which is quite surprising. So is this an exclusive model?

When our i30 arrived it wasn't delivering particularly good fuel economy – which could have been down to the low mileage. Sadly, it hasn't much improved.

Driving a big mixture of petrol and diesel cars means there's a higher chance of misfuelling, so we've fitted a device to prevent it.

We've some of the routes over which our i30 has travelled on a map so you can see how it performs over a variety of road types.

Hyundai handed an i30 over to 25 kids, armed with sand, juice and muddy wellies to see how durable it is.

Our i30 is certainly an impressive car – but anyone seeking a new family hatch will have the Volkswagen Golf on their shopping list. How does it stack up?

The Hyundai i30 is well-equipped as standard, particularly in the top trim level – but there are a few irritating omissions.

Hyundai doesn't have the long-running lineage of many brands but it's interesting to see how the i30 has evolved from the Pony.

You wouldn't usually buy a diesel car to get around town – but that's what our i30 has been doing recently - does it still make sense?

26 April 2013: Space, man
After six months with a two-seat coupe I'm really starting to appreciate the space in our new Hyundai, but I'm still getting used to some of the niggles.

We welcome the three-door Hyundai i30 in top-spec Sport-Nav trim. How will it stand up to London life and long motorway trips?