Our Cars: Ford Grand Tourneo Connect 1.5 TDCi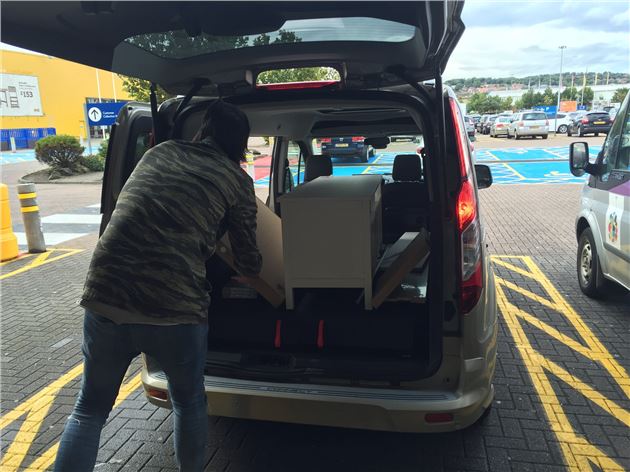 22 August 2016: The great crossover killer
The Details
| | |
| --- | --- |
| Current mileage | 2013 |
| Claimed economy | 61.4mpg |
| Actual economy | 44.1mpg |
By Mark Nichol
The irony of thinking you're too cool for an MPV is that thinking you're too cool for an MPV makes you a stereotype, which isn't cool at all. Everybody thinks they're too cool for an MPV. It's the reason why we're all buying MPVs with shallower sides, bigger wheel arches and less space these days; name your two-box family car a #crossover and, apparently, that's ok.
The problem is, in my opinion (and this is certainly not the viewpoint of HonestJohn.co.uk), #crossovers – and especially the small ones – are usually proper #naff. We probably reached peak #crossover when Ford trotted out the EcoSport, an SUV-lite based on the most popular car on sale today, yet crushingly average in almost every way while being significantly more expensive.
It's like a superhero movie in which a smart, trendy, capable lab assistant gets bitten by a bear, but then instead of becoming a big furry SUPERBEAR with crime-fighting powers, she just gets a bit hairier, a lot clumsier and loses the ability to talk.
Thankfully, Ford also has a car that's the antidote to the bland #crossover, and it's this, the Grand Tourneo. There's something inexplicably amazing about turning a van into a passenger car, and this Ford is a fine example. It stands alongside the Hyundai i800 and the Peugeot Partner Tepee in a group of cars that can perform the great role reversal – turning the adults giddy and the kids docile on the road. Long journey ahoy.
                            Taking our favourite bit of old lino out. Standard Saturday night. 
Why? Space, mainly. Squeezing kids into insufficient rear seat space over a long distance is akin to poking the aforementioned bear with a cattle prod. But, in my experience, giving kids enough room to stand up and run around has the opposite effect, inexplicably. It calms them down. I know not why. I guess it's easier to soothe yourself when you've got room to swing your legs around.
The other great shackle-detaching quality of your family wagon being a massive, nondescript green van is that it assuages the pressure of actually caring about your car's hygiene. If your family transport is, say, a Jaguar XF, the return trip from every party is a nerve-jangling travail of crumbs, cream, crisps and crusty shoes. You're bothered about the mess. You're not necessarily bothered about the gunk brought into a Tourneo, because the Tourneo looks good with gunk; the Tourneo is the fur-lined wellies you wear for walking the dog.
It's not without flaw, though. The sat nav is rubbish because the screen and all the icons are too small, and Ford's cabin designers still seem to think that squeezing as many shapes, angles and buttons as possible into a cockpit makes it interesting. It doesn't. It makes it confusing.
But none of that stuff is enough to negate this car's familial greatness. Over the course of six weeks or so it replaced our long-term Jaguar XF as primary transport while we moved house. During that time it went to the tip 13 times, and to one of Homebase, B&Q, Ikea and the MetroCentre pretty much daily. It was perfect. We loved it. The kids were sad when the Jaguar came back. It's the coolest car they've ever had. And they've been in pretty much every #crossover there is.
« Earlier: Space, the family car frontier