Our Cars: Ford Grand Tourneo Connect 1.5 TDCi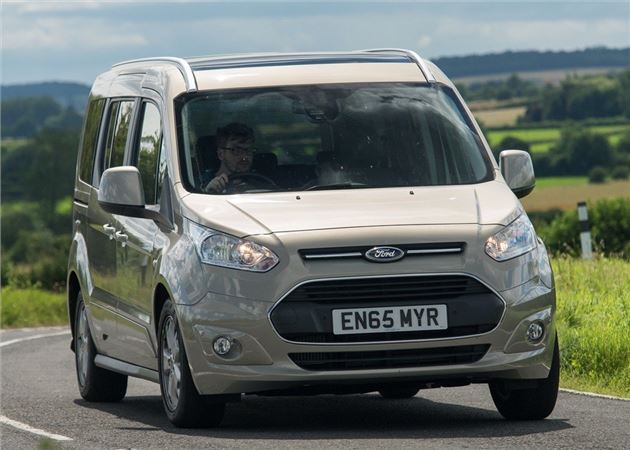 11 August 2016: Space, the family car frontier
The Details
| | |
| --- | --- |
| Current mileage | 1721 |
| Claimed economy | 61.4mpg |
| Actual economy | 44.1mpg |
By Dan Powell
'Practical' and 'efficient family cars' dominate many of the questions that you guys  Ask HJ. And why not? These topics are no brainers when it comes to buying a car for moving the kids, because you'll always need space. And lots of it. You also don't want to spend a fortune on fuel when it comes to visiting your Aunt Meg or heading to the supermarket at the weekends.
Thankfully, interior space and fuel economy are areas where the Ford Grand Tourneo Connect shines through, because it's like a Tardis when it comes to storage. Indeed, slide open one of those large doors, flatten the rear seats, and you'll find a colossal 2410 litres of space behind those front seats. That's more than enough to shift a sofa or a pair of mountain bikes, with room to spare. 
Transforming the Grand Tourneo Connect from a seven-seater to a van takes seconds too. The third row of seats fold away entirely flat, providing a larger boot for a family of five, while the second row of seats tumble forward to provide a completely flat floor. Obviously, make sure your kids aren't in the seats before tumbling them...
Keeping the back tidy is easy. You see, the cloth on the back of the seats is made from the same material as the floor carpet. This abrasive, plastic wool is easy to brush clean, which means you can carry mountain bikes and sports equipment without fear of spoiling the interior. Simply wait for the mud to dry and brush it off with a wire brush. Bang and the dirt is gone, as Barry Scott would say.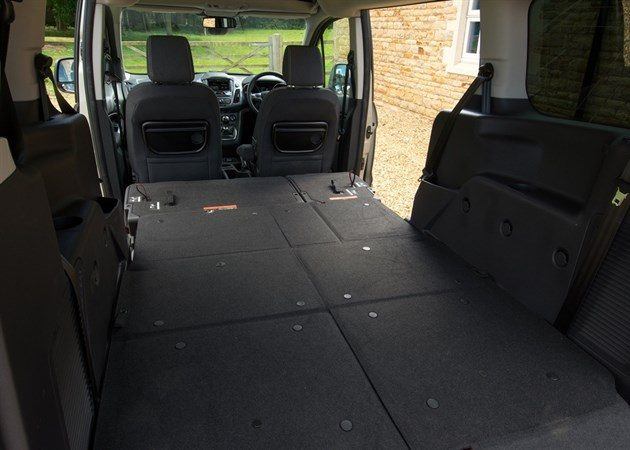 All of the rear seats fold away to provide a completely flat floor with 2410 litres of storage space
The van-like interior also works in your favour when it comes to transporting children, because all of those hard and scratchy plastics - that so many people hate - are actually really easy to wipe clean. The same can't be said for many of the plush MPVs on the market, with their posh interiors and fancy seat fabrics. Far from it, many are easily damaged by a wayward can of cola or carton of orange juice. 
After two weeks of munching the miles as a school bus, with varying levels of sports gear and children in the back, you'd expect the fuel economy to plummet. However, the Grand Tourneo Connect's 1.5 TDCi engine has actually started providing a marginal improvement and is now averaging at 44.1mpg, which is good news given that fuel prices are on the up again.
Admittedly, it's not as nice to drive as the excellent S-MAX – it is not as sharp in the corners and there is more wind and road noise - but it's not all bad. Like the Connect panel van, the Grand Tourneo is easy to drive and its soft and comfortable suspension makes it a great long distance cruiser. The 1.5 diesel engine is also extremely refined, with minimal diesel clatter breaking into the cabin.
The Connect will never win any fashion prizes though and it's a pity that some car snobs are quick to dismiss van-based MPVs. In our view, these large and practical family movers are the best hidden secrets in the world of family cars. In fact, when it comes to practicality, these no nonsense family movers  are among the best.
« Earlier: Is a van-based MPV better value? Later: The great crossover killer »
Updates

The Tourneo sticks two sliding doors up to crossovers, then destroys them with its van-based brilliance...

11 August 2016: Space, the family car frontier
When it comes to storage space, the big and family-friendly Ford Grand Tourneo Connect is as practical as they come.

The Tourneo Connect is cheaper than the alternative Grand C-MAX, but is it still good value?

The practical and no nonsense Grand Tourneo Connect will be with the HJ team for the next three months.