Our Cars: Ford Grand Tourneo Connect 1.5 TDCi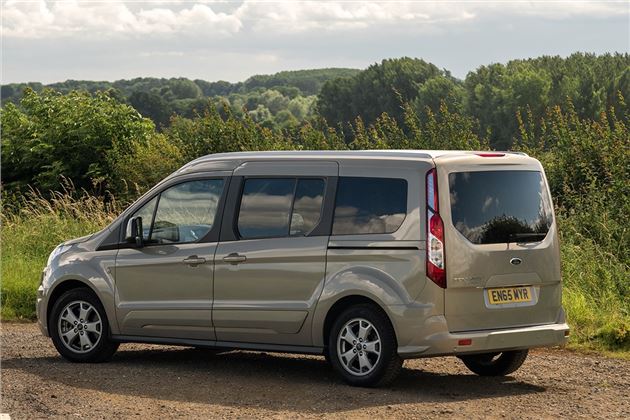 28 July 2016: Is a van-based MPV better value?
The Details
| | |
| --- | --- |
| Current mileage | 1311 |
| Claimed economy | 61.4mpg |
| Actual economy | 42.4mpg |
By John Slavin
Ford has a selection of big, family-friendly MPV models in its range, most of which are called something-MAX. Designed from the outset to be MPVs, the B-MAX, C-MAX and S-MAX are all very capable and impressive. And the cheapest seven-seat model – the Grand C-MAX – is £20,915. That's not a lot more than a Tourneo Connect…  So what's the difference?
The most obvious difference is size. The seven-seat Grand Tourneo Connect we have is significantly longer than a Grand C-MAX, which means there's more room inside – particularly in the back row. That's useful for children until they're older as they're more leg room. In fact, the Grand Tourneo Connect is almost as big as an S-MAX, which costs from almost £26,000.
In other words, if you want seven seats and lots of space but you're looking for good value, the Tourneo Connect is a bargain. But that low price is all down to the fact it is based on a van, so buyers should temper their expectations, if only slightly, before handing over their cash to a Ford dealer. This isn't as quiet or as nicely made as a car-based MPV.
The most notable difference between the Tourneo Connect and its MAX relatives is the choice of materials used in the cabin. The Connect uses hardwearing plastics which will stand up to lots of scrapes and kicking feet, but feel downmarket and less plush than the materials used in Ford's other models.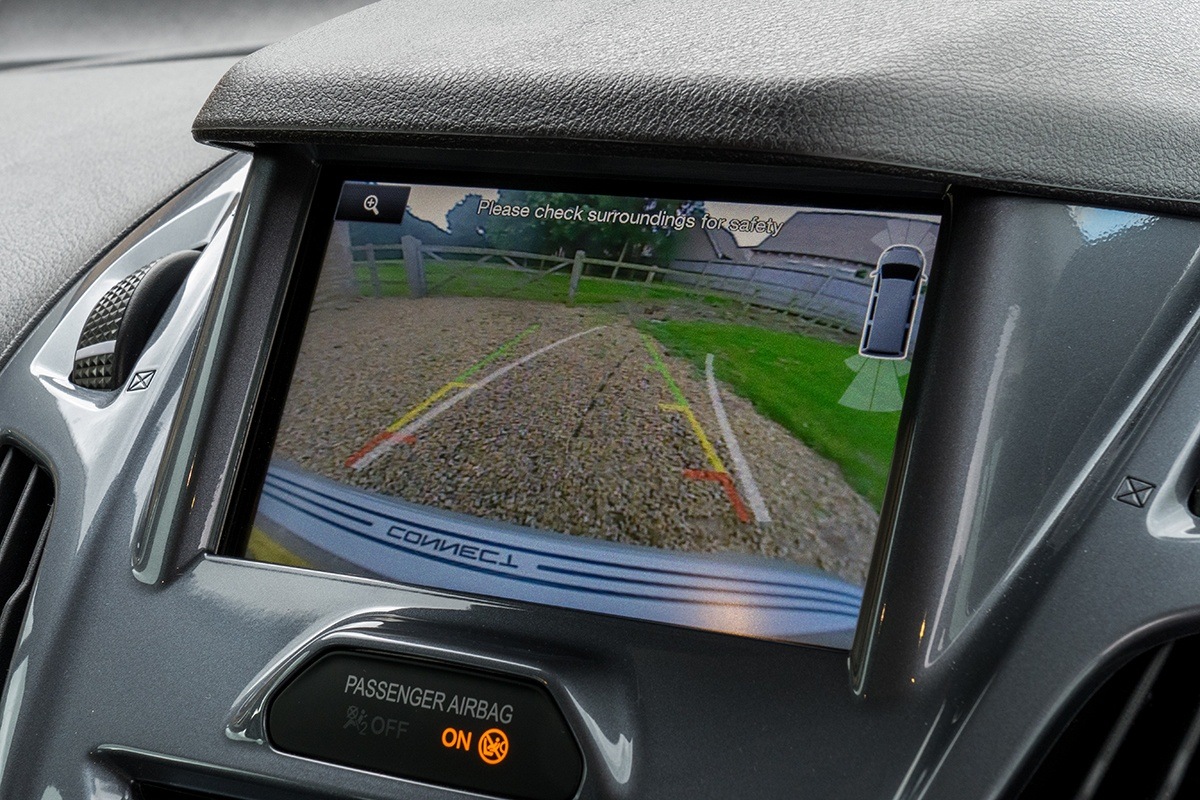 Extremely handy in such a big car, but part of a £900 option
For many buyers, hardwearing and sturdy materials probably sound ideal, but for others they'll be off-putting. It would be harsh to criticise the Tourneo Connect too much though. There may be some clues to its van origins in the cabin, but it's surprisingly refined and comfortable – plus it has some car-like features that really impressed us when it arrived.
It's a Titanium model, so it comes with cruise control, a speed limiter, rear parking sensors, auto lights and auto wipers. Our car also has an optional navigation system – Ford Sync 3. It's very user-friendly, with voice control that works surprisingly well and a slick, responsive interface, plus there's a reversing camera. It feels like a real premium system.
And that's because it is a premium system. At £960 it's a very pricey option on a vehicle many people will choose for its affordable price. There are lots of other options on our particular Tourneo Connect too, including mud and snow tyres, heated front seats and front parking sensors which, fortunately, are all more affordable.
Our particular car comes in at £24,025 with all its options included. That's still cheaper than the alternative Grand C-MAX or S-MAX though with the same level of equipment, though - so if you can put up with a more utilitarian cabin you'll get more for your money with the Tourneo Connect. Even so, it's probably better value if you keep it simple. 
« Earlier: A grand welcome to our new Ford MPV Later: Space, the family car frontier »
Updates

The Tourneo sticks two sliding doors up to crossovers, then destroys them with its van-based brilliance...

When it comes to storage space, the big and family-friendly Ford Grand Tourneo Connect is as practical as they come.

28 July 2016: Is a van-based MPV better value?
The Tourneo Connect is cheaper than the alternative Grand C-MAX, but is it still good value?

The practical and no nonsense Grand Tourneo Connect will be with the HJ team for the next three months.