Our Cars: Ford Grand Tourneo Connect 1.5 TDCi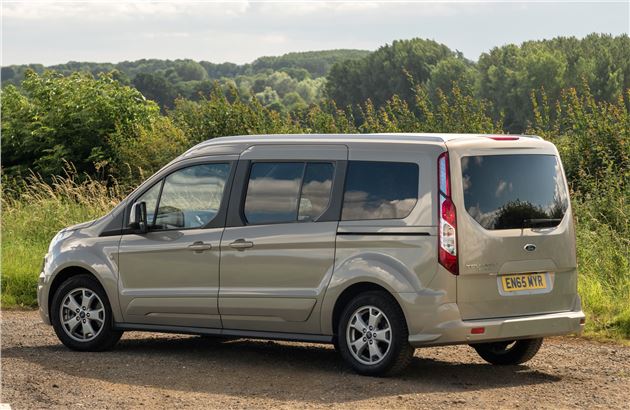 14 July 2016: A grand welcome to our new Ford MPV
The Details
| | |
| --- | --- |
| Current mileage | 1211 |
| Claimed economy | 61.4mpg |
| Actual economy | 42.5mpg |
By David Ross
If you're looking for a practical, no nonsense vehicle, a van-derived MPV has lots of appeal. Don't expect sleek looks and handling prowess, but what you will get is huge amounts of space, a robust interior and the kind of vehicle that you can throw pretty much everything at. Step forward the Ford Grand Tourneo Connect - our new arrival for the next three months.
Of course this more utilitarian approach to motoring is nothing new. You only have to look back at the popularity of the Renault Kangoo and Citroen Berlingo Multispace, both launched in the 90s. And the Ford Tourneo Connect follows in these footsteps. This isn't a car that's likely to impress the neighbours , but you can bet it's ability to carry a family of six and most of their gear will mean you can have a smug grin as those next door try and squeeze everything into their crossover.
We've gone for the Grand Tourneo Connect over the standard version. The Grand bit means it's a seven seater as it has a longer wheelbase - the standard Tourneo Connect is a five-seater. But as this is a van the seats fold down easily - in fact it's one of the cleverest systems around and a doddle to do. There are lots of red straps and handles but it's not hard to work out what does what.
Drop all those seats flat onto the floor and the Grand Tourneo Connect is huge, like the van it's based on. We'll be testing this out in weeks to come with road bikes, furniture and anything else we can think of that needs to be moved. It will also serve as transport for when the HJ team is out on the road. Because the whole HJ team will be running the Ford over the next three months. It's already been dubbed the crew van.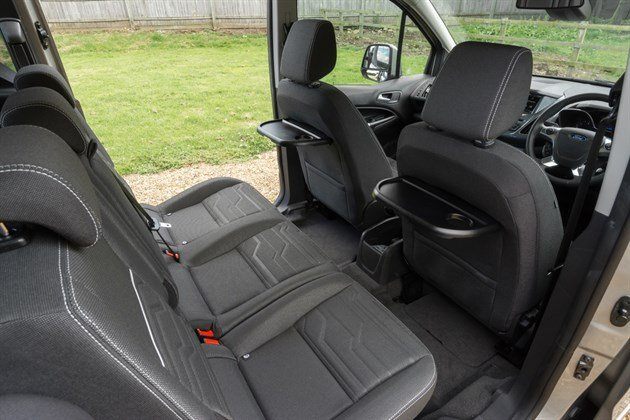 Middle row of seats has loads of space and tray tables too. For that executive experience...
Our Grand Tourneo Connect comes with Ford's impressive 1.5 TDCi engine with a six-speed manual. It has 120PS but it's the 270Nm which means the Tourneo Connect is strong in-gear and surprisingly nippy. However what has really impressed initially is refinement. The diesel unit is very smooth and quiet, even if you really rev it, which there's no need to do.
We've gone for the top Titanium trim which does push the price up considerably. In fact it's £21,895 which seems a lot for a van-based MPV. Prices start at £17,995 for the Style model but this is pretty spartan with steel wheels and no air conditioning. Our car is in fact £24,025 in total with the options fitted. The most expensive of which is the DAB Navigation at £900. This does however come with a 6-inch touchscreen and a rearview camera. 
So what else can you get for the money? Well if you want this size (and shape) MPV with seven seats then you're looking at things like Fiat Doblo or the Volkswagen Caddy Maxi Life. It's the latter which is the more obvious rival and is close in price too - a diesel will cost you a minimum £22,339 but has less power than the Ford.
So over the next few months the Grand Tourneo Connect will be pressed into plenty of action at the hands of our team. And we'll be able to give you a flavour of how this van-derived MPV copes with the different demands - and expectations - of our team.
Later: Is a van-based MPV better value? »
Updates

The Tourneo sticks two sliding doors up to crossovers, then destroys them with its van-based brilliance...

When it comes to storage space, the big and family-friendly Ford Grand Tourneo Connect is as practical as they come.

The Tourneo Connect is cheaper than the alternative Grand C-MAX, but is it still good value?

14 July 2016: A grand welcome to our new Ford MPV
The practical and no nonsense Grand Tourneo Connect will be with the HJ team for the next three months.