Our Cars: Audi TT 2.0 TFSI quattro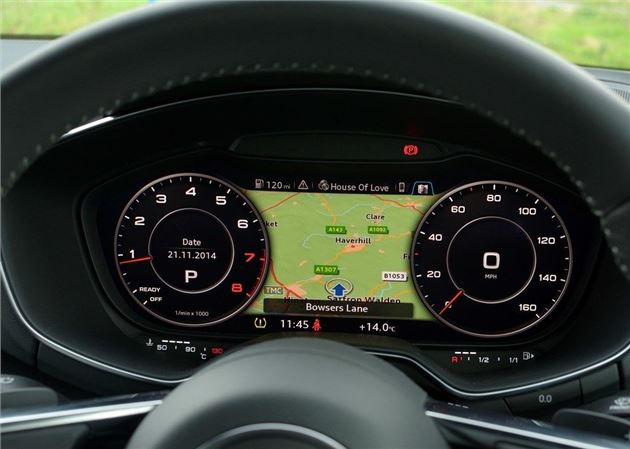 6 March 2015: Warning: You are about to be distracted
The Details
| | |
| --- | --- |
| Current mileage | 3507 |
| Claimed economy | 44.1mpg |
| Actual economy | 33.8mpg |
In-car connectivity has come on a long way from the rubbish handsfree systems of the past. These days you can usually pair your car and phone in under a minute. It's a far cry from the old days of plastic leads and headsets.
I always had a personal hatred of the Bluetooth headsets. They were awful. In fact, I think zoologists had more luck breeding giant pandas than I did pairing mobile phones with those stupid little Bluetooth earpieces. And even when they did work, which wasn't often, you could never hear what the person on the other end was saying. 
Thankfully my Audi TT has brilliant in-car connectivity. Simply activate the Bluetooth on your phone, select pairing on the infotainment menu and you're done. It takes about 30 seconds and you only have to do it once, because both the car and phone remember the pairing settings and connect automatically each time you enter the car. 
In addition to the Bluetooth phone connectivity (which is fitted as standard) my TT also has mobile internet. The system is called Audi Connect and is part of the optional navigation package, which adds a rather substantial £1795 to the list price. However, Audi Connect is a swish piece of kit, with traffic updates, parking information and weather reports. It can also find the cheapest fuel prices in your local area and lets you update Facebook and Twitter with a speech to text function.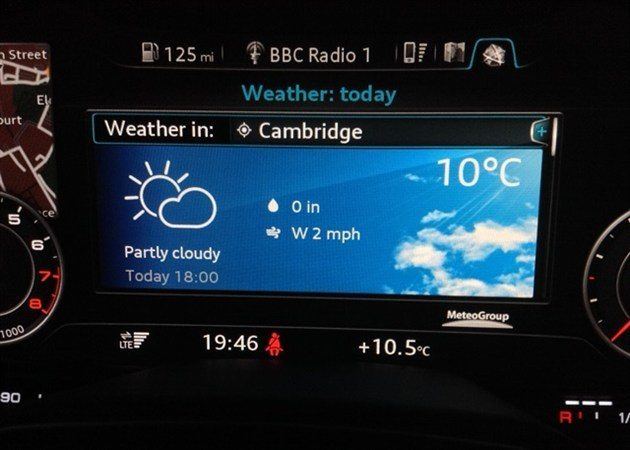 Online weather reports are handy, but sometimes Audi Connect can be a little distracting
Simple to use, Audi Connect is great for getting data on the move. It also gives the cabin its own dedicated wifi service, which lets your passengers use the internet. On the downside, all of that data comes from your mobile phone signal, which means it can punish your phone bill as the TT (and your friends) download apps, news and music. 
There's also another problem, in the sense that Audi Connect is a bit too simple to use. Indeed, with streaming news and weather maps, it's all too easy to become distracted as all of that information is delivered right into the instrument binnacle. 
Infotainment systems are usually found in the centre of the dashboard, which means you have to make to look down to read them. However, with the TT's virtual cockpit, you don't have to do anything. Now this might sound perfect for keeping your eyes on the road, but the opposite happens and you can spend a bit too long looking away from the road. 
Perhaps I'm being harsh, but I really can't quite get my head around why I would want to update my Facebook account while driving along. Likewise, do I really want to read about David Cameron's economy update as I potter along the M25? If the system was restricted to when the car was stationary, I'd probably agree with its brilliance, but I've found it all a bit distracting. 
« Earlier: Audi TT or Porsche Cayman? Later: It's time to talk about the economy »
Updates

After six months and almost 6000 miles, Dan posts his final thoughts on the Audi TT.

The Audi TT has changed a lot since the compact and cute styling of the Mk1, but has it really improved?

After more than 4000 miles, Dan turns his attention to fuel economy. Is the Audi TT good value or is it another Real MPG nightmare?

6 March 2015: Warning: You are about to be distracted
The Audi TT is at the forefront of in-car connectivity. But do we really want news headlines and social media sent to us on the road?

With the Audi TT away having its water leak fixed, Dan turns his attention to its chief rival - the Porsche Cayman.

Our long term Audi TT has sprung a leak, with water pouring into the boot and rear seats. Can we fix it? No we can't.

Rain, wind or snow, the Audi TT has been taking it all in its quattro stride, thanks to excellent handling and a rewarding turbocharged engine.

Has the time come to scrap the TT's association with people who cut hair for a living? Dan looks into the story behind the myth.

Dan's Audi TT is packed with optional extras (£10,000 worth) but are they worth the extra cash?

LED headlights are wonderful things, but Dan has discovered that they also have some drawbacks.

The Audi is packed full of toys, but are they really necessary? Dan looks at what's hot and what's not in the TT.

Dan trades in his practical Skoda Octavia for something sportier - the all-new stylish Audi TT. How will it fare over six months?