Children as young as three can get behind the wheel at Mercedes-Benz World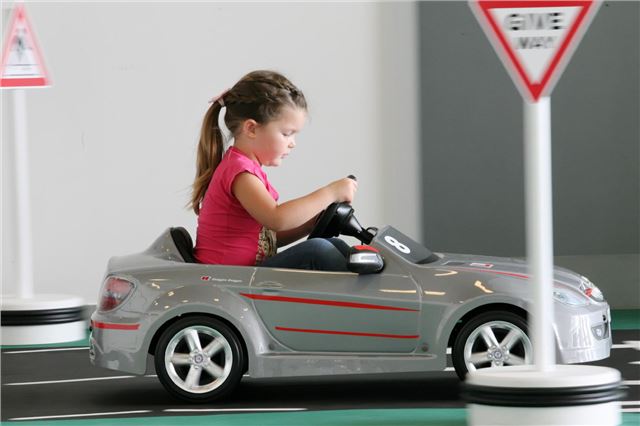 How old were you when you started your driving lessons? Well if you visit Mercedes-Benz World in Surrey you can start at three! Youngsters up to 1.3m tall can drive battery powered miniatures of Mercedes-Benz cars around a purpose build indoor track.
It's got traffic lights, junctions and a zebra crossing, providing little ones with the opportunity to learn basic road rules while they have fun. When the youngsters have finished their drive and returned to the car park they're awarded with a Little Learners Driving Licence to keep as a memento.
Andrew Mallery, Commercial Operations Director, Mercedes-Benz Cars commented: "Since we opened the doors to Mercedes-Benz World, kids over 1.5 metres tall have been able to get behind the wheel of a  full-size, 'real' Mercedes-Benz car.
"The popularity has been unprecedented.  With Little Learners we are going even further and giving our youngest visitors the chance to have their very own driving experience, creating an even more exciting destination for families to visit."
Little Learners driving experiences are £5 and are available every weekend and throughout school holidays.
For more information on all of the driving experiences offered at Mercedes-Benz world, visit www.mercedes-benzworld.co.uk

Comments