2024 MINI Cooper Electric: Prices, specs and release date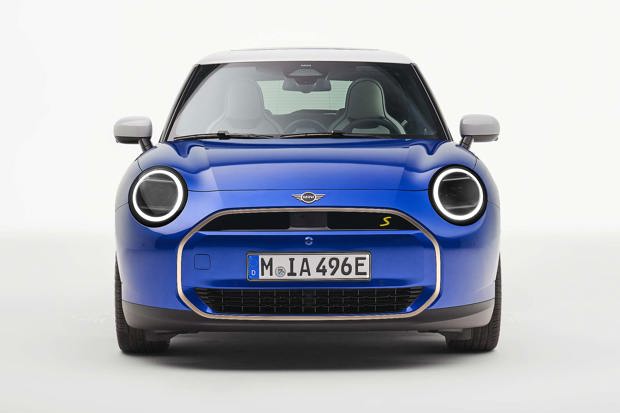 New MINI Cooper Electric three-door is a Chinese-built next-generation MINI EV
Modernist styling and minimalist interior with world-first OLED round centre display
MINI Cooper Electric has an EV range of up to 250 miles
Prices start from £30,000 and ordering opens in October for spring 2024 deliveries
The new MINI Cooper Electric small electric car has been fully revealed ahead of its market release in spring 2024. It is the first in a series of next-generation MINI models heralding an exciting future for the famous British brand.
It will replace today's British-built MINI Electric – the firm has decided to rename it MINI Cooper Electric. There will be two versions at launch, a MINI Cooper E and a high-performance MINI Cooper SE. 
Unlike many other new models, the new 2024 MINI Cooper Electric three-door won't be built at the historic Oxford factory, but in China instead. Here in the UK, the spiritual home of MINI will assemble the petrol-powered new MINI three-door, MINI five-door and MINI Convertible.
A production version of the electric MINI Aceman five-door crossover concept will also be built in China. And an even larger new version of the MINI Countryman family SUV will be made in Germany. MINI Electric production will eventually return to Oxford, promises the firm – but not until 2027.
2023 MINI Cooper Electric prices and release date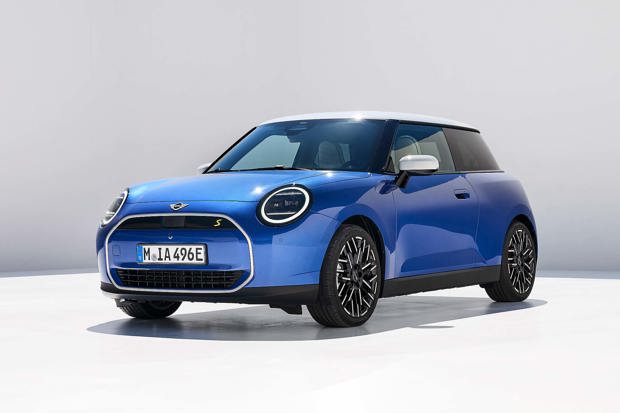 The new 2024 MINI Cooper Electric opens for ordering in October 2023. It will be released in the UK from spring 2024. 
The new MINI Cooper Electric is available in two outputs, E and SE. They can be combined with three trim levels, called Classic, Exclusive and Sport. 
The new MINI Cooper Electric E is priced from £30,000 and new MINI Cooper Electric SE prices start from £34,500. 
2024 MINI Cooper Electric styling, interior and technology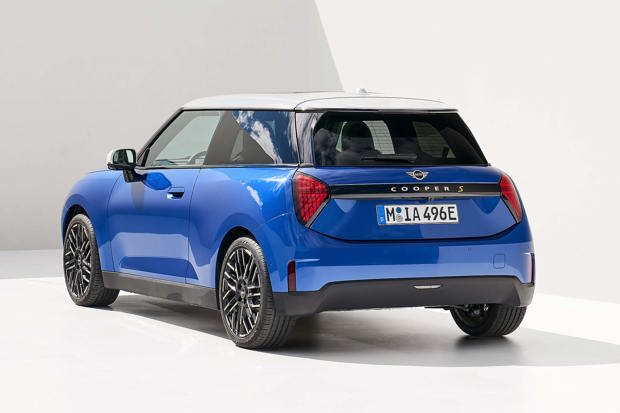 The new MINI Cooper Electric has a suitably minimalist new exterior design. All the chrome has been removed, along with the wheelarch extensions, while flush-fit door handles further enhance the smooth, clean look.
Key MINI hallmarks, such as a long wheelbase and ultra-short overhangs, remain. The new MINI Cooper Electric also has a 'floating' roof available in contrast paint colours, while the short bonnet is now a more conventional design, rather than previous models' clamshell bonnet.
The charismatic large round MINI headlights are a revised LED design, with a choice of three different light signatures now available, depending on spec. They all have an animated welcome and goodbye signature.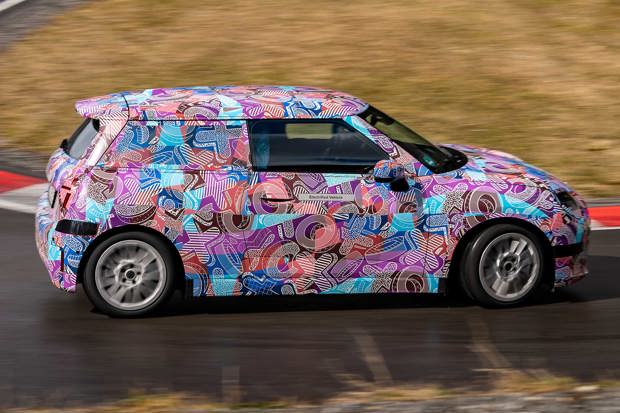 The new MINI Cooper Electric has a fresh new look at the rear, with triangular tail lamps. The Union Jack design of the current MINI is replaced by a high-tech LED array, which can again be customised. The rear has a strong shoulder and a full-length black boot handle with 'Cooper' lettering.
Each new MINI Cooper Electric grade has a different look. Classic is simple and pure, with a choice of four paint colours including new Sunny Side Yellow, plus one contrast roof colour and two different wheel options.
The new MINI Cooper Electric Exclusive broadens the paint and wheel choices, and has a Multitone roof option with a choice of three different colours. It also has a Vibrant Silver grille.
The new MINI Cooper Electric Sport has a high-gloss black grille, an optional Chili Red roof, plus red and black bonnet stripes.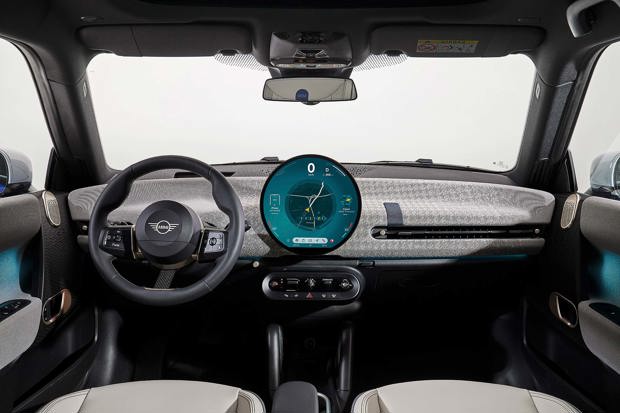 Inside, the new MINI Cooper Electric is much more modern. All the chrome-painted clutter of today's car is replaced by a clean, paired-back look focused around a large round central display with a row of toggle switches below.
The new MINI Cooper Electric is the world's first car to have a cutting-edge OLED round display, measuring 24cm, with full touchscreen functionality across its surface. It runs the latest MINI Operating System 9 and offers 5G connectivity plus-over-the-air updates.
In the upper half of the central MINI display is displayed vehicle-related information such as battery status and speed (and can be displayed full screen too). In the lower half is navigation, media, phone and climate information. Additional thumbnail widgets can also be customised.
The new MINI Cooper Electric's display has both touch and swipe functionality, like a smartphone, and the 'Hey MINI' voice assistant is there to help out too.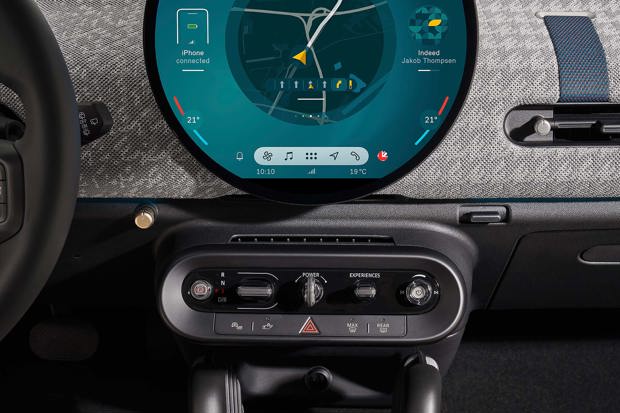 Below the OLED display is a toggle bar that centralises the start/stop key, gear selector, parking brake, experience mode toggle and volume control. Locating the controls here leaves more space for larger cupholders, an open storage area and wireless charging pad.  
The new MINI Cooper Electric is a four-seater, with the firm promising more rear seat space. A 200-litre boot expands to 800 litres with the rear seat, which is split 60:40, folded flat. There's a new stowage area underneath the boot floor, too.
2024 MINI Cooper Electric batteries, performance and fuel economy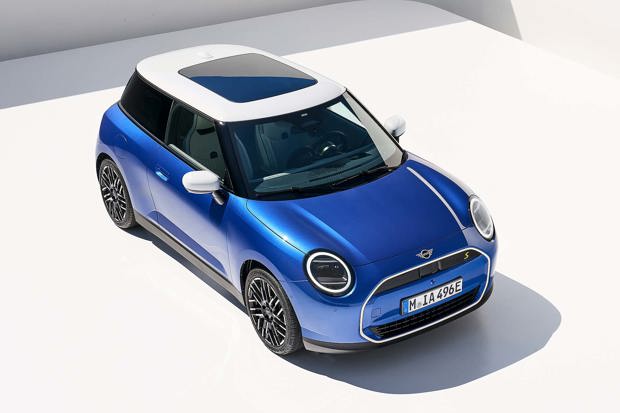 The new MINI Cooper Electric is a pure EV with two different power outputs. The new MINI Cooper Electric E produces 184ps for 0-62mph performance in 7.3 seconds. The top speed is limited to 99mph. A 40.7kWh battery gives it an electric range of 190 miles, and it can use 75kW rapid chargers.
The sportier new MINI Cooper Electric SE has 218ps for 0-62mph performance in 6.7 seconds. It has a slightly higher 106mph top speed. It also has a much bigger 54.2kWh battery, for an impressive range of 250 miles. It has a faster 95kW DC rapid charging performance too.
Owners of the new MINI Cooper Electric who use the onboard sat nav will see the battery automatically conditioned for rapid charging in advance, reducing the amount of time at a public charger. It can go from 10% to 80% in under 30 minutes.
The new MINI Cooper Electric is front-wheel drive, with the battery mounted underneath the floor for a low centre of gravity. This, along with the longer wheelbase and wider tracks, helps enhance the famed MINI go-kart handling, says the firm, despite the extra weight of the batteries.
There are also configurable MINI Experience drive models – including, you guessed it, a Go-Kart mode, which sharpens the accelerator and steering. A Green Mode helps maximise battery range by optimising brake regeneration.
Before you step into a showroom, read our in-depth guide to all the new cars coming in the next 12 months and beyond – some are well worth the wait.
Will the new 2024 MINI Cooper Electric three-door look the same as the petrol-powered version?
Insiders suggest the new 2024 MINI Cooper Electric 3-door and new petrol-powered MINI three-door will look almost identical outside and in. They will, however, use totally different architectures beneath.  
Will there be a five-door new MINI Cooper Electric?
There will not be a five-door version of the new MINI Cooper Electric. Instead, a larger crossover-style new five-door called the Aceman will take on this role.
Ask HJ
Plug-in car grant extension - how do I apply?
I just took delivery of a pre-registered electric car and the Government has announced an extension to the £1,500 plug-in car grant. How do I apply?
The extension only applies to new cars which were ordered before 14 June 2022 (when the plug-in car grant closed to new orders) with the delivery period for those orders now extended to 31 March 2023. Car dealers make the application on behalf of customers.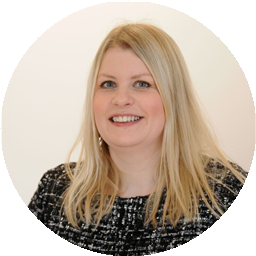 More Questions