2022 Mercedes-Maybach EQS SUV: price, specs and release date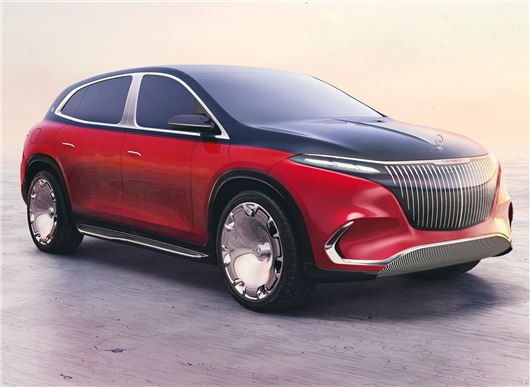 Published 12 January 2022
Mercedes-Maybach EQS SUV previewed
700PS and 370-mile range
Lavish interior
£200,000 price tag 
Land Rover announced last year that the new Range Rover would be available as a pure electric but not before Mercedes-Benz had revealed its own hyper-luxurious electric SUV – it's called the Mercedes-Maybach EQS SUV. It's fancy, and it'll likely have a 'fancy' price tag of close to £200,000. 
>>> Best new cars coming in 2022 and beyond
Scholars of the Mercedes-Benz line-up will tell you that the Maybach name is reserved for the very best Mercs produced in Stuttgart.
EQ, meanwhile, stands, in a roundabout way, for Intelligent Electric Mobility. The long and the short of it is – if you want a flash electric Mercedes then the Mercedes-Maybach EQS SUV could be the car for you.
Mercedes-Maybach EQS SUV price and on-sale date
The Mercedes-Maybach EQS SUV is likely to carry a price tag of nearly £200,000 thanks to its huge SUV body, lush interior and uber-powerful electrical drivetrain. As a result, it slots in above the £180,000 Maybach S-Class which still makes do with good old petrol power.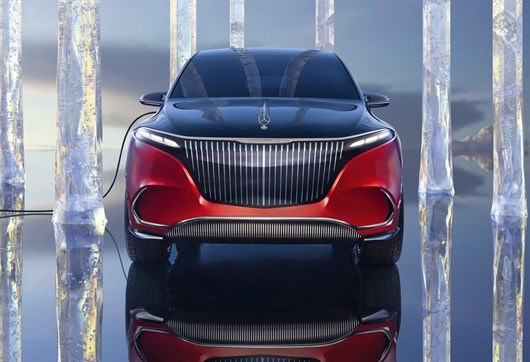 The Maybach EQS SUV's sizeable price tag means it will take on high-end SV versions of the new Range Rover and the Bentley Bentayga, while it looks like a standout bargain next to the £300,000 Rolls-Royce Cullinan. 
Mercedes-Maybach EQS SUV specs
Spotting a Mercedes-Maybach EQS SUV from a plain old Mercedes SUV shouldn't be difficult. You'll struggle to miss that massive pinstriped grille, those diamond headlights, the characteristically dished alloy wheels and – biggest clue of all – that two-tone paint finish.
The inside is just as lavish. Upfront, you get Mercedes' Hyperscreen – the name given to its top-of-the-line infotainment system, which turns almost the entire dashboard into one huge display. It's actually three displays fused together. 
The Hyperscreen can do lots of clever things – from producing an augmented display of the road ahead complete with sat-nav directions to playing a film for your front-seat passenger or giving a detailed analysis of the car's power consumption. Naturally, you can control the lot via Mercedes' surprisingly accurate MBUX voice activation system.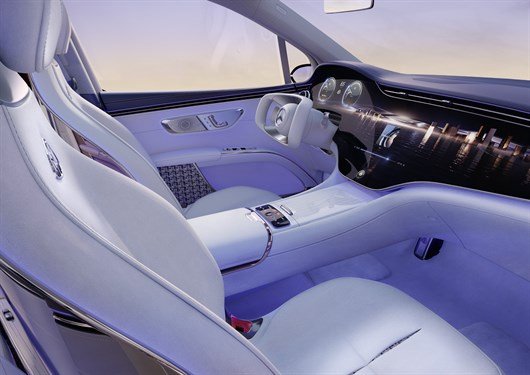 Interior quality, meanwhile, is assured with pretty much every surface swathed in leather, chrome and rose gold. 
The back seats feel just as classy as the fronts and your passengers sitting behind you can enjoy multi-adjustable, individual seats that are both heated and ventilated, and have a champagne-stocked fridge nestled in between them. As tasteful as a Rolls-Royce? Perhaps not, but it'll feel just as expensive.
And anyway, what the Rolls-Royce can't boast – not yet anyway – is a pure electric powertrain, its power and silent running is a perfect fit for a luxury SUV. For now, Mercedes hasn't given us much to go on, only saying that the Maybach will be capable of 370 miles between charges – significantly less than the 453 miles you can squeeze out of an EQS EV. A car that's more aerodynamic and almost definitely lighter.
That said, while the rear-wheel-drive EQS has 333PS, you can expect the four-wheel-drive Maybach EQS SUV to have something in the region of 700PS – enough to punch this Goliath from 0-62mph in less than four seconds.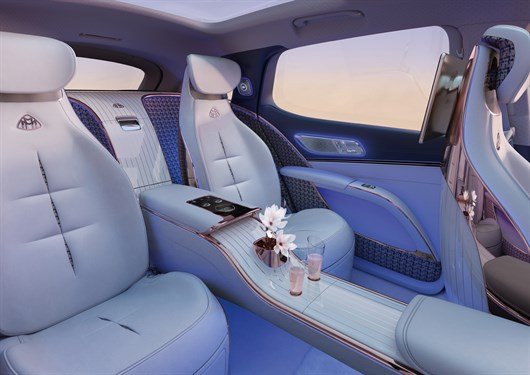 Is the Mercedes-Benz EQS an SUV?
No, the Mercedes-Benz EQS is best thought of as an electric S-Class saloon. At the risk of stating the obvious, the Maybach EQS SUV is an SUV. 
What is the range on a Mercedes-Benz EQS?
The Mercedes-Benz EQS has a range of 453 miles, about 100 miles further than the Maybach EQS SUV gets from a charge.
How fast can the Mercedes-Benz EQS charge?
The EQS can charge its battery from 10-80 per cent in around 30 minutes using a 200kWh fast charger – you can expect the Maybach-EQS SUV to be capable of the same charging speeds. 
Ask HJ
Are there any fully electric estate cars?
I have a Mercedes E-Class estate which has been brilliant so far. It's got about 100,000 miles on the clock and down the line I'd like to replace it with a fully electric version. However, I can't seem to find any fully electric estate cars being made, much less E-Class estates. They mostly seem to be SUVs. Do you know whether there are any in the pipeline? I'd have thought there would be a market for them. The flat load area and cavernous capacity of mine is just perfect and it's also a supremely comfortable tow car.
There are very few electric estate cars on sale at the moment as manufacturers are concentrating on the lucrative SUV market. At the budget end of the market sits the MG 5 EV – we rate it very highly, but your expectations might be a little higher after your E-Class. At the opposite end of the spectrum is the Porsche Taycan Cross Turismo. It's a brilliant GT car, albeit one with a starting price of more than £75,000.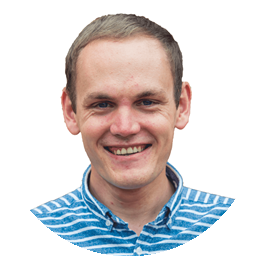 More Questions
Ask HJ
How reliable are electric cars?
How reliable are electric cars in general? And how reliable is the Mercedes-Benz EQA, in particular? What yearly maintenance costs are involved, and what items need replacing?
Electric cars are usually very reliable. They have fewer moving parts than petrol or diesel models, so there's less to go wrong. The Mercedes EQA is a very new model so it's too soon to tell how reliable it'll be in the long-term, but we doubt there'll be any major issues. Mercedes generally performs well in our Satisfaction Index: https://www.honestjohn.co.uk/honest-john-satisfaction-index-2020/honest-john-satisfaction-index-2020-the-results/ In terms of maintenance, the Mercedes EQA has a servicing interval of one year/15,000 miles. Check with a Mercedes dealer for costs, but it's likely to be less than a petrol or diesel car.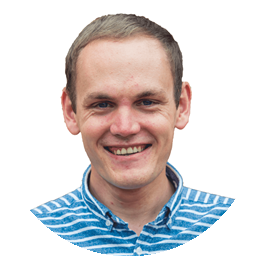 More Questions
Comments
Author

Russell Campbell
Latest