New 2022 Range Rover revealed: Prices, specs and release date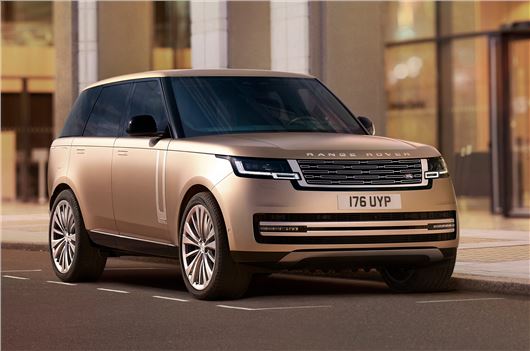 Published 26 October 2021
New Range Rover brings two PHEV models
Option for seven seats and standard rear-wheel steer
Luxurious SV models take fight to posh rivals
Prices start from £94,000
This is the all-new Land Rover Range Rover, the car that will take the fight to big SUVs like the BMW X7 and Mercedes-Benz GLS while, in SV guise, also tackling super posh alternatives such as the Mercedes-Maybach GLS, Bentley Bentayga and Rolls Royce Cullinan. The new Range Rover is on sale now and prices start at £94,000.
So what's changed? In the looks department, the temptation would be to say – not much.
It is most definitely a Range Rover with the same upright windscreen, low glass line and splitting tailgate that has been a feature on all the models that have come before.
It's only when you park old and new cars side-by-side that you spot the new car's increased bulk – it has a 75mm longer wheelbase than the old model – and modern finish courtesy of recessed door handles, tight shut lines and flush windows.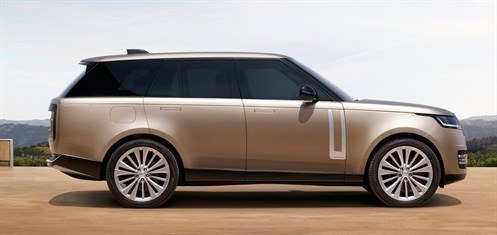 The new model is most distinctive from the back, where it gets slim vertical taillights and indicators – both hidden behind a smoked glass valance.
SV models get their own unique paint finishes, huge 23-inch alloy wheels and ceramic badging.
The new Range Rover is 50 per cent more rigid than the car it replaces and a 'double glazed' steel bulkhead cuts road noise by 24 per cent.
The inside has seen bigger changes. It now resembles NASA's mission control thanks to two giant screens – one behind the steering wheel and another that floats from the centre of the dash.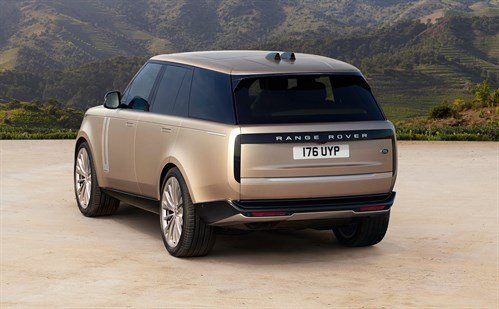 The infotainment screens are powered by Amazon Alexa (so you can expect their voice activation to be terrifyingly accurate), meaning you can plumb the Range Rover's infotainment screens in with the smart devices in your house. As a result, you can add to your shopping list and set reminders from the comfort of the Range Rover's armchair-like seat.
Along with the tech, you get traditional luxury in the form of open-pore wood trims and your choice of leather, a man-made substitute or a new wool-based fabric. SV models are even posher. They feature ceramic trims on the door, centre console and touchpoints.
All Range Rovers get loads of room for tall adults in the front and the back, and the 725-litre boot's splitting tailgate makes it very easy to load.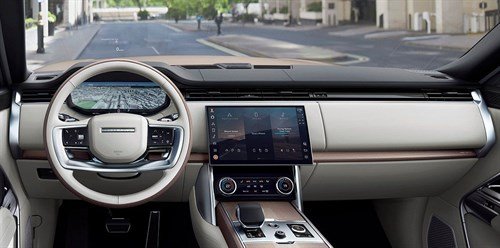 LWB (long wheelbase) models have even more room thanks to adding 200mm between the front and rear wheels. The LWB can be had with five or for the first time, seven seats – even with all seven seats in use, it has a useful 312 litres of load space. Want more luxury? Then you can specify two individual back seats – to make your LWB Range Rover an epically spacious four-seater – with loads of adjustment, a touchscreen centre console and a table that folds out electrically.
Whether you go for the SWB or LWB model, the Range Rover is a big car but its powerful engines make up for this. You can choose from two diesels, two petrols and two plug-in hybrid models. A pure electric model will come in 2024.
Engine names donate power. So the D300 is a diesel with 300PS and a healthy 620Nm of torque and the D350 has 350PS and 700NM. The former gets from 0-62mph in 6.9 seconds, while the latter does it in 6.1. Mild-hybrid, 48V technology means both will return close to 40mpg.
Like the diesels, the P400 petrol (400PS, 550Nm) is a straight-six 3.0-litre – it gives you more performance (0-62mph in 5.8 seconds) at the expense of fuel economy (less than 30mpg).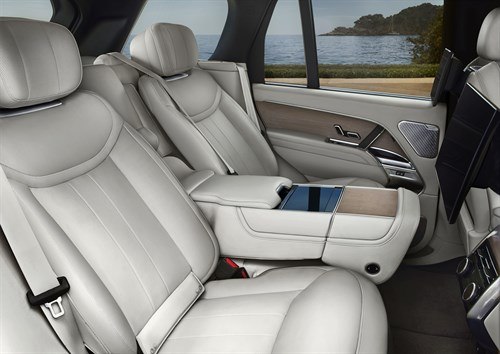 'Fuel economy' will be an alien term to anyone who buys the P530 4.4-litre V8 petrol – even Land Rover doesn't bother to quote a figure in the press release. Expectations? You'll be doing well to better 20mpg, but you do get Porsche-like performance of 0-62mph in 4.6 seconds.
More realistic choices come in the form of the P440e and P510e plug-in hybrids. They're powered by a straight-six 3.0-litre petrol engine that's boosted by an electric motor and battery that allows them to travel up to 62 miles on electricity alone – a conservative figure according to the Land Rover engineers we talked to. You can charge both at home in five hours using a 7.2kW charger or from 0-80 per cent using a 50kW public charger.
Whichever version you choose, you can expect your Range Rover to be very comfortable thanks to its standard air suspension – a Range Rover feature since 1992. The latest system uses twin-valve dampers – an SUV first – which make it even more comfortable.
It can be combined with Land Rover's Dynamic Response Pro roll-control system which uses a 48V power supply to counteract lean in corners.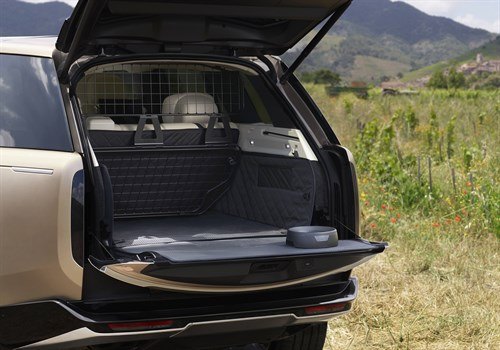 Another new feature is the Range Rover's standard rear-wheel steering which turns the back wheels in the opposite direction to the fronts at low speeds for a 11.4m turning circle that betters the mid-sized SUV like the Volkswagen Tiguan. At faster speeds, the rear wheels turn in the same direction as the fronts to make the car feel more nimble.
Four-wheel drive is also standard and all Range Rover's have an eight-speed gearbox with low-range gears and an electronically controlled locking rear differential. The Range Rover's Terrain Response 2 system makes it easy to set the car up for a variety of off-road obstacles – from snow and sand to mud, wading (up to 900mm) and rock crawling – or you can leave it in Auto and let the car do the rest.
All-Terrain Progress Control keeps the Range Rover at a crawl when you're tackling tricky terrain and Hill Descent Control means the car can gently lower you down steep inclines. The Range Rover can also tow up 3500kg.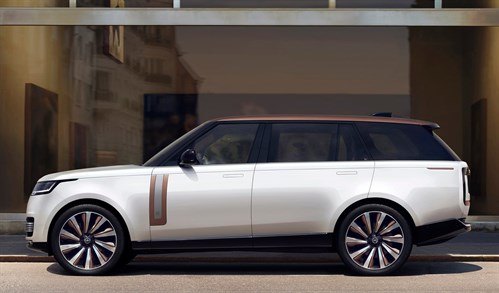 The new Range Rover is on sale now with prices ranging from £94,400 (for a D300 in SE trim) to £131,300 for a top-of-the-range P530 Autobiography. Prices for SV models – which get Bentley-like levels of customisation – and the two plug-in hybrids will be revealed in 12 weeks time.
1
Will the Range Rover change in 2022?
A new Range Rover went on sale on 26 October 2021. It's even more luxurious than the car it replaces and is available with two plug-in hybrid engines. An all-electric model goes on sale in 2024.
2
Which is the most expensive Range Rover?
SV versions of the new Range Rover will be the most expensive – they're expected to cost up to £200,000. 
3
How much will the 2022 Range Rover cost?
The new Range Rover has a starting price of £94,400.
Ask HJ
What warranty company do you recommend?
I have a Range Rover Sport that will be coming out of warranty soon. What is the warranty firm you would recommend? Not necessarily the cheapest, but one that would carry out any required work without a fight on my hands. Or would it be better to extend the Land Rover warranty at £745 - £880 depending on level of cover required?
Zero complaints about WarrantyWise in the last 3 years. None about MotorEasy either, but that has only been going for about a year. Both of these are 'self-insured'. They take the risk rather than an insurance underwriter.
More Questions
Ask HJ
What should I do to maintain my new Range Rover Vogue?
I have just bought a 2001 Range Rover P38 Vogue, automatic 4.6 V8, apparently in good condition. I will only use it occasionally. Is there anything in particular I need to be aware of in keeping it well maintained?
Here it all is (click across the blue nav bar) : http://www.honestjohn.co.uk/carbycar/land-rover/range-rover-1994/
More Questions
Comments
Author

Russell Campbell
Latest