Renault unveils electric Megane E-Tech with 292-mile range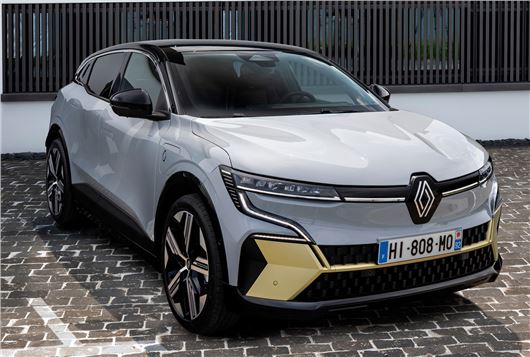 Published 15 September 2021
Range of up to 292 miles
Practical body with large boot
Expected to be priced from £33,000
The Renault Megane is being reborn as an electric crossover – yes, petrol and diesel Meganes are no more. Renault has sold 400,000 electric cars to date, and this, the new Megane E-Tech Electric, is set to spearhead the French carmaker's 2022 EV plans. It's the first car built on Renault CMF-EV (electric only) platform.
Renault Megane E-Tech Electric price and release date
The 2022 Renault Megane E-Tech will start in the region of £33,000 when it goes on sale in the autumn of 2022 – 50 per cent more than you'll pay for the current Megane. That price will most likely be after the deduction of the £2500 Government plug-in car grant. The E-Tech's rivals will include electric models such as the Peugeot e-2008, DS 3 Crossback E-Tense and Kia e-Niro.
Renault Megane E-Tech Electric styling
The Renault Megane E-Tech Electric is an SUV-coupe (or crossover) with a tall stance that should give it plenty of interior space and a sloping roofline that improves aerodynamics for better efficiency.
It gets classic EV styling features like a flush grille – complete with the new Nouvel R logo – and handles that recess into the doors when not in use. The SUV flavour comes from the car's raised ride height, high beltline, huge alloy wheels (18 or 20-inches in size) and liberal sprinkling of protective body cladding.

Six colours are available – Rafale Grey, Schist Grey, Midnight Blue, Flame Red, Diamond Black, and Glacier White. Want to stand out? Then you can have contrast exterior highlights in Schist Grey, Diamond Black or Glacier White. LED lighting is standard and it performs a synchronised dance when you lock and unlock the car.
Renault Megane E-Tech Electric interior
Lounge-like would be the best way to describe the interior of Renault Megane E-Tech Electric.
You get a widescreen TV-style layout, courtesy of infotainment screens that stretch from behind the steering wheel and onto the centre of the dashboard. Big padded seats more like a sofa suite. Interior decor in the form of wood, chrome, textile and Alacantara finishes. And a warm interior glow, courtesy of mood lighting with 48 colour options. You can choose to have your seats finished in leather or a recycled substitute, while entry-level models get fabric upholstery that is also made from recycled materials.
The lack of a centre console and the flat floor gives you a sense of space you wouldn't get in conventional petrol or diesel cars, while the car's wheelbase (30mm longer than the current Megane's) and flat rear floor frees up extra passenger space. You also get 30 litres of interior storage and a 440-litre boot that's slightly bigger than the current Megane and includes a 22-litre space under the floor for the car's charging cables.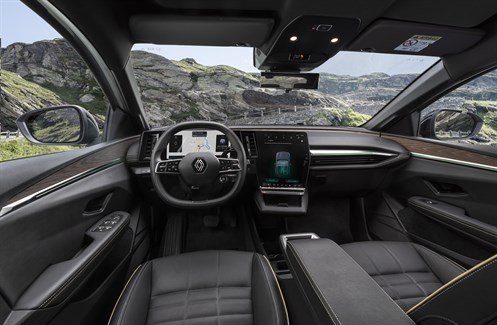 Renault Megane E-Tech Electric infotainment
The Megane's OpenR infotainment screen has toughened glass treated with an anti-reflective coating that should make it tough and easy to read during the day.
What looks like a single screen is a 12.3-inch digital instrument binnacle mated to a 12-inch centre screen, although entry-level models make do with a nine-inch centre screen. You can choose from four different driver displays – Driving, Navigation, Battery or Zen – and eight colour schemes. Various widgets mean the dashboard display is easily customisable.
Google developed the infotainment, and it uses an Android operating system, allowing it to seamlessly integrate with the apps you use on your phone and computer for things like navigation and music playback. Wireless Android Auto and Apple CarPlay come fitted as standard.
Meanwhile, the car's navigation can plan long journeys taking account of charging points (and their charging speeds) to complete the journey as quickly as possible.
Like your music? Then a nine-speaker (including a subwoofer) 400W Harman Kardon stereo is available standard-fit or as an option on most models.
Renault Megane E-Tech Electric drive and performance
The Renault Megane E-tech Electric will be fun to drive but also comfortable, says Renault, thanks to new power steering and multi-link rear suspension. A centre of gravity that sits 90mm lower than the current Megane – because its heavy batteries are hidden low down in the floor – means the new model will feel more agile. A layer of sound deadening between you and the road means that, according to Renault, the Megane E-Tech has the quiet cabin of a premium saloon.
Don't want to drive? Then the Megane E-Tech Electric can drive itself on the motorway almost independently, brake or swerve to avoid accidents and even park itself, thanks to a wide range of autonomous driving aids.
Power comes from a choice 130 or 218PS motors – with 250 and 300Nm of torque, respectively – which arrives instantly, getting the Megane E-Tech Electric from 0-62mph in as little as 7.4 seconds. Both models are front-wheel drive and have regenerative brakes with three levels of force, so the car brakes when you take your foot off the accelerator pedal.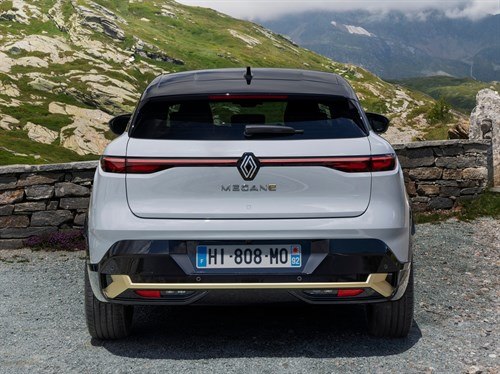 Renault Megane E-Tech Electric batteries and charging times
You get two batteries to choose from – a 40kWh version with a 186-mile range or a 60kWh battery with a 292-mile range. They have an eight-year guarantee for replacement if they drop below 70 per cent capacity.
A three-part system means the Megane E-Tech's battery is 30 per cent more efficient than the one found in the smaller Zoe. It includes a heat pump that warms up the battery to be more efficient, a car ventilation system that scavenges heat from the battery to warm the cabin and sat-nav that can warm the battery as your car approaches its charging stop.
Charging times vary from eight hours for 248-miles worth of charge (using a wall charger at home) to 124 miles in 30 minutes on a 130kWh public charger.
1
When will the new Renault Megane E-Tech Electric go on sale?
The new Renault Megane E-Tech Electric will go on sale in the autumn of 2022. 
2
What will the new Renault Megane E-Tech Electric cost?
Prices are unconfirmed for the new Renault Megane E-Tech Electric, but a starting price of £33,000 seems likely after the £2500 plug-in car grant.
3
What is the Renault Megane E-Tech Electric's range?
The Renault Megane E-Tech Electric has a claimed range of up to 292 miles from a single battery charge.
Ask HJ
Is £7000 a fair price for a 2013 Renault Megane GT 1.5 DCI with 67,000 miles?
I'm looking to purchase a 2013 Renault Megane GT 1.5 DCI. It has 67,000 miles on the clock and looks in good condition. What are potential problems, and is it worth £7000?
It's nearly 4 years old, up on the miles, needs a new timing belt, tensioner, waterpump and aux belt (about £500). £6000 would be fairer. Megane good and bad: http://www.honestjohn.co.uk/carbycar/renault/megane-2008/?section=good
More Questions
Ask HJ
Can you suggest a family car for London and occasional longer drives?
We have a maximum budget of £14,000 for a reliable, used SUV or estate with good economy and lots of space. We were originally drawn to the Renault Kadjar having hired them a few times, liking the panoramic roof, the great sound system, driving comfort and huge boot. But living in London we really want to avoid diesel cars. The real MPG/economy of the petrol Kadjar engines raised concerns. Ok for driving around London but worried the much longer runs to we regularly do would cost more than other more economical cars. We're finding it difficult to find something that fits our needs. Thanks.
It's a tricky one, but don't write off a diesel Kadjar. It might make sense, as long as you take it for a good run every 300 miles or so for the diesel particulate filter (DPF) to regenerate. It'll be ULEZ compliant and more efficient than a petrol on your trips further afield. If you do want a petrol, you'll probably have to swallow worse fuel economy. An estate like the Skoda Octavia might be a good compromise. You could also look at a Volkswagen Golf estate if you'd prefer a slightly plusher interior. Also look at the Renault Megane.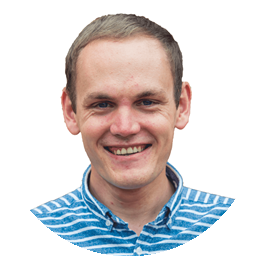 More Questions
Comments
Author

Russell Campbell
Latest