Infiniti shows BMW X3 rival with QX Sport Concept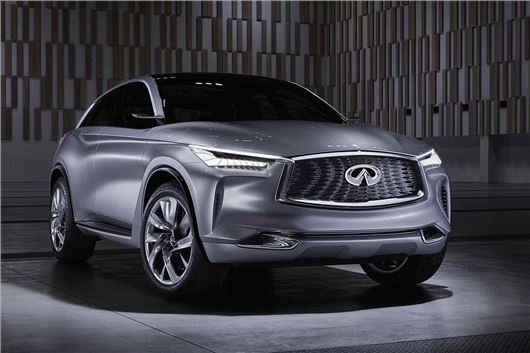 Published 25 April 2016
Infiniti has debuted a concept at the Beijing Motor Show that it says previews a production mid-sized SUV. Called the QX Sport Inspiration Concept. it is literally designed by committee, having had input from Infiniti designers based in the UK, China, Japan and North America.
When it arrives in showrooms it will compete in a market Infiniti calls "one of the largest and fastest growing premium segments" - specifically the segment occupied by the Audi Q5, BMW X3 and Lexus RX.
As this is a design show concept, much of what Infiniti has to say about it is, at present, fairly arbitrary, including Infiniti President Roland Krueger musing that "the QX Sport Inspiration is a statement of intent from Infiniti, showcasing a daring design philosophy and a demonstration of our capabilities in the mid-size SUV segment."
The concept also has "advanced craftsmanship", "proportional clarity" and "a more flowing, natural aesthetic than that evident in traditional premium SUVs," enthuses the company. 
Aside from that, we can guess that when it arrives in showrooms, probably late in 2017, it will have an interior far more akin to the Q50 from which it will borrow most of its name and parts. It's likely to be called QX50 and priced to compete with the aforementioned Germans, meaning a £33,000 starting point.
The wing cameras (as opposed to wing mirrors) will disappear for production, as will the ornate wheels and multi-piece LED headlamps, while handles attached to each door will give you the opportunity to get in and out of the car. The basic shape you see here will remain, though, meaning shallow windows, a sloping roof line and a layout likely to be four-seat rather than five. 
Comments
Author

Mark Nichol
Latest