New car registrations reach 10-year high in September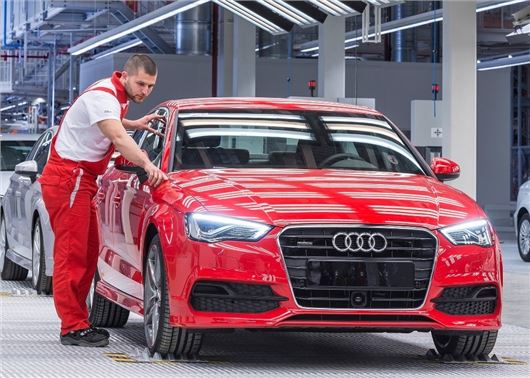 Published 06 October 2014
New car registrations reached a 10-year high in September, fuelled by consumer confidence in the UK economy, the Society of Motor Manufacturers and Traders (SMMT) has said.
The UK registered 425,861 new cars in September, a rise of 5.6 per cent on 2013, making it the biggest September since 2004.
The Ford Fiesta remains the UK's best-selling car, with 106,930 models registered in 2014, while the family-friendly Ford Focus is second with 67,015 registrations. Third place goes to the Vauxhall Corsa, with 62,693 registrations.
September is traditionally a busy month for car manufacturers, with the introduction of the new registration plate. The UK switched to a twice-yearly plate change - March and September - in 1999 and these months account for a third of the UK's yearly registrations.
However, the positive figures for September represent the 31st consecutive month of growth in the new car market, with around 2 million new cars already registered in the UK in 2014, an increase of 9.1 per cent on the same nine month period in 2013.
SMMT chief executive, Mike Hawes, said, "September's strong performance underlined the continuing robustness of the UK new car market, particularly in the context of last September's bumper volumes.
"Demand for the new 64-plate has been boosted by intensifying confidence in the UK economy, with consumers attracted by a wide range of exciting, increasingly fuel-efficient, new cars. In the months since March – which saw an 18 per cent jump in registrations – the growth has shown signs of levelling off as the market starts to find its natural running rate."
Best sellers
September
 
 
 
Year-to-date
 
 
 
 
 
 
 
 
 
1
Ford Fiesta
23,266
 
1
Ford Fiesta
106,930
 
2
Ford Focus
13,508
 
2
Ford Focus
67,015
 
3
Volkswagen Golf
13,011
 
3
Vauxhall Corsa
62,693
 
4
Vauxhall Corsa
12,506
 
4
Volkswagen Golf
58,664
 
5
Volkswagen Polo
10,312
 
5
Vauxhall Astra
47,482
 
6
Fiat 500
9,122
 
6
Nissan Qashqai
38,920
 
7
Vauxhall Astra
8,861
 
7
Volkswagen Polo
36,772
 
8
Audi A3
7,317
 
8
Audi A3
35,596
 
9
Peugeot 208
6,968
 
9
Fiat 500
35,032
 
10
Nissan Qashqai
6,847
 
10
BMW 3 Series
29,655
Comments
Author

Dan Powell
Latest