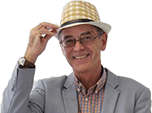 All-new fourth-generation MINI unveiled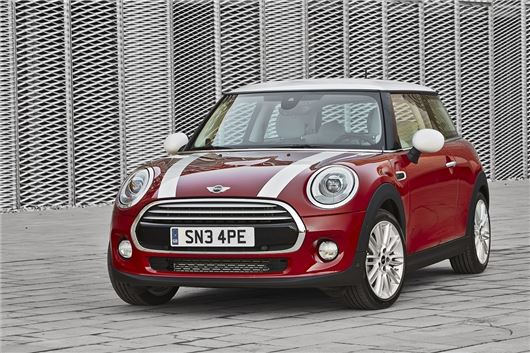 Published 18 November 2013
MINI has unveiled its all-new fourth generation hatchback in Cooper and Cooper S form, and is scheduled to go on sale early in 2014. The new car is available with two modular TwinPower Turbo Technology petrol engines in 1.5-litre three-cylinder and 2.0-litre four-cylinder forms, and a three-cylinder 1.5-litre diesel. The new car is longer, wider, faster and cleaner than before - and most importantly, it's also lighter.

The new car, which was codenamed F56 during development, carries over many of the outgoing car's styling features, such as its floating roof and hexagonal radiator grille (no longer split in two horizontally), but moves on in several key areas. The front overhang has been increased in length, and the windscreen now set a shallower angle, blending in to narrower side windows. At the rear, larger tail lights have grown to cut into the tailgate, Paceman style.
The flanks are much more sculpted than before, too, giving the new MINI a much more solid look. It's most defining feature is probably the new headlamp design, which incorporates ring-style daytime running first shown on the Rocketman concept. Adaptive LED headlamps are also optionally available.
The MINI is increased in just about all dimensions - it's 98mm longer, 44mm wider, 7mm lower and the wheelbase has been lengthened by 28mm. MINI claims the interior is more accommodating as a consequence, with increased legroom front and - more importantly - in the rear. Just as usefully, the boot is now 51 litres larger, with a total capacity of 211 litres, and the rear backrest now has a 60:40 split, rather than 50:50 as before. it's also vastly more aerodynamic, with a coefficient of 0.28, compared wth the brick-like 0.35 of before.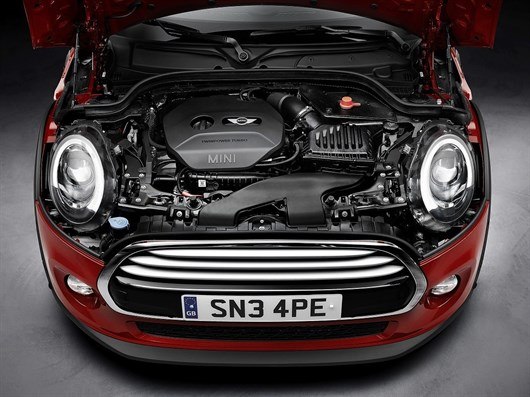 The new engines are a major step forward from the existing four-cylinder power units. They'll continue to be made at MINI's factory at Hams Hall in Birmingham, but now come in two different cylinder formations. The entry-level Cooper model develops 136PS from its new three-cylinder petrol, while the Cooper S is powered by a 192PS four-cylinder. The new Cooper D is now a 116PS three-cylinder - all models feature a six-speed manual transmission, with optional six-speed automatic.
They're all fitted with MINIMALISM technology, that comes with start/stop function and optional GREEN mode. Performance and fuel consumption figures are very impressive - the Cooper D accelerates from 0–62mph in 9.2 seconds, and the maximum speed is 127mph. Combined fuel consumption is 80.7mpg, while CO2 emissions are now down to 92-95g/km, while passing the Euro6 standard. The petrol Cooper's numbers are 7.9 seconds, 130mph, 62.7mpg and 105-107g/km - and the range-topping Cooper S's numbers are 6.8 seconds, 147mph, 49.6mpg and 133-136g/km.
MINI promises that the F56 will be the best-handing and most agile model yet. As well as being lighter, the new MINI has a more rigid body and its suspension set-up has been substantially revised. The suspension components are made of high-strength steel - and the new multilink rear end is lighter and takes up less space than the old Z-axle. Steering is now by Servotronic and Dynamic Stability Control (DSC), Dynamic Traction Control (DTC) and Electronic Differential Lock Control (EDLC), are all standard. The MINI Cooper S also includes Performance Control; new spring and damper set-up with triple-path support bearings. Dynamic Damper Control optionally available for the first time in MINI.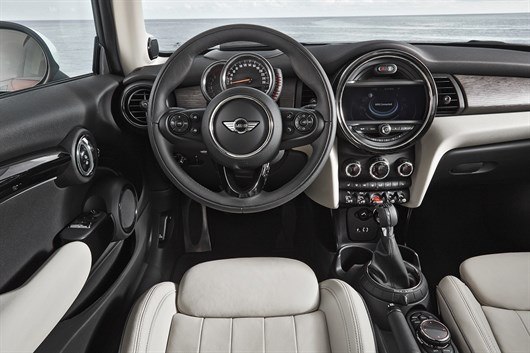 New features and equipment include the MINI Head-Up Display, Emergency Call and the MINI Connected XL Journey Mate with Real Time Traffic Information, as well as a new display, which retains the look and feel of the old car, while dropping the centrally-mounted speedometer, which according to internal research, few owners actually used anyway. That oversized central speedo now houses an up to 8.8-inch screen which is integrated with the iDrive-like MINI Controller in the centre console. 
There are new MINI Driving Modes allow an individual set-up involving not just the characteristic curve of the accelerator and steering but also engine acoustics, and in the MINI Cooper S - where the relevant features are fitted - ambient lighting, the shift times of the automatic transmission and the characteristics of Dynamic Damper Control, the latter system being optionally available for the first time. The modes SPORT and GREEN can be activated in addition to the standard MID mode. In conjunction with an automatic transmission, the efficiency-oriented GREEN mode also features a coasting function with decoupled drivetrain.
The new-MINI goes on sale early in 2014, and confirmed prices are £15,300 for the Cooper, £16,450 for the Cooper D, and the Cooper S £18,650. This is a 2% rise over the outgoing models.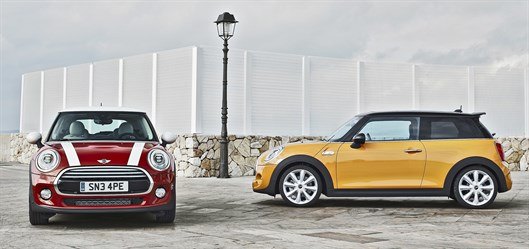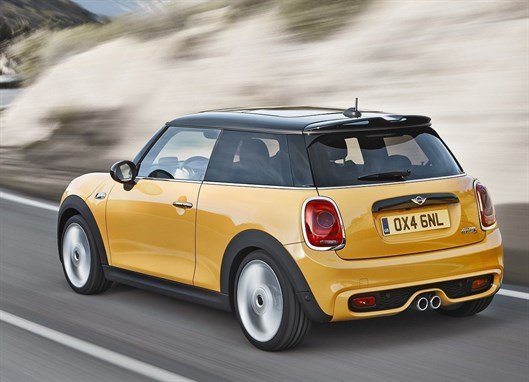 Comments
Author

Keith Adams
Latest