Fiat re-introduces Punto Sporting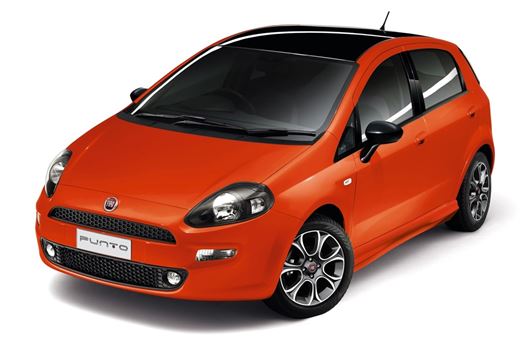 Published 02 August 2013
Fiat has added a new Sporting trim level to the Punto range as well as upgrading specification across the line-up. Coming as a three or a five-door, the return of the Punto Sporting name doesn't quite see the return of a hot hatch, instead it's more about looks than performance.
It gets a rear spoiler and side skirts along with a gloss black painted roof and gloss black electric door mirrors plus privacy glass, front fog lights and unique dark headlamp surrounds. To add to the sporty look there's sports suspension and 16-inch two-tone black Sportline alloy wheels. Inside there's a 'tarmac finish' dashboard, a sports leather steering wheel and a leather gear lever and handbrake. 
While it looks the part, the engines don't quite live up to the appearance though with either a 1.4-litre 8-valve petrol with 77PS or the 1.4-litre MultiAir petrol which develops 105PS.
Meanwhile, the other trim levels - Pop, Easy and GBT - have been enhanced. The previous Lounge and TwinAir trims are no longer available with the TwinAir engine now available in both Easy and GBT versions. Standard equipment in the entry-level Pop model includes remote central locking, electric front windows, driver and passenger airbags, window airbags, Dualdrive electric power steering and a height-adjustable driver's seat.
Equipment levels have been improved with a new dashboard with diamond embossing, colour-coded door handles and mirrors plus a driver's knee airbag as standard.
Both Easy and GBT trims now get sculpted, black Castiglio fabric seats, front fog lights with a cornering function, dashboard and door ambient lighting and side airbags as standard. The GBT also has 16-inch seven-spoke two-tone Sportline alloy wheels, replacing the previous 15-inch Sportline alloy wheels.
Model
Price OTR (£)
 
POP 1.2 8v 69hp 3-dr (no S&S)
£9950.00
 
POP 1.2 8v 69 hp 5-dr (no S&S)
10,550.00
 
EASY 1.3 MultiJet 85hp 3-dr
13,450.00
 
EASY 1.4 8v 77hp 3-dr
11,335.00
 
EASY 1.4 MultiAir 16v 105hp 3-dr
12,355.00
 
EASY 1.4 8v 77hp Dualogic 3-dr 
11,850.00
 
EASY 1.2 8v 69hp 3-dr (no S&S)
10,950.00
 
EASY 0.9 TwinAir 85hp 3dr
12,150.00
 
EASY 1.3 MultiJet 85hp 5-dr
14,050.00
 
EASY 1.4 8v 77hp 5-dr
11,955.00
 
EASY 1.4 MultiAir 16V 105hp 3-dr
12,955.00
 
EASY 1.4 8v 77hp Dualogic 5-dr
12,450.00
 
EASY 1.2 8v 69hp 5-dr (no S&S)
11,550.00
 
EASY 0.9 TwinAir 85hp 5dr
12,750.00
 
GBT 1.3 MultiJet 85hp 3-dr
13,950.00
 
GBT 1.4 8v 77hp 3-dr
11,855.00
 
GBT 1.4 MultiAir 16V 105hp 3-dr
12,855.00
 
GBT 1.2 8V 69hp 3–dr (no S&S)
11,450.00
 
GBT 0.9 TwinAir 85hp 3-dr
12,650.00
 
GBT 1.3 MultiJet 85hp 5-dr
14,550.00
 
GBT 1.4 8v 77hp 5-dr
12,455.00
 
GBT 1.4 MultiAir 16V 105hp 5-dr
13,455.00
 
GBT 1.2 8V 69hp 5–dr (no S&S)
12,050.00
 
GBT 0.9 TwinAir 85hp 5-dr
13,250.00
 
SPORTING 1.4 8v 77hp 3-dr
12,355.00
 
SPORTING 1.4 MultiAir 16v 105hp 3-dr       
13,355.00
 
SPORTING 1.4 8v 77hp 5-dr
12,955.00
 
SPORTING 1.4 MultiAir 16v 105hp 5-dr
13,955.00
 
Comments
Author

David Ross
Latest