Porsche unveils more driver focused Panamera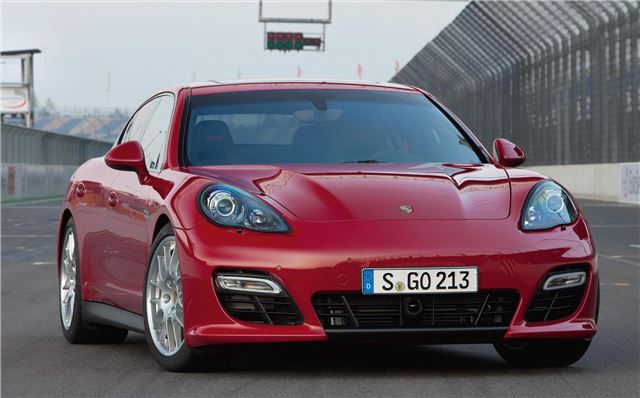 Porsche has divulged details of the latest car to join the Panamera family – the £90,409 GTS. It offers a tuned chassis for more dynamic handling and its 430bhp 4.8-litre V8 has been tinkered with to improve responsiveness. It's due to go on sale in February 2012.
Compared to the Panamera S, the GTS model has 30bhp more power and torque is up 20Nm to 520Nm. Power is sent to all four wheels via a seven-speed PDK double-clutch gearbox – top speed is 179mph and 0-62mph takes 4.5 seconds. A 'Sound Symposer' is fitted, which directs the sound of the engine to the interior at the push of a button, to make for a more involving drive. Similarly, the sports exhaust has flaps that can be opened to give a more sporty sound.
Air suspension is standard and sits 10mm lower than it does on other Panameras. It adjusts itself to suit the driving conditions, meaning a comfortable ride when cruising and a firmer ride when driving quickly. There's a wider rear track, too, as well as larger brakes with red calipers.
A standard 'Sport Chrono Plus' package means drivers can select from Normal, Sport and Sport Plus modes, which alter the throttle response, suspension characteristics and transmission depending on the drivers needs.
Externally there are numerous black styling details to set the GTS apart from other cars in the range, including black headlight bezels, black side skirts and black exhaust tailpipes. There're also larger air intakes to ensure good airflow to the engine. An exclusive Carmine Red colour, unique to the GTS, is offered.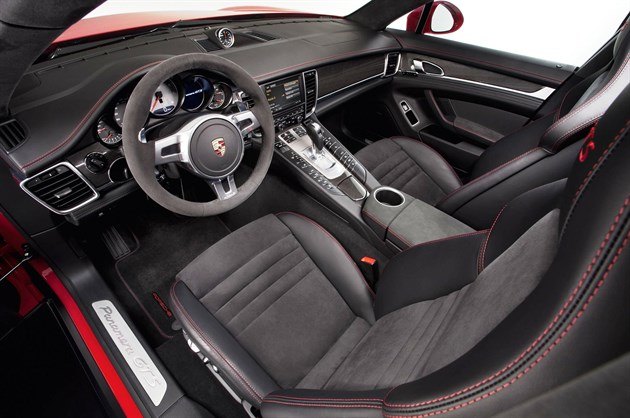 The interior is trimmed with leather and Alcantara, with five different colours offered. The steering wheel features 'Panamera GTS' lettering, as well as the paddles for the PDK gearbox. A display in the dashboard shows lateral and longitudinal acceleration, as well as various other bits of information about the car. Unique stitching, an exclusive black leather trim and various GTS badges add to the look.
Standard specification includes park assist, sat nav and cruise control. The Panamera GTS starts at £90,409 and will be on sale from February 2012.  
Comments