Defender gets cleaner 2.2-litre diesel engine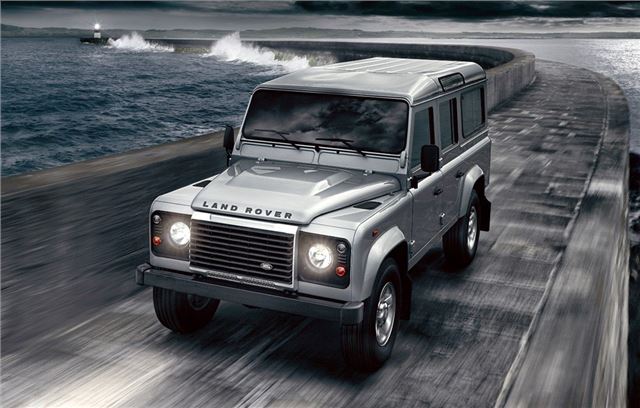 Land Rover is replacing the diesel engine in the Defender with a new EU5 2.2-litre diesel replacing the EU4 2.4-litre engine. The new unit may be smaller but it delivers the same power, torque and economy as the outgoing unit. In EU5 markets, the new engine comes with a diesel particulate filter (DPF) to ensure the lowest possible levels of regulated emissions.
A new, full acoustic engine cover replaces the previous splash cover, reducing audible engine noise and improving driving refinement. Meeting EU5 regulations, the engine delivers lower levels of the regulated emissions, NOx, CO and HC thanks to an improved combustion system and sophisticated engine management system.
Despite the smaller capacity and reduced emissions, the new engine produces the same power, 122PS at 3500rpm and 360Nm of torque at 2,000rpm. Performance remains similar too, though the top speed has been raised to 90mph compared to 82mph for the previous version. CO2 emissions on the combined cycle are consistent at 266g/km for the 90 and 295g/km for the 110 and 130.
The six-speed gearbox has been retained for 2012. The lower first gear offers low crawl speed making towing on-road and off-road much easier. The low-down engine torque also helps in-gear acceleration and the tall sixth gear ensures good real-world cruising, refinement and fuel economy. Ground gears in both the gearbox and transfer box help contribute to the refinement of the transmission.
Land Rover has also introduced two option packs - the Comfort Pack at £1650 which includes air conditioning, a CD player with auxiliary input, electric windows and remote central locking. Plus there's the Off-Road Pack at £1500 which has ABS, heavy duty rim and MTR tyre, tow ball and under-ride protection bar.
A plain black Pick Up hood will now be available as an option while a plain beige hood will be introduced for the 110 Double Cab Pick Up. Both options are in addition to existing styles plus tinted glass is now on all models.
The Defender's unique vehicle architecture has been retained for 2012. The chassis frame is available in three different wheelbases. A total of 14 separate body styles – from pick-ups and soft-tops to crew cabs and station wagons – are produced on the mainstream production line.
| | | | | | | | |
| --- | --- | --- | --- | --- | --- | --- | --- |
|   | List Price | CO2 Offset | VAT 20% | Max Rec Retail Price | P11D Price | Road Fund Licence & 1st reg fee | On the Road Price |
| 90 |   |   |   |   |   |   |   |
| Hard Top | £17,905.00 | £120.00 | £3,605.00 | £21,630 | £21,630 | £265 | £21,895.00 |
| Pick Up | £17,155.00 | £120.00 | £3,455.00 | £20,730 | £20,730 | £265 | £20,995.00 |
| Station Wagon | £19,488.33 | £120.00 | £3,921.67 | £23,530 | £23,530 | £265 | £23,795.00 |
| County Station Wagon | £21,321.67 | £120.00 | £4,288.33 | £25,730 | £25,730 | £265 | £25,995.00 |
| XS Station Wagon | £24,238.33 | £120.00 | £4,871.67 | £29,230 | £29,230 | £265 | £29,495.00 |
| 110 |   |   |   |   |   |   |   |
| Chassis Cab | £17,895.00 | £130.00 | £3,605.00 | £21,630 | £21,630 | £265 | £21,895.00 |
| Hard Top | £19,228.33 | £130.00 | £3,871.67 | £23,230 | £23,230 | £265 | £23,495.00 |
| Pick Up | £18,561.67 | £130.00 | £3,738.33 | £22,430 | £22,430 | £265 | £22,695.00 |
| High Capacity Pick Up | £19,145.00 | £130.00 | £3,855.00 | £23,130 | £23,130 | £265 | £23,395.00 |
| Station Wagon | £21,395.00 | £130.00 | £4,305.00 | £25,830 | £25,830 | £265 | £26,095.00 |
| County Station Wagon | £23,145.00 | £130.00 | £4,655.00 | £27,930 | £27,930 | £265 | £28,195.00 |
| XS Station Wagon | £26,561.67 | £130.00 | £5,338.33 | £32,030 | £32,030 | £265 | £32,295.00 |
| Utility Wagon | £21,395.00 | £130.00 | £4,305.00 | £25,830 | £25,830 | £265 | £26,095.00 |
| County Utility Wagon | £23,145.00 | £130.00 | £4,655.00 | £27,930 | £27,930 | £265 | £28,195.00 |
| XS Utility Wagon | £25,728.33 | £130.00 | £5,171.67 | £31,030 | £31,030 | £265 | £31,295.00 |
| Double Cab | £19,978.33 | £130.00 | £4,021.67 | £24,130 | £24,130 | £265 | £24,395.00 |
| County Double Cab | £21,478.33 | £130.00 | £4,321.67 | £25,930 | £25,930 | £265 | £26,195.00 |
| XS Double Cab | £24,228.33 | £130.00 | £4,871.67 | £29,230 | £29,230 | £265 | £29,495.00 |
| 130 |   |   |   |   |   |   |   |
| Chassis Cab | £20,645.00 | £130.00 | £4,155.00 | £24,930 | £24,930 | £265 | £25,195.00 |
| Double Cab Chassis Cab | £22,395.00 | £130.00 | £4,505.00 | £27,030 | £27,030 | £265 | £27,295.00 |
| Double Cab | £24,061.67 | £130.00 | £4,838.33 | £29,030 | £29,030 | £265 | £29,295.00 |
Comments