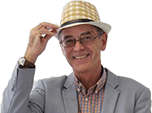 Hyundai unveils sleek new i40 saloon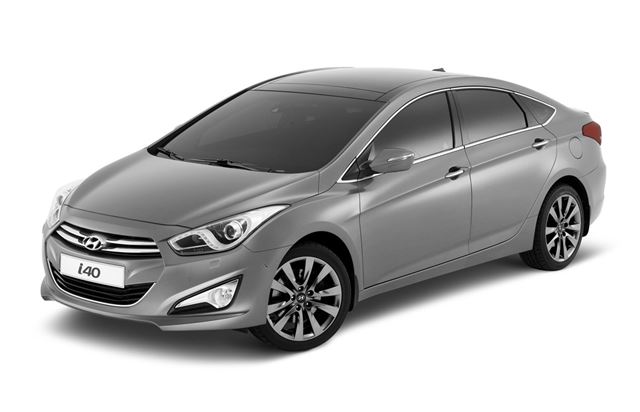 Hyundai has unveiled the new i40 saloon which is set to go on sale in the UK this autumn. We've already seen - and been very impressed by - the Hyundai i40 Tourer which was officially unveiled at the Geneva Motor Show. And now the brand has followed that up with the equally attractive four-door saloon.
It certainly looks the part and is far more stylish than many traditional saloons in this market. Hyundai said the new i40 saloon was benchmarked against the Volkswagen Passat CC in terms of looks which explains the coupe-like profile. We think it has enough to make it stand out and be distinctive which will help with Hyundai's image in this class. It's last attempt was the dull Sonata.
Hyundai has long been known for making cars that were affordable and reliable. And it's now adding stylish with a quality feel to that list. Although it's a pre-production car there's no doubting the high-class feel to the interior which is further step up from the already impressive ix35. Hyundai says the i40 will have class leading front head room, shoulder room and legroom. The boot has a wide opening with a useful 503 litres of space inside - more than other saloons like the Honda Accord or the Citroen C5.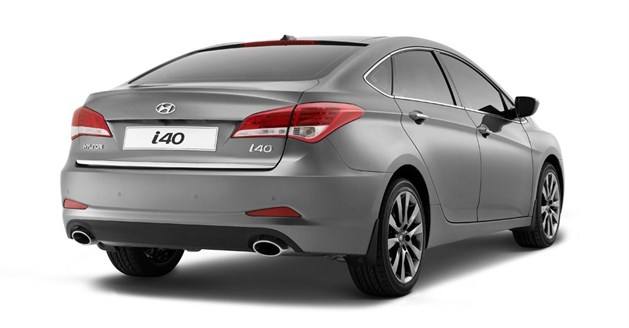 Although the more practical Tourer will actually be the bigger seller, the i40 saloon is still an important car for Hyundai, especially as it looks to make a bigger impact with company car drivers. So it's no surprise to see some very efficient engines in the line-up. The best is the 1.7-litre diesel which is available in two outputs of either 115bhp or 136bhp and although the more powerful version is predicted to be the most popular, it's the 115bhp model which is the economy star - it emits just 113g/km of CO2 and can average a claimed 65.7mpg.
The 136bhp version isn't far behind though and returns a claimed 62.7mpg with CO2 emissions of 119g/km.These impressive figures are helped by Hyundai's Intelligent Stop & Go (ISG) engine system (that cuts the engine when the car is in stationary traffic), low rolling-resistance tyres and an alternator management system.
The petrol line up is made up of a 1.6-litre with 135bhp and a new 2.0-litre unit with 177bhp.The latter is the quickest i40 in terms of 0-62mph times, taking 9.7 seconds but still returns a healthy 41.5mpg according to the claimed figures. The standard gearbox is a six-speed manual while a six-speed automatic is available on the 2.0-litre petrol and the 1.7-litre diesel with 136bhp.
Prices will be announced on 1 June 2011 but Hyundai is hinting that the i40 will cost between 3% and 5% less than similar cars in the class. It will also come well equipped, making it good value for money. High-tech features include smart-parking assist, a lane departure warning system, Bluetooth with voice recognition and full map satellite navigation with a rear view camera. The i40 will also be available with an electric parking brake, heated and reclining rear seats and even a heated steering wheel.
Technical specifications:
Diesel engines
1.7-litre 115ps
Type / capacity           U-II, DOHC, four-cylinder, 16-valve with HLA / 1685 cc
Power / torque            115ps (85 kW) @ 4000 rpm / 260Nm @ 1250-2750 rpm
Emissions                  122g/km (113g/km when fitted with ISG)
1.7-litre 136ps
Type / capacity           U-II, DOHC, four-cylinder, 16-valve with HLA / 1685 cc
Power / torque            136ps (100kW) @ 4000rpm / 325Nm @ 2000-2500rpm
Emissions                  124g/km (119g/km when fitted with ISG)
Petrol engines
1.6-litre 135ps
Type / capacity           Gamma GDI, four-cylinder, 16-valve with MLA / 1591 cc
Power / torque            135ps (99kW) @ 6300rpm / 164Nm @ 4850rpm
Emissions                  149g/km (140g/km when fitted with ISG)
2.0-litre 177ps
Type / capacity           Nu GDI, four-cylinder, 16-valve with HLA & Swing ARM / 1999 cc
Power / torque            177ps (130 kW) @ 6500rpm / 208Nm @ 4700rpm
Emissions                  156g/km
Suspension & Damping
Front                           Fully independent subframe-mounted MacPherson struts, with coil springs andgas- filled shock absorbers. Anti-roll stabiliser bar.
Rear                            Fully independent subframe-mounted multi-links, coil springs and gas-filled ASD shock absorbers.
Steering
Type                            MDPS (Motor Driven Power Steering)
Gearing                       2.88 turns lock-to-lock
Turning radius              5.46 metres
Brakes
Front                            320 mm ventilated discs
Rear                            300 mm solid discs
Wheels & Tyres
Standard                    7,0Jx16           205/60 R16 tyres
                                 7,5Jx17           215/50 R17 tyres
                                 8,0Jx18           225/45 R18 tyres
Dimensions (mm)
Exterior
Overall length              4740
Overall width               1815 (excluding door mirrors)
Overall height              1470
Wheelbase                 2770
Front overhang            920
Rear overhang            1050
Front track                 1591
Rear track                  1597 
Interior                        Front                Rear
Head room                  1025                965
Leg room                    1170                850
Shoulder room            1455                1420
Capacities(litres)
Fuel tank                     70
Luggage                      503
Performance* (manual transmission)
                                    1.7 / 115          1.7 / 136          1.6 / 135          2.0 / 177
Top speed (mph)             118                  123                  121                  130
0-to-62 mph (sec)           12.9                 10.6                 11.6                 9.7
Economy (manual transmission)
                                     1.7 / 115          1.7 / 136          1.6 / 135          2.0 / 177
Combined mpg**            65.7 (ISG)       62.7 (ISG)          47 (ISG)            41.5
CO2 (g/km)                      122                  124                  149                 156
CO2 (g/km) with ISG         113                  119                  140                  ----
* Figures stated are manufacturer's estimates
Comments