Vauxhall gives Corsa a facelift for 2011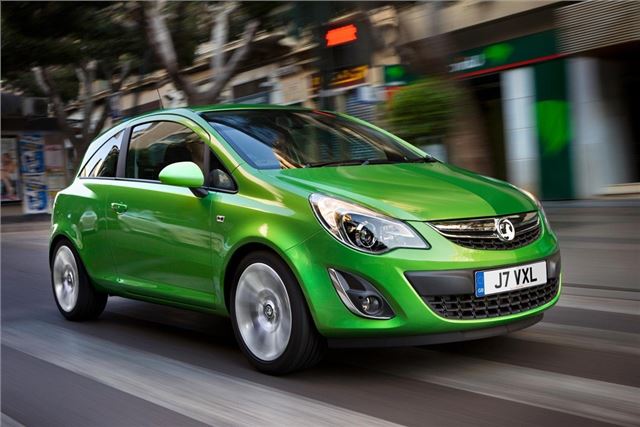 Vauxhall is set to give its Corsa hatchback a mid-life facelift with a fresh new front end design, upgraded trims and new colours. The new look echoes recent Vauxhall models such as the Insignia, Astra and Meriva which Vauxhall hopes will give it a more 'premium' appearance. This includes a new chrome bar carrying the new Vauxhall 'Griffin' badge across the grille along with a restyled front bumper and wider, lower grille.
First deliveries to UK customers will start in February 2011 and buyers will be able to choose from five new paint colours. Lime Green pearlescent (see the main picture) and Chilli Orange metallic enhance the car's new look, with Guacamole (the white car in the pictures) - a solid hue - completing the pallet of all-new Vauxhall colours. Sunny Melon (a bright yellow) returns to the Corsa range, while Pepperdust metallic is carried across from the new Meriva range.
Framing the Corsa's new front end are 'Eagle-Eye' headlamps, which have also made an appearance on the recently launched Meriva. The units have a chrome finish and include daytime running lights as standard across the range. New chrome-finished fog lamps and housings complete the picture at the front of the car.
Vibrant new colours also dominate the Corsa's cabin, with seat trims such as Steel Blue and Tabasco Orange brightening the interior, accompanied by a range of different coloured door trims, centre consoles, air vent rings and door handles. Also inside, is Vauxhall's new optional Touch & Connect multi-media system, which replaces the existing CD60 unit. Touch & Connect uses a five-inch touch screen display featuring both 2D and 3D maps for the navigation system, as well as a CD/tuner, aux-in, USB and Bluetooth.
Outside, the new Corsa benefits from new 16-inch alloy wheels on both SE and SXi models, while the 192bhp VXR receives the option of a new 18-inch alloy wheel, modelled on the design of the optional 20-inch wheel worn by the Insignia VXR.
With its fresh new look, the Corsa is now a very different car to the one on sale a year ago. Before the latest exterior and interior design changes were made, the Corsa had already benefited from a long list of significant upgrades to its chassis and powertrains. For example, certain ecoFLEX engines now feature Vauxhall's Start/Stop technology, which has reduced emissions on the 1.3 CDTi (95bhp) ecoFLEX model to just 94g/km, combined with claimed average fuel consumption of 78.5mpg.
Vauxhall's engineers also made revisions to the car's steering and suspension set-ups. Softer springs were employed in the front suspension, mated to an anti-roll bar with new bushes and an increased diameter, improving ride and control characteristics. Complementing this were revised damper settings all round, an optional re-tuned ESP system and enhanced steering geometry.
The new Corsa range starts at £9995, based on 2011's 20 per cent VAT rate. However, setting aside the 2.5 per cent VAT increase, which will apply to all cars from January 4, new Corsa prices have only risen by between £60 and £75, depending upon model and, reflecting the exterior and cabin enhancements on all models in the range.
Comments