MINI unveils electric scooter concept

MINI could soon be King of the mods. The car maker is branching out with the unveiling of a scooter that could cost as little as 1p a mile to run. The MINI Scooter E concept is an electric two-wheeler inspired by the 60s - the hey dey of the classic Mini. With a range of 30 miles and a total charging time of around 4 to 5 hours, it's an ideal urban runabout and is expected to go on sale in 2012 - just in time for the London Olympic Games.
Using the knowledge gained from the MINI E, this prototype Scooter is powered by an electric motor which can be recharged at any conventional power socket using an in-built retractable five-metre cable and plug. The theory being that it can be 'topped-up' at charging points throughout the day, extending the range. In terms of running costs, MINI expects it to cost 12p a day on average.
It's not likely to be cheap with prices expected at around £4000 to £5000 but it will come with some innovative technology including the ability to use your smart phone as the ignition key which will then double as a sat nav or music player and allow you to make and receive calls via Bluetooth. A navigation app enables drivers to know where other MINI E Scooter E Concept drivers are on the map. Technology currently in development could even mean headlights on scooters automatically come on when they meet on the road...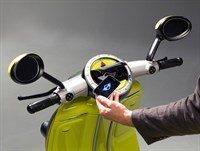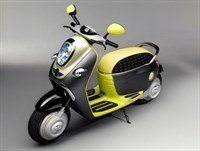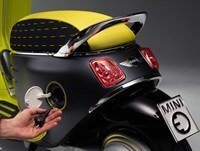 The MINI Scooter E certainly stands out thanks to distinctive features include the circular central instrument cluster, the trademark MINI speedo and prominent indicator lamps in the style of the classic MINI. There are actually three different design 'concepts' which all have unique features.
The first model - being shown exclusively in London (top picture) - takes inspiration from the popular culture of the 1960s and draws on the distinctive graphics of the Mod era in. The white body on this two-seater variant is decorated with numerous stickers, with the left hand mirror cap featuring a MINI logo and the right hand one featuring the red, white and blue of the Royal Air Force. There is even a perforated leather seat through which the Union Jack shines.
The second MINI Scooter E Concept is a two-seater variant and mirrors the colour scheme of the current MINI E hatch prototype, 40 of which are currently on trial on UK roads - with body paintwork in matt charcoal, a yellow seat and yellow-painted mirror caps.
The third concept (below) is a single-seater and the sportiest of the new concepts. Designed as a nod to the British heritage of the brand it features a classic combination of an upholstered seat in dark brown leather, paintwork in British Racing Green and silver mirror caps reminiscent of old racing cars.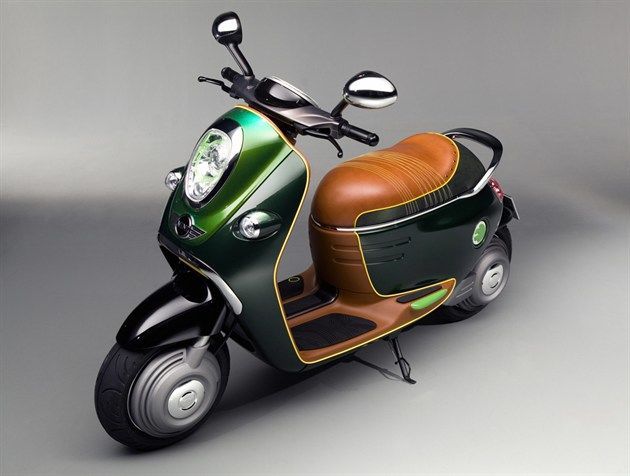 The MINI Scooter is being shown at the 2010 Paris Motor Show. Click here to read our A-Z guide for the show